19th November 2021
 Recording of the Week

,

  Cecilia Bartoli - Unreleased
Over the course of our various interviews during lockdown, a number of musicians mentioned how much they'd relished the opportunity to lavish some real TLC on the process of revisiting and editing as-yet-unreleased recordings – but none, I think, delved quite so far back into the archives as Cecilia Bartoli, who's unearthed an entire programme of Classical concert-arias that had been sitting on ice since 2013.
Beethoven's Ah, perfido! opens proceedings in grand style, with Bartoli at her electrifying best: the recording was made two years after her first assumption of the title-role in Bellini's Norma, and the neurotic fury which she brought to the Druid priestess is everywhere in evidence here as she tears into the text with a vengeance, hurling imprecations at a faithless lover that would indeed make all of Rome tremble. As one might expect, it's a tauter, less plushly-upholstered affair than Lise Davidsen's more-in-sadness-than-in-anger account of the same piece with Sir Mark Elder and the London Philharmonic earlier this year, but Muhai Tang and the Kammerorchester Basel back Bartoli's nervy energy and assertiveness to the hilt, with suitably gritty string-playing and some pungent contributions from the horns and woodwind.
Mozart's Ch'io mi scordi di te? follows, and I'm sure I won't be the only person whose expectations were pleasantly confounded on this one: contrary to the description in some of the promotional material, what we have here is not the well-known K505 concert-aria for soprano, fortepiano and orchestra which Mozart penned for Nancy Storace, but an earlier (and to my ears considerably darker) setting of the same text which was written for a 1786 concert-version of Idomeneo in Vienna. The line-up of musicians on that occasion was chiefly comprised of aristocratic amateurs, including the talented violinist Count August von Hatzfeld who was granted his moment in the spotlight in the form of a beautiful obbligato part in this additional aria for Idamante.
That role is fulfilled with consummate panache and pathos by Russian violinist Maxim Vengerov here, in the first of two appearances on this programme (he pops up again a few tracks later for the simpler but equally ravishing 'L'amerò, sarò costante' from Il re pastore); closely recorded but never overwhelmingly so, he really seems to breathe as one with Bartoli, and by the end of the aria I found myself concurring with Mozart scholar H.C. Robbins Landon's claim that the piece could stand its ground against anything in Le nozze di Figaro. (If you're keen to hear Bartoli in the K505 setting, her 1989 recording with the Wiener Kammerorchester and no less a partner than András Schiff is still available as a download – indeed, listening to that album alongside this new release underlines just how fresh and distinctive her voice remains over three decades later).
Other highlights include a rarity by Mozart's older contemporary and sometime friend Josef Mysliveček, in the form of a gorgeous aria from La clemenza di Tito (which predates Mozart's own setting by seventeen years); predominantly lyrical in nature, it acts as a welcome palate-cleanser amid the stormy emotions and vocal pyrotechnics which dominate the rest of the programme, and reminded me that a deeper dive into the Czech composer's music is long overdue on my to-do list.
But perhaps the most thrilling singing of all comes in Mozart's Bella mia fiamma - written, as legend has it, at top speed to satisfy the Czech soprano Josepha Duschek who held the composer hostage at a holiday villa until her demands were met! Mozart's good-natured retaliation in making the aria as difficult as possible proves no obstacle to Bartoli, who navigates the tricky chromatic writing and formidable coloratura with aplomb and caps the whole with a bulls-eye top D.
Although the album runs to just sixty minutes, it's a pretty intense listen (even fully paid-up Bartoli acolytes may prefer to consume it across several sittings rather than gulping it down whole), but I'm so glad that these recordings have belatedly seen the light of day – they show the Roman mezzo at the very top of her considerable game, and with scintillating orchestral playing throughout this is a must-have for my fellow fans of this idiosyncratic but always compelling singer.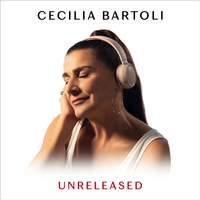 Cecilia Bartoli (mezzo), Kammerorchester Basel, Muhai Tang
Available Formats: CD, MP3, FLAC, Hi-Res FLAC