UPDATE: Royal Mail have now resumed shipments on ALL International services but delays should be expected, please choose FEDEX if your order is urgent.
25th October 2021
 Interview

,

  Marina Rebeka and Franco Vassallo on Il Pirata
For the tenth project on her label Prima Classics, Latvian soprano assembled a superb cast of bel canto singers (including Javier Camarena in the title-role) for Bellini's early opera Il Pirata and headed to the composer's hometown of Catania last summer to record the work uncut with the Orchestra e Coro del Teatro Massimo Bellini and Fabrizio Maria Carminati. I spoke with Marina via Zoom (shortly before her performances of Norma in Catania last month) and with Italian baritone Franco Vassallo via email about their roles in the opera, the challenges of making a complete studio opera recording during the COVID-19 pandemic, and the driving-forces behind Marina's decision to launch her own record-label.
Tell me a little about your characters and how they compare to the other Bellini roles in your repertoire: Marina, do you see any similarities between Imogene and Norma, which you're singing at the moment?
MR: They're both mothers, but otherwise they couldn't be more different: Norma is a tough, intimidating female leader who's in a position to make big decisions and openly takes responsibility for her choices, whereas Imogene is the total opposite: she has very little agency, nobody really loves her, and she becomes a pawn or bargaining-chip for two men who want to use her to hurt one another. She's obviously emotionally unstable, but because we meet her in the middle of the story we have to work out how she became that way…
We know she was happy with her father and promised as wife to Gualtiero, who loved her very dearly but had to go away to battle; we know that Ernesto then came along and forced her to marry him so that her father could be released, and that her father later died. Then she and Ernesto have a child, and I think that's probably what sends her over the edge: she's struggling with post-natal depression on top of the trauma of being violated by a man she hates. It's significant that she can't even bring herself to call her child a name: she always refers to him as 'the innocent', which is her way of absolving him of the terrible crime she feels she's committed in conceiving him.
And the other characters are very aware that she isn't mentally well, particularly her ladies-in-waiting: whenever something traumatic happens in the opera they swoop in to hurry her home and enclose her in her grief and madness, because they know that she's not normal and that a normal society should not see this. Ernesto also refers to her illness (much less sympathetically) when he tells her to stop using her 'fake sickness' as an excuse for her outbursts - which is pretty awful, given that he's partly responsible for it!
FV: Ernesto is the bad guy of the story, for sure! But we gradually discover he is not only a brutal and arrogant man of power: he feels a true and tender love for his wife, and this puts a different light on him. Everything he tries to do for their relationship doesn't work, and we discover for a while a very delicate and suffering side of his soul. Of course, this generates still more angriness inside him, but for these short moments we see a real soul behind his violent mask, and we can be sympathetic towards him!
How do the vocal demands measure up to your other Bellini roles?
FV: Usually the baritone in Bellini is a pure bel canto voice, like in Puritani or in Straniera, but with Ernesto in Pirata we find a dramatic baritone of agility, a very rare category in opera. The anger and fury of his indignation are expressed with vocal agility; Verdi was for sure inspired by this vocal typology of Ernesto in writing the line of Count Di Luna in the trio of Il Trovatore. Ernesto needs also a long vocal extension: he sings often in the very low range of the baritone tessitura, but suddenly he goes into the very high range. And he needs also to manage long phrases with a beautiful legato. It's a difficult and very complete role!
MR: Vocally Imogene is extremely difficult – not only the first aria (which is really three arias in one!), but also the trio which is almost Rossinian in the way it speeds up and up, and makes great demands in terms of speed and stamina.
Ornamentation was interesting, too: because we recorded the opera completely uncut, it was essential to write embellishments for the trio and also the duos with Gualtiero and Ernesto, and I spent a great deal of time on them! That's a challenge that every artist who does bel canto has to face: we're a bit spoiled by wonderful composers like Verdi and Puccini where you don't have to write anything yourself, but at the time when Bellini's operas were written it was absolutely expected that you would vary your embellishments for every performance, and that's why every singer was a great musician. If you compare my CD Spirito (where I sang Imogene's scene) and the same scene on the recording of the complete opera you'll hear the difference in the variations: I don't want people to think 'Oh, that's Rebeka's version!'. Life changes, and we and our voices change with it, so why don't we change our variations as well!
What's the story behind that very striking cover-image?
MR: People thought we'd stolen a photo of Johnny Depp in Pirates of the Caribbean, but it really is Javier! When he was doing Il Pirata here in Zurich he posted several selfies, and he was barely recognisable: he has quite a high forehead, and because that's cut in this picture and he has long hair he looks like a completely different person. I thought that would work well for the cover, because when Gualtiero comes back in the opera he's changed a lot physically, perhaps because of facial injuries like scarring or a lost eye: he says 'Can nobody recognise me?', and Imogene initially doesn't realise it's him.
How was the experience of recording in Bellini's hometown of Catania?
MR: We couldn't record in the Teatro Bellini because they have no air-conditioning, and Catania gets extremely hot in the summer: instruments and voices have their needs, and neither function best at 40 degrees! Instead we used the nearby Teatro Sangiorgi, and because of COVID we had to put the orchestra on the stage and the chorus sitting in the audience. I'm sure it would have been much easier in normal circumstances where everyone's much more connected, but these people are Italians so they understand! They have Bellini's operas in their blood and know all the performance-traditions.
It's pretty unusual for a singer to set up their own record-label – what prompted you to take the plunge?
MR: I would say I was pretty much forced to. I had so many ideas which I wanted to bring to life, and being in this business has taught me how many wonderful singers out there are under-represented on record: there are artists who've been singing at the Met for twenty or thirty years and they have no recordings! There were two main things which made me decide to take this step. The major catalyst was my husband Edgardo, who's a sound-engineer: his sound is very different to any other in the industry, because finally on his recordings I can hear all the colours and subtleties, and the voice is always present and fresh and true to life. If you listen to my Mozart album and then compare it with Spirito, the difference is amazing - and that's about the engineering rather than the singing.
The classical recording industry is very fixated on everything sounding 'natural', but the issue there is that the microphones don't capture the voice naturally – the only 'natural' thing is for the engineer to listen to a voice live and then use all available tools to match that on the recording, which is exactly what my husband is able to do. Our first project was a streaming of Faust for Arte (with Benjamin Bernheim and Andreas Bauer), and when I listened back to my aria I was so surprised I started crying: I usually hate listening to my recordings, but this was perfect! And if you are leaving a trace of your art for posterity then that's how it should be. If you compare the recordings of Callas and Pavarotti with the recordings of today, you hear the difference: Pavarotti's mindset was that you had to be able to play a recording on the poorest-quality car-stereo and have it sound perfect, because people mostly listen on very bad systems!
The second thing is that whilst the guys who produced my previous recordings [on BR Klassik and Warner/Erato] were amazing and did everything I asked, they were working within a very tight time-frame: you have a couple of hours to do your album, and if you don't get what you need then that's that and you have to leave it! But I like to I record lots of different takes, then listen back to them all and chose the one that seems truest and most emotional to me; that's time-consuming, and if it isn't your voice or your company then you're not going to be invested enough to do it. But we always send edits to our singers so and do everything we can to meet their requirements, because it's important to us that they're happy too.
If you're recording an opera then the voices must be the central thing because they carry the text and emotions; it's no good if you can hear all the detail in the first violins or flute at the expense of the singer! And that happens even on really great recordings, like the Mirella Freni Butterfly which I was listening to earlier today: the orchestra is covering her and that irritates me, because why should an orchestra of sixty people eat the human voice?!
Franco, when did you become involved with Prima Classic, and how does the experience of recording with them differ from working with other record-labels?
FV: I met them recording my solo album of Tosti's songs Arcano and there was immediately a very good feeling between us! They have a very high professional staff, high quality recording devices, very accurate graphic designer, and an excellent sound technician. And all of them work with a great love for beauty, art and quality.
MR: We also believe that it's extremely important that singers have the freedom to perform and record with whoever they consider to be necessary: the big labels will sign a singer on an exclusive contract and charge a release-fee to anyone who wants that singer for a recording or a live-stream. That's great for the labels' bank-balances, but it's so restricting for the singer! So we never block artists from taking on other projects: sure, we booked Javier for Pirata, but if another label comes to him now and says 'Let's record Puritani' then we say go for it! It's also about accessibility for audiences: I want people from countries like Mexico and Bolivia who don't necessarily have money to travel and hear their countrymen in performances to listen to our recordings and think 'Now I know we have great singers!'.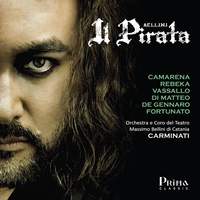 Marina Rebeka (Imogene), Javier Camarena (Gualtiero), Franco Vassallo (Ernesto)
Orchestra e Coro del Teatro Massimo Bellini di Catania, Fabrizio Maria Carminati
Available Formats: 3 CDs, MP3, FLAC, Hi-Res FLAC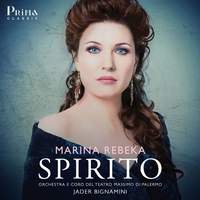 Bellini - Donizetti - Spontini
Marina Rebeka (soprano), Orchestra e Coro del Teatro Massimo di Palermo, Jader Bignamini
Available Format: CD
Songs By Francesco Paolo Tosti
Franco Vassallo (baritone), Giulio Zappa (piano)
Available Formats: CD, MP3, FLAC, Hi-Res FLAC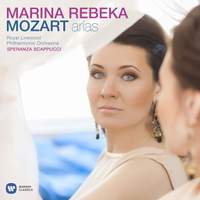 Marina Rebeka (soprano), Royal Liverpool Philharmonic Orchestra, Speranza Scappucci
Available Formats: MP3, FLAC, Hi-Res FLAC