12th October 2021
 Interview

,

  Roger Sayers on Vierne's organ symphonies
Ever since its high-profile use at a number of British royal weddings in the 1960s, the final movement of one particular French organ symphony – Widor's No.5 in F minor – has been a popular and readily-recognised staple of the repertoire, even being set to words in the form of the late David Willcocks's choral arrangement Sing!. But widely-disseminated as it is, it represents only one small part of the impressive subgenre of organ symphonies. Six towering exemplars by Vierne, one of Widor's pupils, arguably bringing the idiom to its peak.
These six symphonies receive an impressive new recording by the organist of London's Temple Church, Roger Sayer – a multifaceted organist whose recent appearance on Hans Zimmer's soundtrack to the award-winning film Interstellar testifies to both his, and his instrument's, ability to reinvent themselves in ways that defy what one might normally expect.
I spoke to Roger about Vierne's organ symphonies and their origins, and about a decidedly different take on the once-widespread job of a "film organist".
With few exceptions, we think of symphonies as being for the orchestra, or at the very least for a large instrumental ensemble. How did "organ symphonies" first arise, and why are they so particularly associated with the French classical tradition?
Several things led to the development of the organ symphony, chief among which were the evolution of music and its function in society, and the evolution of the organ itself.
In the Renaissance and Baroque eras, and into the early Classical era, composers and musicians had been employed by the church or the court, and worked as servants to the aristocracy, writing and performing music for their wealthy patrons. J.S. Bach, for example, worked as a court musician in the chapel of Duke Johann Ernst III in Weimar; Mozart likewise worked in the Salzburg court as a musician to Prince-Archbishop Hieronymus Colloredo. Gradually, however, music began to extend beyond the courts and the church. In the second half of the eighteenth century, the symphonies of Haydn and Mozart were introduced in England at elegant concerts in the gardens of Vauxhall and Marylebone. With the wider availability of printed scores and transcriptions ordinary people could begin to enjoy this music at home.
Another change came at the beginning of the nineteenth century with the social upheaval of the Industrial Revolution. The change which most affected musical circles was the creation of a middle class, which consisted of a large number of people with disposable income, leisure time, and a desire to better themselves through education and culture. Composers began to write concert works for this new audience and, as they became more and more popular, they became longer and larger in both scale and complexity. Audiences flocked to popular centres such as Paris, Nantes and Toulouse and, in smaller towns and cities where no orchestra was available, recitals of orchestral transcriptions on concert hall and church organs brought many people their first experience of symphonic repertory.
At the same time that music was becoming more widely accessible, the organ builder Aristide Cavaillé-Coll was transforming the organ into a self-contained orchestra. The French Baroque and Classical organ was built to convey the contrapuntal music of the time. The Romantic organ was built for expression and power. One of the finest developments that Cavaillé-Coll brought to the organ was the flexibility and expressiveness of gradations in volume, achieved by the use of a swell pedal designed to add or subtract stops from the grand chorus. This allowed the organ to replicate the vast contrasts of dynamic available to the orchestra. He also invented new stops, adding orchestral colour to the organ, as well as developing existing sounds such as the flute, which has existed on the organ since the Middle Ages. This stop was used infrequently in France until Cavaillé-Coll invented the Flûte Harmonique, an open metal harmonic flute stop which was first used in 1841 in the Church of Saint-Denis near Paris. French organs were soon equipped with the Viole d'Orchestre, the Hautbois d'Orchestre, the Trompette and many more, which all closely mimicked their namesakes within the string, woodwind and brass families of the orchestra.
The combination of these factors – the accessibility of music across a broader social spectrum, the large-scale forms of music composers wrote to cater for this new audience, and the development of the organ – all helped produce the organ symphony. In reality, the organ symphony is more akin to a sonata or suite, rather than the musical form (e.g. a four movement work, typically made up of an Allegro, Andante, Minuet, and Allegro), however it takes the name 'symphony' from its orchestral colours, complex and varied textures, and symphonic process. The genre is inextricably linked to the French Romantics, beginning with César Franck's innovative Grande Pièce Symphonique composed in 1863. While through-composed as a single movement, this piece can be divided into three parts – Andantino serioso, Andante and Beaucoup plus largement que précédemment – which all relate to each other through the use of three recurring themes, established in the Andantino. It is this thematic process and the division of the work into movements which makes these compositions symphonies. Charles-Marie Widor, organist at St-Sulpice from 1870-1933, and Franck's successor as organ professor at the Paris Conservatoire, wrote ten organ symphonies which can be grouped into three sets: Op. 13 (numbers 1-4) which exhibit his earlier style, Op. 42 (numbers 5–8) which demonstrate the experience he had accumulated writing his first organ and orchestral symphonies, and the far more pensive Op. 70 and 73 (numbers 9-10), named the Gothique and the Romane. Finally, Widor's student Vierne wrote six symphonies, transforming the genre and pushing the harmony and counterpoint to its limits. Thus the style is largely associated with France due to its development and the output of these three composers.
The other well-known "organ-symphonist" is Charles-Marie Widor, who taught not only Vierne but many other composers and organists. To the lay-person's ear, the two composers can often seem similar in style – how did Vierne develop and expand what he had inherited from Widor?
Widor's greatest strength as a composer of organ symphonies was the knowledge of orchestral music he had gained through writing his orchestral symphonies and concertos. Cavaillé-Coll's resounding choruses and brilliant instrumental colours had transformed the French organ into an orchestra, and Widor's expertise allowed him to take full advantage of it. By contrast, Vierne's orchestral output was exceptionally small, and so the idea of 'symphony' he inherited came more through the organ works of his predecessors than extensive personal experience. Vierne's style, from his 1894 Allegretto in B minor to his Sixième Symphonie composed in 1930, was always very idiomatic, clean, and well formed. His harmonic language was romantically rich, but lacked the sentimental and sometimes theatrical qualities of César Franck and Charles Marie Widor.
While Widor's music is firmly Romantic, I believe it is possible to trace the gradual shift from Romanticism to Modernism in Vierne's organ symphonies. His 1898-99 Première Symphonie Pour Grand Orgue is closest to Widor's style of writing (although it lacks the thematic cohesion of his predecessor's works), whereas by his 1930 Sixième Symphonie he was writing in a cyclical, five-movement format, and demonstrating a phenomenal technical ability and fluency in the still relatively new chromatic and discordant musical language which would ultimately become the foundation of his successors' compositional style. He held the same position in French Romantic organ music as Beethoven did in Classical orchestral music. Beethoven moved music forwards from the Classical to the Romantic era; Vierne moved the French organ tradition from a Romantic and recognisably 'Victorian' style, to something ground-breaking and 'modern'. By the end of his career, Vierne was decidedly twentieth Century.
Organists often speak of English-, German- or French- style organs, though (as with orchestras) many modern instruments are designed adaptably and blur these boundaries. How close does the Temple Church organ come to the kind of sounds and registrations that Vierne and his contemporaries would have envisioned?
If truth be told, it is very difficult to pin down exactly the sorts of sounds and registrations Vierne would have used. The reason for this is that Vierne is known to have used vastly different registrations on every organ he encountered, often deviating from registrations he himself had stipulated. Furthermore, from an organ building perspective, the Temple Harrison and Harrison is quite unlike the instrument Vierne knew at Notre Dame. French organs are known for the bright timbre of their mixtures, reeds and mutations, and their positiv organs are like a secondary great, whereas English reeds tend to be warmer, and the English choir organ is intended for light choral accompaniment.
However, given that Vierne travelled a lot, giving recitals across Europe, Canada and America, he was very skilled at adapting his original registrations to fit the instruments he encountered abroad. In this recording of his complete symphonies, we are not trying to emulate the French organ tradition per se, but to project Vierne's music in the way that he would have done when travelling as a recitalist.
While the more majestic and imposing movements today see regular use as closing voluntaries in a church setting, there are also contemplative inner movements that wouldn't seem out of place incorporated into the service itself. How much connection is there between these nominally secular symphonies and religious music?
Church services of all sorts lend themselves to different styles and moods of music. The Finales of many of Widor's and Vierne's symphonies make for rousing recessionals, but would be completely out of place during communion or before a quiet weekday Evensong. There are movements in each symphony which lend themselves perfectly to setting an atmosphere of quiet pre-service meditation, or give a beautiful and introspective theme to an otherwise silent communion. The beauty of instrumental music, orchestral or organ or otherwise, is that, without words, the listener can impart upon it their own meaning, making almost everything a medium for worship, quiet contemplation, or triumphant joy.
Given that the organ and Vierne are intrinsically connected to religious buildings, and that the building itself is part of the instrument, every movement of his symphonic works could quite happily reside in a liturgical setting. There is some music in Vierne's 24 Pièces de Fantaisie, for example, which best suits a concert platform, but the symphonies can sit comfortably in either context.
Following a renovation in 2013, the Temple Church organ on which you've performed these Vierne symphonies saw a rather more unconventional use – as part of Hans Zimmer's soundtrack to the 2014 film Interstellar, with yourself as soloist. Can you tell us a little about how this came about, and what role the organ plays in the soundtrack?
Hans Zimmer had always wanted to write the organ into one of his scores, and the Interstellar film seemed to be the perfect vehicle for this ambition. He based his registrations and organ writing on the Salisbury hauptwerk organ and, having completed the score, decided that he would like to record the organ part live on a real organ. A member of his team knew of the Temple Church and its organ, and we were approached as a possible venue. Given the location, without passing traffic noise and the daily routine of choral services, we were chosen and I happened to be in the right place at the right time!
The organ is a major part of the narrative of the film. The story is as much about human emotion as it is about dimensions across galaxies. Each theme in the organ score is associated with either characters or events. The most haunting of all the themes is played on gentle flutes, and represents the loss of time and life experiences. Zimmer interweaves this poetic organ writing with more thrilling, visceral writing representing power and drama.
For many people, the organ is associated with religion, an immense and unfathomable sphere. Space can seem just as vast, and just as full of mystery, truth and doubt. The organ seems to bind those two narratives together.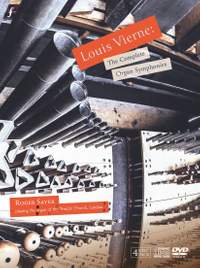 Roger Sayer (Harrison and Harrison organ of the Temple Church, London)
Available Format: 3 CDs + DVD Video