24th September 2021
 Recording of the Week

,

  Michael Spyres - Baritenor
It's almost a year since Michael Spyres gleefully confounded expectations by assuming the baritone role of Figaro opposite Lawrence Brownlee's Almaviva on the opening track of their wonderful Amici e Rivali; given the maverick American singer's association with high-lying roles such as Donizetti's Polyeucte and Berlioz's Énée, his sonorous barber came as a delightful surprise to many of us at Presto, and today sees him pushing the envelope still further with a programme which mixes tenor and baritone repertoire with merry (but historically-informed) abandon.
The dividing-line between sopranos and mezzos has always been a flexible one, with roles like Donizetti's Maria Stuarda and Elisabetta, Verdi's Lady Macbeth, and Wagner's Ortrud and Kundry attracting ladies from both camps, and there's no shortage of recent and current female singers who've successfully 'transgressed' even further: witness the late, great Jessye Norman and Christa Ludwig, as well as Cecilia Bartoli, Karita Mattila and the marvellous young Irish mezzo Tara Erraught.
For the men, though, the boundaries have to come to be pretty much set in stone – Debussy's Pélleas remains the only role in mainstream opera repertoire to be tackled by both tenors and baritones on a regular basis, and Plácido Domingo's controversial decision to transition into baritone territory over the last decade or so is very much the exception rather than the rule. But as Spyres points out in his affable and erudite booklet-essay, this hasn't always been the case: Mécène Marié de l'Isle, who created the high-C-studded role of Tonio in Donizetti's La fille du régiment, embarked on a long career as a baritone just a few years later, and Mozart's Don Giovanni was a favourite of many great nineteenth-century tenors including Andrea Nozzari, Manuel Garcia Senior and Giovanni Battista Rubini.
Spyres's programme, then, is no gimmick or grab-bag of show-stoppers, but a carefully-plotted journey through the evolution of a voice-type that's all but disappeared from plain sight: beginning with Mozart, he charts the development of the male zwischenfach voice via composers including Rossini, Spontini, Méhul, Wagner, Offenbach and Korngold, and does so with such rock-solid technique and vivid characterisation that it's impossible not to be swept along by his enthusiasm. And there's never so much as a hint that he's pushing his instrument beyond its comfort-zone for the sake of novelty: instead, we're left with the impression of a singer exploring everything his remarkable voice has to offer.
To begin near the beginning, his ebullient account of Figaro's Largo al factotum is an absolute joy, and the resourceful barber's delight in his ability to be all things to all people sums up the spirit of the album as a whole: Spyres (who dreamed of becoming a cartoon voice-over artist as a child) revels in the opportunity to conjure up a melée of different characters as Figaro mimics the many and varied voices clamouring for his services. And as with the rest of the baritone repertoire on the programme, the top notes somehow still really sound like top notes in the best possible way, despite the fact the Spyres has a good sixth in reserve above the high Gs which push most baritones to their limits here.
That upper extension is revealed in all its glory in an aria from the same composer's Otello, which showcases Spyres's full three-octave range almost to the max, ranging from a high D to the E below the bass stave. It's exhilarating stuff, but what's still more impressive is his ability to comfortably inhabit different tessituras for sustained periods with no loss of colour or resonance: his Conte di Luna (placed audaciously right after Tonio's high-flying 'Ah, mes amis!') would grace any opera-house you care to name, as would his account of the Prologue from Pagliacci and the Count's aria from Mozart's Figaro (given here in an alternative version which Mozart composed for Vienna, complete with a plethora of top Gs which would strike fear into many a baritone heart).
An important project, then, as well as an enormously enjoyable listen: Spyres's voice is undeniably an exceptional one, but I have a hunch that his interrogation of boundaries here will inspire many a young singer and casting-director to think outside the box in the years to come…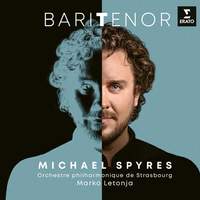 Michael Spyres (baritenor), Strasbourg Philharmonic Orchestra, Marko Letonja
Available Formats: CD, MP3, FLAC, Hi-Res FLAC