15th July 2021
 Interview

,

  Sonya Bach on Rachmaninov
After the deliberate punning title of her debut album, one might have wondered whether Korean pianist Sonya Bach would simply restrict herself to performing works by members of the illustrious German clan whose surname she shares.
Fortunately she has proved not to be bound by such nominative determinism; a second album of solo works by Chopin was no less acclaimed than her Bach keyboard concertos, and she has now followed this up with a third album, this time built around Rachmaninov and centring on his formidable Second Piano Sonata. The flamboyant Moments Musicaux and a selection of Preludes from the ever-popular Op.23 set complete the programme.
I spoke to Sonya about the works on this album, and in particular the evolution of the Sonata No.2 over time - the influences that went into it and the extensive revisions that the composer made.
All three of your albums to date have had a single-composer focus – Bach, Chopin and now Rachmaninov. Do you prefer to perform and record this way, rather than presenting mixed recitals?
When I think about recording an album I don't think about focusing on one composer but it seems like it ends up that way so far. For my debut recording I started out by recording a few Bach concerti with the English Chamber Orchestra and producer Andrew Keener suggested I record other three concerti and include the Italian Concerto to make a double cd album titled "Sonya Bach plays JS Bach". For the second recording, I wanted to record Chopin Etudes. I thought it made sense to record all twenty-seven etudes as I enjoy performing all of them in recitals and the duration is perfect for a single CD album. In the future I might also record mixed programs but when you start picking one work of a composer and other compositions which might go well together come to mind, then it naturally becomes a single composer focused album which is what resulted in my latest Rachmaninov recording.
What drew you to Rachmaninov for this third recording?
The Rubicon label and I have been discussing my first limited edition LP as well as CD for some time. My idea of recording Rachmaninov was to give a glimpse of what has always been a big part of my musical world which influenced my playing style significantly in my adolescence. Many of his compositions are staples of my recital programs. Also, Rachmaninov's sumptuousness, the richness of sonority and the noble atmosphere seemed perfect to contextualize in a product of his times.
The revised version of the Sonata No. 2 that you're playing here is the result of Rachmaninov heavily cutting down his original after deciding that it was not concise enough. What do you think it was that led him to form such low opinions of this and other earlier works?
It is probably quite natural for a composer to not be fully satisfied with his/her works. For example, great composers like Brahms, Elgar and Tchaikovsky, just to name a few, often not happy with some of their works, frequently destroyed their manuscripts and scores. Rachmaninov frequently made revisions to his works after their original publication. I believe it's a common practice for a composer to revise his own compositions over years after their initial publication to trim down the elements which he/she thought were awkward or excessive as did Liszt, who was good friend and teacher of Siloti, Rachmaninov's first cousin and teacher. It's quite interesting that once Siloti took Liszt's Hungarian Rhapsody No. 14 to Liszt and asked for his approval to make changes to the score, to which the composer agreed! I believe that this attitude has been passed on to his pupils.
Both here and in Rachmaninov's orchestral output, it's common to encounter sounds inspired directly or indirectly by the ringing of bells. Why was this such an important influence on him?
Rachmaninov spent much of his childhood in the Russian countryside where he was fascinated by the sound of church bells and later integrated it into his musical language. He often spoke about the impact of the bells on the Russian soul. Rachmaninoff wrote in 1913, "The sound of church bells dominated all the cities of the Russia I used to know—Novgorod, Kiev, Moscow. They accompanied every Russian from childhood to the grave, and no composer could escape their influence. All my life I have taken pleasure in the differing moods and music of gladly chiming and mournfully tolling bells. This love for bells is inherent in every Russian… If I have been at all successful in making bells vibrate with human emotion in my works, it is largely due to the fact that most of my life was lived amid vibrations of the bells of Moscow…" In this recording, too, you can hear these bell-like effects and sonorities from the opening of the Second Piano Sonata to the dramatic finale of the Moment Musical No. 6 on the other.
Can you tell us anything about your plans for future recordings – will you return to concertos, as with your debut recording of Bach, or stick to solo repertoire?
Before the pandemic I had some concerto repertoire in mind to include in my future recordings but then figured it was best to wait for better times. During the lockdowns I brought back a vast range of solo repertoire such as complete Prokofiev Sonatas, Romeo and Juliet, selection of Ravel solo pieces, a few Partitas by JS Bach, virtuoso Godowsky arrangements of Bach's violin sonatas and cello suites among others. I'm pretty sure I will include some of these works in my next recording.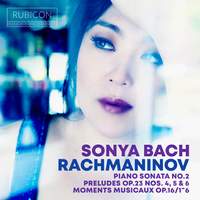 Sonya Bach (piano)
Available Formats: CD, MP3, FLAC, Hi-Res FLAC, Hi-Res+ FLAC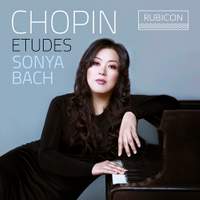 Sonya Bach (piano)
Available Formats: CD, MP3, FLAC, Hi-Res FLAC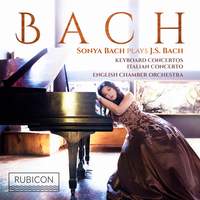 Sonya Bach (piano), English Chamber Orchestra
Available Formats: 2 CDs, MP3, FLAC, Hi-Res FLAC