24th May 2021
 Interview

,

  Anna Lucia Richter on Il Delirio della Passione
Soprano Anna Lucia Richter has made a number of acclaimed recordings of Schubert, Schumann, Haydn and Bach, but hitherto nothing quite as early as the Monteverdi that she's chosen for her latest release - Il delirio della passione showcases some of his finest sacred and secular vocal works, with Richter, Ensemble Claudiana and Luca Pianca engaging audibly with the music's astonishing emotional depth.
It's also in a sense her swansong, at least in her current vocal guise - though don't despair if you've been captivated by this album and her previous discography! As Richter explains, after initially making her mark in soprano repertoire, she is continuing her career as a mezzo-soprano. I spoke to her about her interest in Monteverdi, and about the challenges and opportunities of the voice's natural development.
The story of opera's genesis in the Florentine Camerata's pursuit of ancient Greek drama is reasonably well-known, but what was it about ancient Greece that so attracted them? Why were they so keen to reconstruct its musical and theatrical styles in 17th-century Italy?
I also talked about this and asked Luca Pianca, the wonderful lute player with whom I recorded this CD. He taught me a lot about Monteverdi.
I think that the inspiring trigger was the perfection of the rhythmic pulse of the Greek tragedies. Of course there were a lot of experimental trials - nobody could know "how" the Greeks were playing and declaiming in their performances - but I think that the process of looking back and being "modern" at the same time was very challenging. For Italian intellectuals and artists, Ancient Greece and Ancient Rome have always been important models. Finally, what is really effective is, that through the development of those trials, a real new way to the music was created : Opera!
Some of these performances – in particular La musica's prologue to Orfeo - are very highly ornamented and feature great variety in the instrumentation. How much do we know about the way these aspects of performance would have been approached at the time?
Concerning "Musica", first scene of "Orfeo", we have the instrumentation written in Monteverdi's hand in the first pages of the ancient edition: we only added percussion on top, which is pretty much appropriate to underline the dance character of the ritornelli.
The famous Lamento della ninfa is a large-scale and almost theatrical work, with specific roles for the singers. Was it usual for composers of Monteverdi's time to push the boundary between madrigals and drama in this way?
Yes, it was usual, especially through the use of chaconne and passacaille patterns. The descending 4 tones bass line represents in fact sadness and melancholy, throughout the baroque period.
Your previous albums have seen you tackle a variety of eras – most recently exploring homesickness through Schubert's Lieder – but nothing quite as early as Monteverdi. What was it that drew you to his music for this album?
The earliest music I recorded before this was Bach of course (e.g. our CD "Bach Privat" with Georg Nigl, Andreas Staier and others). But when I sang "La Musica" and "Eurydice" with the Freiburger Baroque Orchestra and Pablo Heras-Casado, an opera production of "L'Orfeo" by Sasha Waltz at Berlin State opera and Amsterdam Dutch Opera a few years ago I fell in love with Monteverdi. A little later I met Luca Pianca and knew that he was the ideal partner for this CD. He is an expert and a wonderfully enthusiastic interpreter of this music.
You've mentioned that this is your final album as a soprano, prior to transitioning into a mezzo-soprano. For those who may not know so much about the way the voice develops – how usual is this sort of change, and how do you navigate it while maintaining your professional career?
Regarding this transition I was lucky to have the time to change my technique during the difficult Coronavirus year of 2020. I started singing extremely early, when I was nine years old, but the voice grows and matures until you are around 27. So it is not that unusual, that the voice changes. Wonderful colleagues like Elisabeth Kulman or Anne-Sophie von Otter are my role models as they did the same in the same age. Now, one year later, I enjoy singing with my new "mezzo-identity" and really hope, that it will be possible to sing live concerts again, soon!
Is there any mezzo-soprano repertoire that you're particularly looking forward to performing?
There are so many beautiful pieces! I am happy to be singing Mozart's Don Giovanni Zerlina in Salzburg this summer, which is a part sung by both sopranos and mezzo sopranos. In the future I would love to sing Mozart's Sesto or Dorabella or Cherubino, too. Also many Händel parts like Händel-Sesto or Ariodante. This winter I will sing my first Humperdinck Hänsel. This will be so much fun. I've even started dreaming about Octavian... And of course I am so much looking forward to singing all the Bach Oratorio alto parts, as well as Mahler parts like Mahler 2, Wunderhornlieder, Kindertotenlieder or Rückertlieder.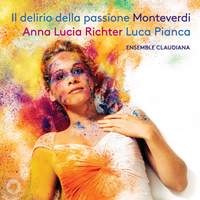 Anna Lucia Richter, Luca Pianca, Ensemble Claudiana
Available Formats: CD, MP3, FLAC, Hi-Res FLAC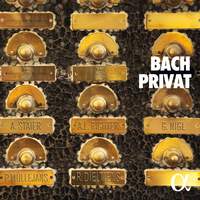 Georg Nigl, Andreas Staier, Anna Lucia, Richter, Petra Müllejans, Roel Dieltiens
Available Formats: CD, MP3, FLAC, Hi-Res FLAC