7th May 2021
 Recording of the Week

,

  Ombra Compagna from Lisette Oropesa
In addition to a serious online yoga habit and a somewhat behind-the-curve addiction to Scandinavian crime dramas, I've also developed a new voice-crush during lockdown: the radiant Cuban-American soprano Lisette Oropesa was a singer I'd never heard live before the pandemic hit, but a series of outstanding streamed performances have made me avid to rectify that once opera-houses reopen their doors. Her luminous Meyerbeer was a highlight of the Metropolitan Opera's Zoom gala last April and she positively sparkled in Bellini and Donizetti from Covent Garden a few months ago, but it was her impeccably-sung Konstanze in Mozart's Die Entführung from Vienna that really blew me away: the fearsome coloratura, sustained high notes and white-knuckle leaps between registers which the composer conceived for the 'flexible throat' of Catarina Cavalieri could've been written for her, and were despatched with consistently beautiful tone as well as real dramatic investment.
All of these qualities and more are displayed to perfection on Oropesa's Pentatone debut Ombra Compagna, which focuses on arias which Mozart wrote for either concert-performance or insertion in other composers' operas (still a common practice in the late eighteenth century, when star singers would regularly swap out their big numbers for a tailor-made setting of the same text by AN Other). Spanning the composer's short but wildly prolific career, the album opens with the astonishingly precocious Berenice…Sol nascente which the twelve-year-old Mozart is thought to have written as an epilogue for a now-forgotten opera by Giuseppe Sarti, and from Oropesa's very first entry it's clear that she's a Mozartian of exceptional quality. In the first section of the aria she's required to sing a very simple ascending scale, and whilst this might sound like small fry in comparison with the pyrotechnics that explode later on in the programme, it proves a litmus-test which she passes with flying colours: the voice is rock-steady but pliant, with no audible register-breaks, crystal-clear vowels and immaculate intonation. It might seem an insignificant phrase in the grand scheme of things, but it provides a wonderful opportunity to hear the lily before it's gilded…
And gilded it most certainly is over the course of the next hour. The final section of Berenice sees the young composer making some of his first explorations of the possibilities of the soprano voice with all the hyperactive excitement of a child in a sweet-shop, taking his soloist from below the stave to high D in the blink of an eye and demanding brutally exposed staccatos as well as dizzying vocal roulades which Oropesa delivers with absolute ease and an exuberance which matches the composer's own. (In her interview with David she mentions her ambition to sing Aspasia in Mitridate, composed around the same time, and her delight in exploring the child prodigy's emerging voice is palpable).
There's more to Oropesa than coloratura fireworks, though, and the rest of the programme affords her ample opportunity to demonstrate just what a versatile singer she is: Alcandro, lo confesso and Vorrei spiegarvi, o Dio (both written for Mozart's eventual sister-in-law Aloysia Weber) showcase her ability to spin long piano lines at the top of her range, and the sassy insouciance which she brings to the opera buffa-ish Voi avete un cor fedele reminds us what a fine Susanna she made at the Met early on in her career. The highlight of the album for me, though, is the great scena Misera, dove son!, where she digs into Metastasio's dramatic text with relish, unleashing an impressive chest-voice and steely tone that made me wonder if roles like Donna Anna and Elettra might figure in her future…
With plenty of bite and rasp in the strings (and some especially glorious horn-playing in several postludes) Il Pomo d'Oro under Antonello Manacorda provide scintillating support throughout the programme – indeed 'support' is perhaps too weak a word here, given that everything really feels like chamber-music with obbligato voice, particularly in the numerous passages where the principal oboe duets with Oropesa like a second soprano.
Oropesa's on the shortlist for Female Singer of the Year at the 2021 International Opera Awards (to be revealed on Monday), and on the evidence here she'd certainly have my vote…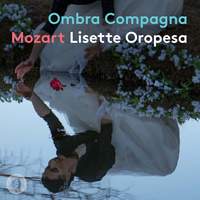 Lisette Oropesa (soprano), Il Pomo d'Oro, Antonello Manacorda
Available Formats: SACD, MP3, FLAC, Hi-Res FLAC, Hi-Res+ FLAC