7th May 2021
 Interview

,

  Lisette Oropesa on Mozart
Mozart's stage works are, of course, well-known staples of the repertoire, encompassing plenty of arias that have taken on a semi-independent life of their own in concerts and recitals. What's slightly less often heard is the music Mozart himself wrote specifically for such vocal recitals – standalone arias and scenes that, rather than forming part of a larger work, exist purely as concert items.
It's this fascinating corner of his compositional output that is the focus of soprano Lisette Oropesa's debut solo album, Ombra compagna – putting a fresh twist on the concept of the aria-recital album, and focusing some welcome attention on a number of wonderful but relatively neglected works. I spoke to Lisette about the arias and scenas on this recording, and her relationship with Mozart more broadly...
You've obviously done a huge amount of on-stage Mozart, as well as these concert works. How much similarity do you find there is between these arias and the roles you've performed?
I find that there is a huge difference between Mozart concert arias and Mozart's operatic arias. The main thing is that the concert arias are complete scenas (in most cases) with long, accompanied recitative, and then an aria that often has at least three sections. They make for longer, more dense works, as well. So they are almost like mini-operas or mini concertos for the voice!
The arias on this recording cover a wide range of sentiments – from paying tribute to a rich patron to portraying conflicted lovers and ill-starred heroes. Do you think there are any particular themes that run through them all?
Often Mozart's concert arias have rather serious texts that involve dramatic elements, from the point of view of grandiose characters. There are life and death situations, political references, and of course, the gods! Of course these themes played central roles in music of the time, because they were grandiose enough to justify the incredibly intricate and involved vocal writing, and they honored specialized, very famous vocalists who may have also been wealthy patrons. It's interesting to see how Mozart tailor-made his arias to suit one voice or another, to stress a singer's strengths and bring them to the forefront, all while keeping an element of his own style always audible.
These works also trace Mozart's career through from his early teens to the very end of his career. When you perform them, how much sense do you get of his vocal writing developing over time?
Goodness, YES. There is a more instrumental quality to his earlier concert arias (and even his operas) that most people notice immediately. More coloratura, more scales, more fireworks…less introverted emotional complexity. But as his life progressed and he gained experience writing for the voice, he began to rely more on text to paint a musical picture, and less on pure musical talent, if you will…he brought the psychological aspect of the human voice into the spotlight. And he only lived to his mid-30s! Imagine how far he could have gone…he was already experimenting with chromaticism, atonal aspects, musical surprises that were wildly inventive for the time.
Naturally you've performed works by an extensive array of composers over your career, but you've mentioned in your foreword to the album a particular affection for Mozart's music – not just for the voice but also for your former instrument the flute. What makes him so unique and special for you?
I can't put my finger on it, but when I feel it, it just washes over me. I am a sucker for the Mozart Effect. It may be a taste thing, it may be a vibe thing…I'm not sure! I just feel that his music speaks to me. Emotionally I feel like I "get" it, and musically it just makes sense to me and I don't have to dissect it and add layers to it to make it work for me. In fact, in all its bareness (often the most difficult music he wrote looks the simplest on paper) it somehow resonates with me to the core. I find myself moved, and it is an overwhelming experience like no other.
When approaching these arias – or indeed Mozart generally – are there are any other artists whose interpretations you find yourself drawing on and influenced by?
You know, Mozart's music is one that for me, has to be made simple. The more fluff an artist tries to add, the more alienated I feel. It's a bit like an essential oil…it only takes a few drops and its full strength doesn't need to be diluted for the effect to take hold. Mozart writes tension and release right into the music. He writes happiness laced with longing, right into the music. He puts a laugh, a tear, right into the score. You don't even have to dress it like a window front. But that's the challenge of it, and what makes it scary! It's extremely vulnerable and as an artist you bare all. From a singer's perspective, I think the greatest Mozartians are the ones who trust in the purity of the material, and there are many who do so! The ones I can say I've learned the most from are soprano Kiri Te Kanawa, Maestro James Levine, and pianist Ken Noda.
You already sing the major role of Konstanze in Die Entführung - do you see yourself taking on any of the other big soprano roles in the future – Fiordiligi, the Donnas in Don Giovanni or maybe even Elettra?
I am so appreciative of the suggestions! Elettra has been playfully suggested to me, since I missed every opportunity to sing Ilia (a role I actually learned in the Young Artist Program at the Met) in Idomeneo. I would be thrilled to sing Aspasia, and yes, eventually, when my voice is ready, to take on Fiordiligi, and perhaps Donna Anna.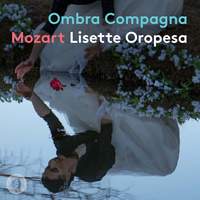 Lisette Oropesa (soprano), Il Pomo d'Oro, Antonello Manacorda
Available Formats: SACD, MP3, FLAC, Hi-Res FLAC, Hi-Res+ FLAC