30th April 2021
 Recording of the Week

,

  Alina Ibragimova performs Paganini's Caprices
It's likely that the coming years may see a small crop of "lockdown project" solo releases, borne out of musicians' desire to keep their faculties sharp during the suspension of normal music-making. Early in the first lockdown many people drew up far-reaching plans for all the novels they were going to read (or write), the new skills they were going to master, and so on. Alina Ibragimova, however, evidently didn't think that was ambitious enough, and instead spent the spring of 2020 learning and recording Paganini's twenty-four nightmarishly difficult Caprices for solo violin.
Although the first three Caprices set out her stall convincingly, I was particularly drawn in by the operatic melodrama and rich two- and-three-part harmonies of No. 4, as well as the intimidatingly confident approach she displays here to the fingerboard's upper slopes – where lesser players, not trusting their own intonation, might fear to tread. Ibragimova's playing in these stratospheric passages, and subsequently throughout the album, reminded me vividly of the gravity-defying antics of mountain-dwelling goats; their preternatural sure-footedness and total disregard for terrifying heights is mirrored in her absolute exactitude in traversing Paganini's own peaks, her unhesitatingly decisive bowing a demonstration of her utter confidence in each leap and landing. Triple- and indeed quadruple-stopping recur throughout the set: in No. 14 Ibragimova executes fistfuls of chords with almost no audible spreading, which would have been impressive enough even on the flatter-bridged instruments of Paganini's time, but on today's models borders on the miraculous.
In No. 5 and elsewhere, Ibragimova achieves an almost machine-like sound – contrasting the rubato of earlier movements (which, as in other unaccompanied repertoire, unavoidably risks obscuring the pulse) with a martial and precise moto perpetuo that, far from sounding soulless, is some of the most exciting playing on the album. It finds an echo in the similarly furious middle section of No. 19, which bursts out of the opening delicate and birdsong-like material like a swarm of disruptive bees before disappearing back into thin air as quickly as it arrived.
One of Paganini's trademarks was the use of octave double-stopping – this challenging technique, demanding truly exceptional intonation, appears throughout the Caprices and is just one of many pitfalls awaiting the player. Perhaps the most jaw-dropping manifestation of this comes in the middle section of No. 17, where the entire melody (a pacy little tune with shades of Monti's Csárdás) is played in octaves. It looks forbidding on the page, even to a non-string-player such as myself – but to hear Ibragimova rattle this passage off without a backward glance, one gets the impression that somebody forgot to remind her that it was supposed to be difficult. An honourable mention must also go to No. 23, where an already tricky sequence of rapidly-descending chromatic scales is cranked up to eye-watering difficulty by octave doubling.
Despite Ibragimova's precision being consistently faultless, there is absolutely nothing on this album to suggest that expression has been sacrificed to mere accuracy. From the hesitant, trembling sotto voce she achieves in No. 6 to the declamatory swagger of No. 10 or the Bellinian cavatina that opens and closes No. 11, she fully explores the emotional gamut that these Caprices run. They are, after all, works intended to be pleasant to the ear as well as taxing for the hands, thought to have been inspired by a pre-existing, rather dry, set by Locatelli. Their infectious melodiousness has since seen them adapted by Schumann, Liszt and many other composers – most famously Rachmaninov, in his concertante piano variations on the final Caprice. It's rather satisfying that this last piece should have become the most recognisable melody; it allows it to function both as the conclusion and simultaneously as a kind of encore.
Alina Ibragimova has been a frequent recipient of well-earned praise from the editorial team here at Presto (and indeed elsewhere) for repertoire ranging from Mozart sonatas to Shostakovich concertos, but I think I'm justified in proposing that this is her most impressive achievement to date. To tackle some of the hardest pieces ever written for the instrument and not merely surmount their technical challenges but breathe vivid life into the music is a feat to which few living violinists would be equal.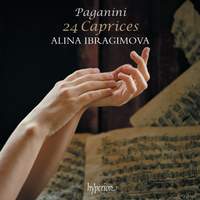 Alina Ibragimova (violin)
Available Formats: 2 CDs, MP3, FLAC, Hi-Res FLAC