26th March 2021
 Recording of the Week

,

  A Mozart postscript from Rachel Podger
Musical fragments are eternally tantalising mysteries – from unfinished symphonies by Schubert, Bruckner and Mahler to lost operas by Monteverdi, Handel, Rameau and others. Today's Recording of the Week presents some of the fruits of a project to restore certain Mozart fragments – which some will find an absorbing deep-dive into the mind of a great composer, and others a presumptuous act of musicological necromancy. As will become clear, I fall firmly into the former category.
Violinist Rachel Podger and fortepianist Christopher Glynn perform seven realised fragments of Mozart sonatas for piano and violin, the work of musicologist Timothy Jones. One fascinating aspect of Jones's approach is his creation of several completions of each fragment – re-emphasising the impossibility of distilling 'what Mozart would have done'. The compositional process could have taken any number of twists and turns, and Jones sees it as part of his mission to explore multiple possibilities. We are thus treated to two completions each of sonata-fragments in B flat, A and G, book-ending a single completion of one in C minor.
The phrasing 'for piano and violin' is intentional; these are still in many ways piano sonatas 'with violin accompaniment', and the opening of the B flat Sonata Allegro (K372) makes this clear. There are delightful rippling quavers in thirds between the piano and violin – accompanying a melody lying not in the violin, as one might expect, but in the right hand of the piano. This approach predominates throughout, with neither performer dominating the other.
Jones's third completion of this Allegro responds to the opening fragment's bravura by reacting against it, offsetting it with more introspective material that opens the development section. The other completion performed here, his second (confusingly, appearing later in the album…) intentionally does the opposite, leaning into the showy crowd-pleasing virtuosity with a relentless moto perpetuo rollercoaster-ride, with respite only arriving in a brief coda. The task of performing two different completions of the same material and rendering both persuasive and appealing is one that most musicians would probably never expect to be faced with, yet Podger and Glynn convey every nuance of both Mozart and Jones, presenting each of the latter's musical 'hypotheses' with conviction and sensitivity.
The A major fragment (KV Anh. 48) – the subject of a delightfully arcane dating dispute based on Mozart's choices of writing-paper – has a more lyrical feel than the B flat major, as well as a distinct gravitas. The imposing opening motif sets the tone for the latter, with a generous use of pedal-points also helping to lend a feeling of stately groundedness. Jones shrewdly hedges his bets on the chronology, offering one completion based on each proposed date. The approach he adopts in completion No. 4 nudges him towards the style of the (complete) Sonata K454 dating from 1784, with its likewise forthright opening and general bold demeanour, as well as fortepiano passagework drawing on the piano concertos written around this date that puts an ever-assured Glynn through his paces. Working from the rival theory, conversely, relocates the sonata to 1787 and a more genteel, private drawing-room environment – completion No. 1 is somewhat closer to chamber music. While the shared material is performed fairly similarly in both cases, the musicians soon display their responsiveness when the music diverges, responding to Jones's twin personas with equal skill.
The obvious risk of juxtaposing alternative completions is that it enables the listener to indulge in a little armchair musicology of their own and deduce where the Mozart must end and the Jones begin. For me, though, this rather misses the point and seems almost churlish; Jones is scrupulously humble in the sleeve-notes about the nature of his craft, making no claim to have called up Mozart's ghost for a consultation. Despite his protestations of unworthiness, I never found any points where Mozart's genius was audibly supplanted by something second-rate. Frankly, Jones does himself a disservice by stating that his completions 'inevitably disfigure' Mozart's music; this is something far more positive and respectful, a kind of homage paid across the centuries by a sincere and thoughtful devotee. Podger and Glynn deserve no less credit for committing themselves so completely to bringing the fruits of Jones's scholarship off the page.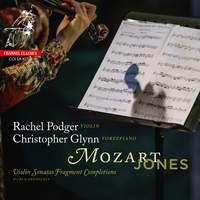 Rachel Podger (violin), Christopher Glynn (piano)
Available Formats: SACD, MP3, FLAC, Hi-Res FLAC