12th March 2021
 Recording of the Week

,

  French Piano Duets from Paul Lewis and Steven Osborne
In the wake of current restrictions on music-making with others outside the home, the piano-duet seems to be enjoying its biggest surge in popularity since the nineteenth century at the moment, at least if my own circle of musical friends is anything to go by: over the past year, I've heard from dozens of erstwhile orchestral and choral musicians who've dug out old copies of music for four hands and enlisted their partners/support-bubbles to have a crack at Schubert's F minor Fantasia or transcriptions of Beethoven symphonies, with varying degrees of success. (My recent enthusiastic assault on the secondo part of the Eroica with a very patient and distinctly more accomplished Presto colleague certainly won't have either artist on this recording looking to their laurels).
Today's Recording of the Week, then, may provide some welcome inspiration for anyone who finds themselves temporarily sharing a keyboard with a friend or family-member in lieu of choir practice or orchestral rehearsals, especially as much of the repertoire on Paul Lewis and Steven Osborne's delectable programme lies within the capabilities of the half-decent amateur: several of the pieces here were written with children in mind, including Stravinsky's Three Easy Pieces for Piano Duet which leaves the heavy-lifting to the primo player.
It goes without saying that Lewis and Osborne are amateurs only in the best sense of the word, their love for this repertoire (and for one another's artistry) shining forth in every phrase of this sparkling recital of French miniatures. The pair began performing as a duo during their time as BBC New Generation Artists, and although their joint activities were on hiatus for nearly a decade before this project the natural musical sympathy between them is every bit as miraculous as it was on their Gramophone Award-nominated disc of Schubert's music for four hands back in 2010.
Though Lewis has focused mainly on Austro-Germanic repertoire to date whilst Osborne has cast his net more widely (not least with a superb solo album of Ravel ten years ago), they're very similar musical personalities in terms of the subtlety and introspection of their playing, and such is the synergy between them that for most of this recital I entirely forgot that I was listening to two pianists rather than one: every shift in colour, dynamic and tempo is perfectly synchronised, and the balance throughout is similarly immaculate, with neither succumbing to the temptation to over-assert themselves when playing the supporting role. (The Stravinsky, with its deliberately workaday secondo part, is a fine example of this, though as the booklet doesn't specify who's playing what I can't give credit where credit's due here: the two switch roles throughout the programme, and with such aplomb that it's never obvious who's taking the spotlight).
Fauré's lovely Dolly Suite, written for the young daughter of the composer's lover Emma Bardac, launches proceedings in charming style, with an enchanting 'music-box' quality in the treble (Lewis, I think, given he's taken this role in their live recitals) for the opening Berceuse, and some beautifully-matched cantabile playing in the distinctly more 'grown-up' Tendresse. Both sets of gloves certainly come off for the dashing Pas Espagnol which closes the suite, the pair clearly having enormous fun here and in the almost Stravinsky-esque opening of Poulenc's youthful Sonata for Four Hands which follows attacca.
Debussy's Six épigraphes antiques, which draws on material from the Musique de scène pour les Chansons de Bilitis composed a decade or so earlier, receives a performance of beguiling sensuality in which both players are ever-mindful of its predecessor's scoring for flutes, harps and celeste: there are moments where you'd swear they were sitting at an Érard, and the pedalling in particular (a potentially tricky issue in piano duets, and the domain of the secondo player throughout this programme) is superbly judged. Ravel's Mother Goose bursts with colour and character, the galumphing Beast in 'La belle et la bête' assuming a touchingly awkward dignity and the enchanted garden of the final tableau springing to life in all its shimmering beauty.
A true meeting of musical minds, then - and if it inspires any amateur duos out there to brush off their Dolly Suites then so much the better!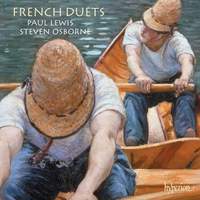 Steven Osborne (piano), Paul Lewis (piano)
Available Formats: CD, MP3, FLAC, Hi-Res FLAC, Hi-Res+ FLAC