16th March 2021
 Interview

,

  Renaud Capuçon on Elgar
British repertoire hasn't figured much in French violinist Renaud Capuçon's extensive discography to date, but for his latest recording (released on Erato earlier this month) he's jumped in at the deep end with Elgar's Violin Concerto, which he describes as 'a huge piece, both in terms of its length and its romantic and noble nature'. It's coupled with the Violin Sonata from eight years later, which sees Capuçon joining forces with Stephen Hough for the first time on disc.
Over coffee and Zoom last month, we spoke about his favourite early recordings of these works, the reception of Elgar's music in France, his hopes that both pieces are steadily gaining a wider international audience, and why it was so important to him to record them with a British pianist, conductor and orchestra...
Can you tell me a little about the beginnings of your relationship with the Violin Concerto, and with Elgar's music in general?
I think it all began with hearing the Cello Concerto with Jacqueline du Pré when I was quite young, through the Christopher Nupen movie. I was stunned by it in every respect: the composer's musical language, the piece itself, and Jacqueline's absolutely unique way of playing it. Then not long afterwards I heard there was also a Violin Concerto so I got hold of the Yehudi Menuhin recording with Elgar conducting, which is the place to start with this piece because it's so incredibly passionate. There's something magical about the whole story, too, with Menuhin being only sixteen at the time; it just drew me straight in, and I vowed to myself that I'd play it one day. I eventually bought the music when I was studying in Berlin in 1995 and began to learn it with no particular goal in mind, then ten years later I finally got to play it in Vienna. I've performed it many times since then, and interestingly almost always with English conductors, including Robin Ticciati, Paul Daniel, and the late Jeffrey Tate. So all in all it's been a pretty long relationship!
What are your feelings about the other early recording of the piece, with Albert Sammons and Henry Wood?
I discovered that much later, perhaps four or five years after I heard the Menuhin recording, and I think it's absolutely wonderful in its own way. Simon actually called me a couple of weeks before the recording to ask if I knew the Sammons, and when I said it was one of my favourites he was overjoyed because he loves it so much too; it was great to know we were on the same page before we went into the studio. What I love about this recording of both the concerto and sonata is that Sammons puts me very much in mind of the Franco-Belgian school – his playing is so clear and accurate, and if you listen with the score you can see that he does absolutely everything that Elgar wanted. It's a little less passionate than the Menuhin recording, granted, but it's more mature in a way: you can feel that this is a man rather than a boy of sixteen. I would have loved to have met Sammons, and I would have loved to have heard him perform live.
How well known was Elgar's music in France when you were growing up?
Barely at all! I heard a few performances of the Enigma Variations and Cello Concerto for sure, but I never saw the symphonies programmed, which are just amazing. I know Daniel Harding and Daniel Barenboim both brought some of his pieces to the Orchestre de Paris during their tenure, but I never heard the Violin Concerto live in France – in fact I didn't know any French violinist who even had it in their repertoire, apart from my colleague Philippe Graffin who recorded it maybe ten or fifteen years ago. Ginette Neveu never played it, nor did violinists from the generation before me, like Augustin Dumay and Pierre Amoyal: I find it a mystery! And the Sonata is played even less. I got to know it thanks to Maxim Vengerov, who recorded it in Berlin in the mid-1990s - I was studying there at the time so I went along to the recording session, and I found the piece completely overwhelming, as if I knew it already and it was in my blood.
There's just no good reason why these two pieces aren't played more internationally: sure, the Concerto is very long, but that in itself doesn't explain it. It's a huge work, but it's not like the Schumann concerto, which is both amazingly difficult for the violin and full of all sorts of controversial things. Certainly there are technical challenges in the last movement of the Elgar which are pretty formidable – even if you've played the piece twenty times you still have to really work on it, and I think every violinist would say the same! But you'll never hear anyone argue that it's not a well-written concerto: I think we're all agreed that it's a masterpiece.
Do you think the tide is turning in terms of the piece being performed more outside the UK?
I hope so, yes. I'm doing it next year with Orchestre de Paris and Daniel Harding: it'll be my first time playing it in Paris, and once again it's with an English conductor! I do think it's coming back into fashion, rather as the Korngold concerto did relatively recently: of course Jascha Heifetz and a few other people had recorded it, but until Gil Shaham championed the piece in the 1990s it was really rare to see it on concert-programmes. I premiered the Korngold with the Berliner Philharmoniker in 2002, and looking back it seems incredible that they'd never played it until then! Since then they've done it a few times, but most orchestras programme it every season now. All my students are playing it too, which is great, so fingers crossed it will be the same for Elgar.
Might the Elgar Piano Quintet be on your radar?
Yes: that's the next thing I want to discover. No official plans as yet, but it's definitely coming!
How much did COVID restrictions on numbers and spacing affect the recording-process?
My worry on arriving in London was that if anyone in the orchestra tested positive then the whole thing would be cancelled, so until we finished the recording we were all a bit anxious on that front. Other than that it didn't affect things at all, but of course the LSO is amazingly disciplined. They were all wearing masks, but in terms of numbers I think we could really do everything we wanted; we just organised ourselves in a different way so that the players were spread out and I was in the middle, which meant there was an amazing feeling of making chamber music on a massive scale. My main concern was how the engineers would be able to capture the sound in that set-up, but these guys really know their stuff and they did the most incredible job – after two minutes we went to listen to the playback and I couldn't believe my ears!
Had you worked with Sir Simon Rattle prior to making this recording?
No, and it's strange because we've known each other for ages – I've been to so many of his concerts and had dinner with him afterwards, but somehow we never played together until this project. Naturally we decided that recording the longest concerto in the repertoire was the ideal place to start…
What I love about Simon is that he knows absolutely every corner of this score, and that's rarely the case with the Elgar: plenty of conductors know the Beethoven or Brahms or Mendelssohn concertos inside-out, but finding someone who's so completely at ease with this piece is the exception rather than the rule. He gave me a lot of tips about tempi and colour in particular, all of which were actually written in the music: it was more a case of saying 'perhaps you can do more with this ritardando' than inventing anything extra.
Above all, the extraordinary thing about this recording for me was that from the very first second of our initial read-through I knew that the orchestra also had this music in their blood: I've played the piece with some great French and German orchestras, but this was the first time I've felt things gel straight away. When I recorded the Berg concerto with the Wiener Philharmoniker it was the same – it just felt right from the outset, no explanation needed! The lockdown also added an intensity of its own: the recording took place in September, and as we'd all been more or less unable to play with other people since March we were as excited as a bunch of kids on Christmas morning and just felt so lucky to be making music together again. Perhaps it's my imagination, but I think you can feel and hear that intensity, gratitude and will on every note of the recording.
How did your partnership with Stephen Hough come about?
I'd wanted to play with Stephen for four or five years, and we'd been in touch for a while but never seemed to be available at the same time. When I was invited to play the Brahms sonatas at Wigmore Hall in January 2020, we met there the day before and played through all three without a break: it was so organic and logical, and by the end of the concert it felt like we'd been playing together all our lives. I wanted to record the Elgar with him because I knew he adored this music, and this time the stars just aligned: I decided to do the recording in March, and he and Simon and I all managed to find dates that worked very quickly!
I think it's a nice image to have two amazing English musicians and an English orchestra coming together with a Frenchman who loves this music as much as they do: funnily enough, this recording comes three months after Brexit, and I don't mean that as a joke but as a way of expressing the idea that there are no borders for musicians. Yes, things are about to get ridiculously complicated in terms of visas and touring - but ultimately we are all from the same country, and our country is music. I never planned the recording as a political statement, but let it stand as my way of saying that we love our British musicians and always will.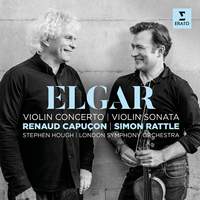 Renaud Capuçon (violin), Stephen Hough (piano), London Symphony Orchestra, Sir Simon Rattle
Available Formats: CD, MP3, FLAC, Hi-Res FLAC, Hi-Res+ FLAC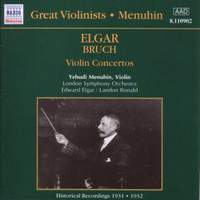 Yehudi Menuhin (violin), London Symphony Orchestra, Sir Edward Elgar (Elgar)/Landon Ronald (Bruch)
Available Formats: CD, MP3, FLAC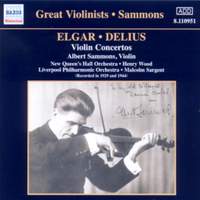 Albert Sammons (violin), New Queen's Hall Orchestra, Sir Henry Wood (Elgar) / Liverpool Philharmonic Orchestra, Sir Malcolm Sargent (Delius)
Available Formats: CD, MP3, FLAC