19th February 2021
 New Release Round-up

,

  New Release Round-Up - 19th February 2021
Today's new releases include a Liszt recital from Benjamin Grosvenor, Beethoven's Seventh Symphony and complete Creatures of Prometheus from the Freiburger Barockorchester and Gottfried von der Goltz, a second helping of Bach keyboard concertos from Francesco Corti and Il Pomo d'Oro, and an homage to Piazzolla from virtuoso accordionist Ksenija Sidorova.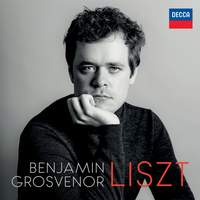 Benjamin Grosvenor (piano)
For his sixth album on Decca, the British pianist presents an all-Liszt programme comprising the Piano Sonata, the Berceuse S174, the 'Sonetti del Petrarca' from Années de pèlerinage, Réminiscences de Norma, and the transcription of Schubert's Ave Maria. Grosvenor's account of the composer's Venezia e Napoli on his 2016 disc Homages was praised in BBC Music Magazine for his 'magical crystalline playing and delicately drawn colours and atmosphere'.
Available Formats: CD, MP3, FLAC, Hi-Res FLAC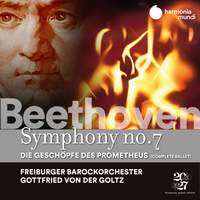 Freiburger Barockorchester, Gottfried von der Goltz
Following their acclaimed account of the Ninth Symphony with Pablo Heras-Casado ('Listen and be amazed' - BBC Music Magazine), the Freiburgers are joined by their Konzertmeister Gottfried von der Goltz for the Seventh, coupled with the complete ballet music for The Creatures of Prometheus - composed for a run of performances at Vienna's Hofburgtheater in 1801, choreographed by Boccherini's nephew Salvatore Viganò.
Available Formats: 2 CDs, MP3, FLAC, Hi-Res FLAC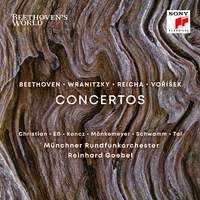 Sarah Christian (violin), Nils Mönkemeyer (viola), Teresa Schwamm (viola), Christoph Eß (horn), Yaara Tal (piano), Stephan Koncz (cello); Münchner Rundfunkorchester, Reinhard Goebel
This latest instalment in the Beethoven's World series opens with a completion of the composer's C major Violin Concerto fragment by Joseph Hellmesberger, followed by Anton Wranitzky's Concerto for Two Violas, a single-movement concert-piece for horn and orchestra by Antoine Reicha, and Jan Voříšek's Grand Rondeau Concertant for Piano, Violin, Cello and Orchestra.
Available Formats: CD, MP3, FLAC, Hi-Res FLAC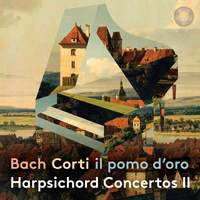 Francesco Corti (harpischord), Il Pomo d'Oro
The first volume of the Italian harpsichordist's Bach series with Il Pomo d'Oro received a warm welcome, with Gramophone describing the interpretations as 'fleet, crisp and buoyant' and BBC Music Magazine hailing him as 'a powerhouse of unbridled vivacity, exciting and excitable in equal measure'; this second instalment features Keyboard Concertos Nos. 5 and 7, plus the Concerto for Harpsichord & Two Recorders BWV1057 and Concerto for Flute, Violin & Harpsichord in A minor BWV1044.
Available Formats: CD, MP3, FLAC, Hi-Res FLAC, Hi-Res+ FLAC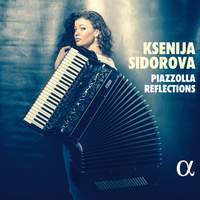 Ksenija Sidorova (accordion)
The bandoneon concerto Aconcagua sits at the heart of the Riga-born accordionist's homage to Piazzólla, which also includes his Histoire du Tango: Café 1930, Chau Paris and Yo soy María (from the tango-opera María de Buenos Aires), and music by Franck Angelis, Pietro Roffi, Sergey Akhunov, and Sergey Voitenko. Look out for David's interview with Ksenija about the project early next month.
Available Formats: CD, MP3, FLAC, Hi-Res FLAC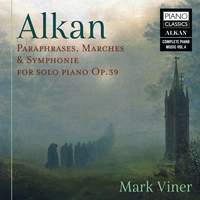 On this fourth instalment of a projected 17-disc series, Viner tackles one of Alkan's most extraordinary works - the Symphony for Solo Piano Op. 39, comprising Nos. 4-7 from the Douze études dans tous les tons mineurs; the album also includes Salut, Cendre du Pauvre!, the Trois Marches quasi da cavalleria, Marche Funèbre and Marche Triomphale.
Read our 2018 interview with Viner about his long-standing passion for Alkan's music here.
Available Formats: CD, MP3, FLAC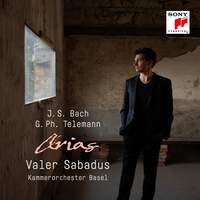 Valer Barna-Sabadus (countertenor), Basel Chamber Orchestra, Julia Schröder
The sweet-toned Romanian-born countertenor's programme juxtaposes the sacred and the secular, with arias from Telemann's Miriways, Flavius Bertaridus and the comic opera Sieg der Schönheit, and excerpts from Bach's Mass in B minor, Magnificat in D, Vergnügte Ruh, and Ich habe genug. As well as contributing obbligatos in several arias, director Julia Schröder also performs Bach's Violin Concerto No. 2 in E.
Available Formats: CD, MP3, FLAC, Hi-Res FLAC
Musica ad Rhenum, Viri Cantores, Jed Wentz
Premiered at Covent Garden in 1745 (the year after Handel's Joseph and his Brethren), Fesch's Joseph was only rediscovered in 1980; this period-instrument recording was made twenty years later, and originally issued on NM Classics. Claron McFadden sings the demanding role of Joseph (who is allocated more than half of the work's arias), with Susanna Moncayo von Hase as Reuben and Roberta Alexander as Potiphar's Wife.
Available Format: 3 CDs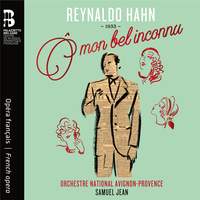 Éléonore Pancrazi, Olivia Doray, Véronique Gens, Carl Ghazarossian, Thomas Dolié; Orchestre National Avignon-Provence, Samuel Jean
Following their recording of Hahn's first opera L'Île du rêve (a Presto Editor's Choice back in October), Bru Zane present this 'comédie musicale' from thirty-five years later, which centres on a middle-aged milliner and aspiring adulterer who inadvertently ends up attempting to woo his own wife, daughter and maid via letter after placing a Lonely Hearts advertisement in a newspaper.
Available Formats: Book + CD, MP3, FLAC, Hi-Res FLAC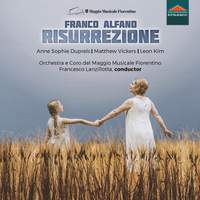 Anne Sophie Duprels (Katyusha), Matthew Vickers (Dmitri), Leon Kim (Simonson); Orchestra e Coro del Maggio Musicale Fiorentino, Francesco Lanzillotta
Inspired by Leo Tolstoy's 1899 novel Resurrection, Alfano's four-act opera was premiered in Turin in 1904, and became the composer's first major success; this recording was made during live performances in Florence last January, with BachTrack praising Lanzillotta's 'light and transparent' approach to a score 'whose value is to be found more in the orchestra than in the vocal lines'.
Available Formats: 2 CDs, MP3, FLAC, Hi-Res FLAC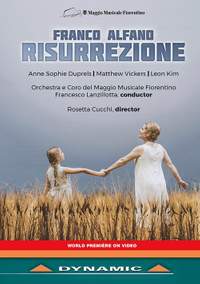 Anne Sophie Duprels (Katyusha), Matthew Vickers (Dmitri), Leon Kim (Simonson); Orchestra e Coro del Maggio Musicale Fiorentino, Francesco Lanzillotta
Available Format: DVD Video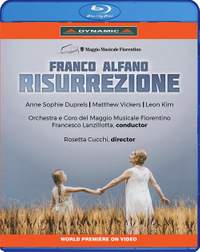 Anne Sophie Duprels (Katyusha), Matthew Vickers (Dmitri), Leon Kim (Simonson); Orchestra e Coro del Maggio Musicale Fiorentino, Francesco Lanzillotta
Available Format: Blu-ray