6th February 2018
 Interview

,

  Mark Viner on Alkan
Back in our pre-Presto days, my colleague James and I both did a stint in the sheet-music department of Blackwell's Music Shop in Oxford, where one of our regular customers was a boy (then barely into his teens) who placed frequent orders for piano music by Charles-Valentin Alkan and would often chat to us with infectious enthusiasm about the merits of a composer whom neither of us knew very well at the time. That customer was the British pianist Mark Viner, now recognised as one of the world's leading interpreters of Alkan's work: his recent recording of the 12 Études in the major keys Op. 35 (played, we discovered, from the very copy purchased from us in Blackwell's!) was praised by The Sunday Times for 'turning Alkan's forbidding torrents of notes into real music'. It was a great pleasure to catch up with Mark to discover more about Alkan's weird and wonderful legacy, his influences on subsequent generations of composers, and the reappraisal of his music that's gradually gaining traction…
How did you first fall under the spell of this music? It's not exactly mainstream repertoire for a 14-year-old…
When I was studying at the Purcell School, there was a spring piano festival each year: every pianist in each senior year-group, I think from about Year 10 and above, was given a piece to learn by a certain composer, and the first year I was there it was Chopin's Op. 25 and Alkan's Op. 35 and miscellaneous pieces by the two. It's quite staggering to think that pre-university schoolchildren were playing this stuff! I was given the Toccatina Op. 75 and I remember absolutely hating it at the time, but the more of Alkan's music I heard the more I thought 'My goodness, this music is extraordinary and I want to play more of it.' And I eventually wanted to play it all the more because it was derided by so many. I was never fond of people making sweeping statements about composers. It was a good few years later that I tackled some of the bigger pieces, but I'd already performed three of the studies on the disc by the time I left school (including No. 10, which I made my Wigmore Hall debut with when I was about 16), so that set has an especially personal connection for me.
You mentioned the Chopin Études Op. 25 – do you see any connections between those works and the Alkan studies, or between the Alkan and the Liszt Transcendental Études?
No, I think they stand very independently. The Alkan set is quite unlike either, because, in a sense, it's so much more rooted in the Classical idiom: it's a weird, monstrous expansion of the Classical aesthetic, which is closer to, say, Field's or Weber's writing than to either Chopin or Liszt. Of course there was influence from Chopin, as they were close friends and, at one time, next-door-neighbours in the Square d'Orléans: I think by the time that the Alkan Études actually came to press Chopin had moved out, but he would certainly have heard them being composed and played. There are a couple of pages in Alkan's Chant d'amour - chant de mort (Op. 35 No. 10) that look just like one of the Chopin Preludes, and I do see some parallels between the two in terms of the lyrical elements…Chopin was inspired by the Italian bel canto, but Alkan could very well have picked that up for himself: he had free admission to the opera as a child, and wrote some early pieces on operatic themes.
Do you feel he had significant influence over subsequent generations of French composers?
It's an interesting question: I often hear flashes of him coming up in music by late nineteenth-century French composers (including César Franck, who arranged some of his Prières (Op. 64), and even someone as seemingly innocent as Cécile Chaminade, of whom I'm a great admirer) - but who's to say that they even knew who he was?! We don't know; it's very easy to jump to conclusions, and I don't like doing that. He was still being taught at the Paris Conservatoire then, and I'm pretty sure that Debussy studied some of the Esquisses Op. 63 with Antoine François Marmontel – there's a little one called Les soupirs, where the language is textbook Debussy, but these pieces were engraved in 1861, so we're talking 30 years beforehand. And then there's Ravel: he owned a copy of Alkan's Étude for the Left Hand (published in 1840), and we're pretty certain that he was studying this just to get an idea of what was possible when he wrote his own Concerto for the Left Hand. Saint-Saëns certainly knew his music, and even played duets with him (Alkan's Trois Marches Op. 40, I think) in the 1870s. If you listen to some of the recordings that are around of Saint-Saëns playing, it gives a pretty clear indication of the 'style sévère', of which Alkan was a real exponent – very tight rhythm, brilliant passage-work, barely any rubato.
I'm sure Liszt would also have been influenced by some of the things he heard: we know from a review of the Trois morceaux dans le genre pathétique Op. 15 that he was certainly impressed with Alkan's music. Alkan's Le vent (from the aforementioned work which was dedicated to Liszt) is incredibly similar to Chasse-neige from the Transcendental Études…that's in B flat minor, and Alkan's piece is in B minor, and both involve chromatic scales over a tremolo accompaniment in the left hand, an effect which wasn't really happening anywhere else. (The first version of Chasse-neige as we know it came out in 1837, and Alkan's piece is about the same year). In Liszt's review of these pieces, he prefers Le vent over all of them, because he finds it 'le plus romantique'! I wouldn't go as far as to say Alkan influenced Chopin, because apart from Italian opera he was very much his own man – he knew exactly what he was doing, and he didn't like other people's music all that much!
How do the technical demands compare with those of the Transcendental Études?
Generally I would say they're much harder than the Liszt Transcendental Études, because they're more extreme, and they're also far less practical to work as a set in recital. Having said that, I've never played the Liszt in public myself (!), but people do programme the last version of the Transcendental Études as a whole - certainly they're tremendously challenging, but somehow there's still room to breathe. Like Alkan, Liszt was interested in pushing things to the limit, and the first version contains some passages that are really just impossible on the modern piano, at least: it's very much written for the piano of the time, with lighter action and a shallower key-bed, but when the piano itself changed he revised them and thinned them out. Also, once Liszt started teaching, there are barely any giant unplayable chords in his music – he does away with such things, because he just realised that if you want your music played then it has to be playable!
Alkan, I feel, was much more uncompromising, and the first suite of the Études are very much in the style sévère: even from just looking at them on the page you can see that they're very tight and compressed, and there's not much space to do anything other than just get through them! I've never played the complete set in recital, but even rehearsing them is not a comfortable experience because you just have no room to get yourself together. In the second suite there's a little more space to breathe – I've played the last three in recital together, but after all those chords in No. 11 to suddenly switch to the octaves of No. 12… And with Alkan, if it's about octaves, it's about octaves: there's really nothing like it! There's a crazy, obsessional quality to a lot of this music - I think Ronald Smith (who came to the Purcell School to give masterclasses when I was studying there) used the phrase 'ruthless single-mindedness' to describe it.
You mentioned the rehabilitation of Liszt – do you think a similar shift in attitude is going to happen here, or is already underway?
Yes, I do. The trouble is that one has to absorb great amounts of his music in one go in order to come up with an assessment, and we don't like to do that – especially nowadays, people like to hear one piece and say 'This is who Chopin is', but it doesn't work like that with Alkan! He can't be pigeonholed. If you gave someone the Concerto for Solo Piano (which is one of the greatest masterpieces written by anyone), then what would they make of one of the touching little Ésquisses which is only 45 seconds long? He was an architect of the colossal, but he was a miniaturist at the same time – he worked in extremes. And this is the trouble with programming him: even you include a broad selection of his music, what on earth do you give to newcomers?! Ronald Smith compared it to withholding the entire output of Berlioz for a century and half and then releasing it 'in the black and white garb of the piano': wouldn't people find that a bit odd?! But I think it is slowly happening: there are no longer any blank stares in concert-halls when you mention his name! Which is great, and it's partly because of people like Marc-André Hamelin, who was a huge influence on me - his recordings were some of the first I heard.
You're currently Alkan Society Chairman – are there plans to record and release more of his works, especially beyond the solo piano repertoire?
There's actually hardly any orchestral music - he did write a symphony which is sadly lost - but there are a couple of attempts at the Prix de Rome, in manuscript. Since I've taken the helm, the main thing I want to happen is publications of music that's totally unobtainable, the first being my own reduction for second piano of the orchestral parts of the first Concerto da Camera. (There are two chamber concertos – the first for large orchestra, and the second for strings, and I'm halfway through the finale of first one). We want to get this into music-shops because there is demand for it, and if it's a success we'll do more!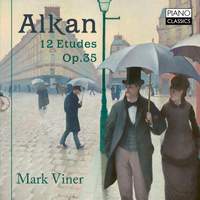 Mark Viner's recording of the Alkan Études Opo. 35 was released on Piano Classics in December and praised by The Times as 'seemingly effortless, and dramatically aware...Viner turns Alkan's forbidding torrents of notes into real music'.
Available Formats: MP3, FLAC, Hi-Res FLAC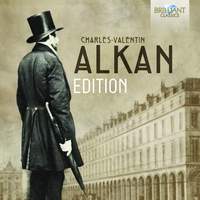 Mark Viner, Vincenzo Maltempo, Laurent Martin, Alan Weiss, Alessandro Deljavan, Costantino Mastroprimiano, Stanley Hoogland, Trio Alkan, Giovanni Bellucci (piano), Kevin Bowyer (organ)
'Viner gives us the finest account ever committed to disc of the 12 major-key studies.' (Gramophone, January 2018)
Available Formats: 13 CDs, MP3, FLAC