15th January 2021
 Recording of the Week

,

  Donizetti's Il Paria from Opera Rara
When I spoke with Sir Mark Elder about his recording of Donizetti's L'Ange de Nisida a couple of years ago, he was positively buzzing with excitement at the prospect of tackling a near-forgotten work which he argued 'will show a side of Donizetti's genius in a way that will really surprise people', and after a false start caused by lockdown restrictions last year the 1829 opera Il Paria (recorded shortly after a concert-performance at the Barbican in 2019) is released today in all its glory.
It's every bit as revelatory as he suggested: set in sixteenth-century India, the opera deals with the persecution of pariahs by Brahmins, and the high emotional stakes prompt some of Donizetti's most startlingly dramatic writing. At the heart of the action are the star-crossed lovers Neala (daughter of the fanatical Brahmin priest Akebare) and the warrior Idamore, himself secretly a pariah whose cover is blown when his long-lost father Zarete returns à la Timur in Turandot and demands allegiance from his son.
The role of Idamore was written for the great bel canto tenor Giovanni Battista Rubini, and the musicologist Roger Parker suggested at last night's online launch that its formidable demands may have played a part in the opera's failure to establish a foothold in the repertoire. Whilst the writing is not, for the most part, especially flashy by Donizetti standards, it poses some very specific challenges – not only is the tessitura unusually high throughout, but the singer is repeatedly required to pop out top C sharps (and in one case even an E) 'cold', without any sort of scaffolding in the form of coloratura or even the octave springboard which Donizetti provides for Tonio's infamous assault-course of high Cs in La fille du régiment. (Indeed the sole prior recording of the opera side-steps the issue by using an edition of the score which transposes certain passages down by a third).
The young American René Barbera takes it all in his stride, not only singing with enormous grace and sweetness but also bringing real authenticity to the assignment by replicating Rubini's technique of taking the 'money-notes' in pure head-voice rather than the head-chest mix that's commonly used in this repertoire today; that he took on this project at extremely short notice makes his achievement here all the more impressive. As his beloved Neala, Albina Shagimuratova's ample, silvery tone and gleaming top notes are every bit as thrilling as they were on Opera Rara's Semiramide, and she's a fine vocal actress – particularly in the pivotal duet with Idamore in which her inherited religious bigotry gently falls away.
The mortal enemies Akebare and Zarete are sung with sonorous authority by two handsome-voiced baritones, the Croatian Marko Mimica and the Georgian Misha Kiria, and the similarity of the two voices underlines the surprising kinship between characters who see themselves as polar opposites. Mimica conveys Akebare's blinkered zeal with unsettling fervour - but it's Kiria who's the dramatic linchpin and he captures Zarete's every shift of mood, from his manic joy in being reunited with his son in 'Ah non, che il core' (almost an opera buffa aria, this) to the extraordinary Act Two nocturne in which he relives the trauma of seeing his people massacred by the Brahmins. (This scene is one of several in which the long introduction packs as much of a dramatic punch as what follows, almost pointing the way towards Philip's great dark night of the soul in Verdi's Don Carlos four decades later).
The splendid Opera Rara chorus have plenty of opportunity to shine in the Brahmins' great hymn to the sun in Act Two (this one deserves a place in any future anthology of opera choruses) and their hair-raising invocation to their 'Dio sovran' in the opening scene, complete with scintillating 'trumpets, lyres and brass' that wouldn't sound out of place in Aida. It's scenes like this which made me realise just what a glorious spectacle this piece could be on stage: once opera-houses are back open for business, it's to be hoped that some enterprising theatre picks up the baton from Opera Rara and mounts a full production.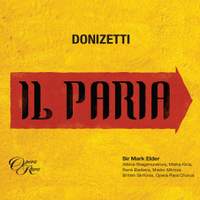 Albina Shagimuratova (Neala), René Barbera (Idamore), Misha Kiria (Zarete), Marko Mimica (Akebare), Thomas Atkins (Empsaele), Kathryn Rudge (Zaide)
Britten Sinfonia, Sir Mark Elder
Available Formats: 2 CDs, MP3, FLAC, Hi-Res FLAC