24th February 2014
 Recording of the Week

,

  Miloš plays guitar works by Rodrigo and de Falla
Spanish composer Joaquín Rodrigo is one of those composers known almost exclusively for one single work. His Concierto de Aranjuez for guitar and orchestra, composed in 1939 for the guitarist Regino Sainz de la Maza, became an overnight sensation and has remained one of the most popular pieces for guitar ever since.
Miloš Karadaglić
Rodrigo went on to write a further ten concertos for various instruments, as well as more than sixty songs, choral and instrumental works, and music for the theatre and the cinema, but only another guitar concerto – the 1954 Fantasía para un gentilhombre written at the request of Andrés Segovia – ever achieved anything like the success and recognition which the Concierto de Aranjuez enjoyed.
Rodrigo almost completely lost his sight at the age of three after contracting diphtheria, and went on to write his manuscripts in braille, with a copyist always producing the version to be sent to the publishers. He was a pianist rather than a guitarist, but after early success writing for guitar received many more requests to write for the instrument and these compositions make up a substantial proportion of his completed works.
Although his dates (1901-1999) suggest otherwise, his style was very much rooted in the Romantic era, often with Renaissance dance influences and sometimes more contemporary harmonies, but music which is generally very instantly engaging and immediately enjoyable.
That is certainly the case with the Concierto de Aranjuez and the Fantasía para un gentilhombre which both feature on a new recording by the young Montenegrin guitarist Miloš Karadaglić, accompanied by the London Philharmonic Orchestra under the baton of Yannick Nézet-Séguin. Aged just thirty, Miloš has shot to fame after two chart-topping mainly solo discs based around Spanish and Latin American music.
In this new third recording he demonstrates not only his incredible technique – with effortless sounding runs and trills full of sparkling rhythmic vitality – but also real varieties of colours and musical subtleties. He has a really natural-sounding rubato which is never calculating or forced, but just re-enforces phrasing and subtle harmonic changes.
The central slow movement of the Concierto de Aranjuez is beautifully conceived, helped throughout by some wonderful playing from the London Philharmonic Orchestra principal players – not least the solo cor anglais at the very beginning – and we're transported immediately to the gardens of the Palacio Real de Aranjuez where the inspiration for this piece came from.
The excellent rapport between soloist, orchestra and conductor is equally clear in the Fantasía para un gentilhombre, which concludes the disc having had three solo guitar works in the middle – two short pieces by his friend and mentor Manuel de Falla, as well as Rodrigo's own tribute to Falla – his Invocación y danza.
Wonderful playing and a hugely enjoyable disc all round. Sound samples as usual available via the link below.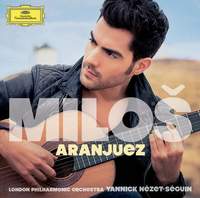 Miloš Karadaglić (guitar), London Philharmonic Orchestra, Yannick Nézet-Séguin (most other countries)
Available Formats: CD, MP3, FLAC, Hi-Res FLAC