6th January 2014
 Recording of the Week

,

  Beethoven Cello Sonatas from Isserlis and Levin
It is a tremendous start to 2014 as we're spoilt for choice with a number of outstanding new releases hitting the shelves today. Top of my list though is a new recording of the Beethoven Cello Sonatas with one of my favourite cellists – Steven Isserlis – along with his regular collaborator, fortepianist Robert Levin.
Steven Isserlis
Beethoven wrote five cello sonatas (compared to the ten he wrote for violin) but they're particularly fascinating as they date from the three different periods of his life: the first two (written in 1796) from his so-called early period; the third one (1808) from his middle period; and the final two (1815) from his late period. As Steven Isserlis describes in his excellent booklet notes this allows for us to hear the remarkable stylistic progression throughout his life from "confident virtuoso to supreme master of classical form, and then beyond that to a mystic exploring strange new worlds of unearthly beauty".
The first disc contains the two Opus 5 sonatas and the Opus 69 sonata. In the first two (very much looking back to 18th-Century forms) the piano still dominates the cello, but for the Op. 69 – probably his most popular cello sonata – the balance of interest between the two instruments is much more evenly spread, as is clear right from the very beginning as the opening theme is introduced by unaccompanied cello.
The second disc contains the two Opus 102 sonatas along with the three sets of variations for cello and piano and a transcription of the horn sonata believed to have been made by the composer himself. The two late sonatas are very much typical of his late period – a composer increasingly isolated from the society in which he lived, caring little (if at all) for whether or not they were liked by the concert-going public.
Composed much more from the heart, and free from what he considered any unnecessary notes, the results are spellbinding, as often an uneasy sense of tonality and lack of clear themes to latch on to meander along through moments of extreme beauty before crashing into raw and sometimes violent attacks, then melting back into beauty again. Beethoven at his absolute best in my view, but if you don't know these works you'll need to listen to them a few times to get the most out of them.
Robert Levin uses a modern copy of an 1805 Walter & Sohn fortepiano, and I suspected that it would be the earlier sonatas where I appreciated its use the most. Without doubt the tremendous detail in the passagework contributes significantly to the drama of these works, but it is actually in the later sonatas where I found it especially valuable. The explosive contrasts of dynamics, character and colours are wildly vivid, and you really sense Beethoven pushing the instrument towards the very limits of what it was capable of, in a way which you never get on a modern instrument.
Furthermore, it allows Isserlis (himself using a 1726 Stradivarius with a pure gut A string, and covered-gut for the other three strings) to demonstrate his absolutely exquisite tone without ever having to fight to be heard, right down to barely audible pianissimos. I don't think you will ever hear a more spine-tingling performance of the adagio in the final sonata than this. Both performers take great care in the shaping of phrases, matching every articulation whilst being acutely aware of the relative importance of hidden themes and rhythmic figures.
What a great start to 2014! Sound samples as usual below.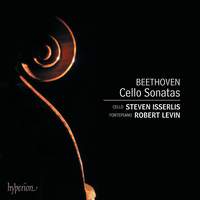 Steven Isserlis (cello) & Robert Levin (fortepiano)
Available Formats: 2 CDs, MP3, FLAC, Hi-Res FLAC