29th October 2020
 Interview

,

  Fatma Said on El Nour
Alongside her flourishing performing career, the Egyptian soprano Fatma Said has been heavily involved in an Oxford University research-project on music from her home country for several years, and she's brought the fruits of that work to bear on her debut recording El Nour - released earlier this month on Warner Classics, the album features music by Egyptian composers including Gamal Abdel-Rahim, Najib Hankash and Sayed Darwish alongside French and Spanish songs of the nineteenth and early twentieth centuries.
It was a great pleasure to speak to Fatma this summer about developments in twentieth-century Egyptian music, her mission to bring this repertoire to a wider audience, and her intriguing decision to introduce Middle-Eastern instruments such as the ney into songs by Bizet and Ravel…
Could you tell me a little about the research you're undertaking at Oxford and how it's informed this recording?
For almost six years now I've been involved with a project focusing on the revival of twentieth-century Egyptian music; I'm working together with Dr James Whitbourn, who arranged a few songs for me some years ago, and his enthusiasm was what spurred me on to continue this kind of research. It was wonderful to find someone so supportive of bringing back music that hasn't been recorded since the 1950s or 60s, and has never been really written down with proper orchestral arrangements.
Part of the reason this music is special is because it was so revolutionary – it was around this time that composers like Mohamed Abdel Wahab started using orchestration in a very unique way. Back in the 1920-40s, this kind of polyphonic music simply didn't exist in Egypt: singers used to accompany themselves on the oud and play exactly what they sang. Um Kulthoum was one very famous Egyptian singer of the period, and even if she had a whole orchestra with her they still basically doubled the vocal line: she didn't even need a conductor because they literally just followed her voice! That certainly changed later in her career when she started working with more modern composers, but in the early days it was all essentially unison.
So it's orchestral arrangements that are our main focus, and the goal is to get them written down and published as a collection of songs complete with texts and translations so that they're accessible not just to the Arab world but to everybody: if you want to sing this music at the moment you can't just go to any music library and pick it up and perform it, and it's always been my dream to make these songs as widely available as possible. I believe that part of the reason why the music of Mozart, Beethoven, Schubert and Schumann has endured for such a long time is because it was edited, published and copyrighted, whereas with Arab music there's no copyright on any of the arrangements even if the melody itself is written down and has its own copyright. We're trying to arrange them in a way that suits my own vocality, so that the songs can be sung by voices like mine which are trained in the classical tradition rather than the Arabic tradition, which has really never been done before. This music has always been received very well in Europe, so there's definitely an appetite out there for it, and I hope that the work we're doing will bring it to even more diverse audiences and to performers of all nationalities - a European singer is just as welcome to perform these songs as I am to sing Mozart or Ravel!
Are there many existing recordings of this music in their original versions?
All of these songs have been recorded before (I used to listen to them when I was younger), but most of them have not been re-recorded, so there are no different interpretations of them out there – we just have one singer who sang it in one way. People have performed them in new arrangements, some taking them in the direction of techno or trance to put a more modern spin on them, and some giving them a touch of salsa or rumba or samba just to try something different. That's also nice, but how about doing them in the original style with modern instruments and current recording technology? In all honesty, the quality of the existing recordings is pretty awful: the tuning was horrible and there's always hiss behind the instruments, and I always dreamed of hearing this music performed in a proper studio with well-tuned instruments. For that reason alone I think people who know the songs already are going to receive them very differently, and people who don't will get to meet them at their best!
You mentioned being trained in the classical tradition rather than the Arabic tradition – what are the main technical differences between the two styles?
They differ quite a lot, although Arabic singing is similar to classical singing in that you can start working on the technique when you're young and it just grows with you. But it's a completely different use of vocality, and musicality as well – the scale itself, for instance, is very different, because in Arabic music there are some pitches in-between the semitones of the Western scale. And that's the hard part: you really have to grow up in this culture or listen to this music a lot in order to be able to unlock all these quarter-notes and explore the worlds in between, because so much of it has to do with instinct. The music lives between the notes in Arabic music. And whereas in classical music the vowels are generally the most important thing, in Arabic music we usually tend to sing on consonants: we really enjoy singing on an 'l' or an 'n' or a 'z', and that's where we express. The idea of variations is very important to us too – Arabic music reminds me a little of baroque in that if you repeat a word, a phrase or a verse it has to be different each time, and there has to be a real interpretative reason behind that variation.
What sort of music did you listen to when you were growing up in Cairo?
At that stage it was definitely wasn't opera – I was the generation of Britney and Shakira, and I listened to a lot of Whitney Houston and Mariah Carey as well as the twentieth-century Egyptian music that sparked my interest in the project at Oxford. Oddly enough, I never bothered much with twenty-first century Arabic music: I would always go back to the 50s and 60s, and I also loved Frank Sinatra, Sarah Vaughan, Édith Piaf and Dean Martin from that period. Later on I got into Supertramp, so my teenage tastes were quite eclectic!
My parents didn't listen to classical music or opera all, although my father had a rather curious passion for simply buying recordings of it: I remember finding the complete Beethoven symphonies in our house and things like Traviata, Tosca and Butterfly just sitting unopened in their boxes, and thinking 'Wow, where did this come from, and why have we never heard it?!'. I asked him about it when I was a bit older, and he said 'I thought there was something interesting about them - I didn't know what it was, but I thought it must be very important and just wanted to have it in my house!'.
The use of the ney in songs like Bizet's 'Adieux de l'hôtesse arabe' and Ravel's 'La flûte enchantée' sheds such a different light on these pieces – were you already used to working with that instrument, and was it your own idea to introduce it here?
It was! When the idea of making an album was first suggested to me I resisted, because I was afraid to do what people have done before: as opera-singers and classical musicians we're essentially doing cover-versions most of the time and there are hundreds of recordings of standard repertoire coming out every week, so your interpretation has to be something really special to justify adding to the noise. I was adamant that I wanted to create a very different atmosphere and sound-world on my first recording, and that's where the idea of the ney came in: hopefully that sound encourages people to hear familiar music as though they're listening to it for the first time, even if they've already got fifty different recordings! It really does transport you somewhere else, and the flute is actually referenced in the texts of some of the songs, so it seemed a good fit. I was very anxious about how it would play out, though, as I'd never worked with a ney-player before: I didn't know the functionality of the instrument or even the musician who was going to play it, I just knew the sound and thought 'Let's give it a try! If it doesn't work we don't do it!'. It took a lot of effort, but it was a fascinating process and one which evolved a lot over the course of the recording-sessions.
Ravel's Shéhérazade, which opens the album, has of course been recorded very widely in both its orchestral and voice/piano incarnations – what inspired you to include it here, and why is it special to you?
First of all, I think the sheer sense of imagination in that piece is incredible – Ravel has absolutely no boundaries when it comes to conjuring up places he's never seen, and I love that because it creates so much to paint with different colours. (The amount of colours in Asie alone is phenomenal!). So many people say that the piece is much more beautiful with orchestra, but even when you do it with piano you find that a lot of those colours are already right there in the music – you don't need a specific instrument to provide them. And the way the Ravel sets the text is also genius, because it's not so much about showing off the voice as it about narrating: when I sing this piece I don't feel like I'm singing, I feel like I'm telling a story in my own voice, just as if someone were transcribing the conversation we're having right now into musical notation. He makes it so easy for you to deliver and colour the words naturally; the way I practised was simply to speak the texts out loud, and then suddenly when you put them into your singing voice the support and forward placement happens without any extra effort!
Finally, how have you been spending your time in lockdown, and has it altered your perspective on music-making?
Seeing it from a positive perspective, I feel very rested from not travelling all the time: having to sing after months living out of a suitcase and negotiating airports and train-stations gets so tiring, so having four months in Berlin where I was sleeping in my own bed and drinking tea in my own kitchen every morning has been a tonic. I don't think I've had that sort of routine since I was at school! But of course I've missed my colleagues and being on stage; that's what we live for and what we need to get going, and being pitched into this sudden stability gave me a very strong adrenaline-withdrawal. I could've been quite sad the whole time, but I've really tried to make the best of it: I've had time with family that I wouldn't otherwise have had, and time to focus on other things, including learning French!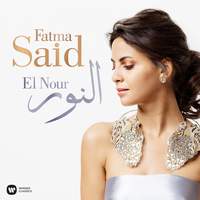 Fatma Said (soprano), Malcolm Martineau (piano), Burcu Karadağ (ney), Rafael Aguirre (guitar), Tamer Pinarbaşi (kanun), vision string quartet
Available Formats: CD, MP3, FLAC, Hi-Res FLAC