2nd October 2020
 Recording of the Week

,

  Handel's Semele from John Eliot Gardiner
Today's Recording of the Week represents rather a paradox; a new kind of dramatic work created by Handel, lying midway between his great sacred oratorios and Italian operas, Semele is neither fish nor fowl. John Eliot Gardiner is no stranger to this work, having recorded it nearly four decades ago; his new account, recorded live in London's Alexandra Palace in May 2019, shows that his affinity with the world of easily-turned male heads and women scorned has if anything deepened in the intervening time.
A stellar cast animate this tale of gods and mortals behaving badly; both Jupiter and Semele are presented as varied, flawed individuals capable of profound affection one moment and shallow vanity the next. Louise Alder's titular ambitious mortal socialite surely takes the laurels – from the bewitchingly still 'O sleep, why dost thou leave me' (accompanied by Gwyneth Wentink on the harp) to the manically preening 'Myself I shall adore', and expiring barely audibly at the end of the dramatic 'Ah me! Too late I now repent', her emotional range seems limitless.
Her doomed divine sugar-daddy, sung by Hugo Hymas, is cut from similar cloth; his glib assurances to Semele that he, a god, naturally does not suffer from the same deceptiveness as mortals ('Lay your doubts and fears aside') are airily self-confident, thanks in no small part to Hymas's light, young-sounding tone – but at the tragic climax of the story he shows that he is more than capable of creating a palpable sense of remorse and inescapable doom ('Ah, whither is she gone, unhappy fair?').
The third member of this love triangle is, of course, Jupiter's jilted wife Juno. Lucile Richardot is clearly having enormous amounts of fun chewing the scenery as a goddess driven to the brink of insanity by her desire for revenge. Her furious recitatives when she appears at the opening of Act II leave her on the verge of shouting at some points – which will not be to all tastes, but is undeniably dramatic. 'Awake, Saturnia, from thy lethargy!' is her 'Queen of the Night' moment – in a more modern setting similar sentiments tend to be conveyed by a string of four-letter words, but Richardot manages just fine with William Congreve's more civilised language.
Away from the three main characters' wranglings, one particularly enjoyable moment is Juno's appearance to the god of dreams, Somnus (sung by Gianluca Buratto, who also doubles as Semele's long-suffering father Cadmus). Initially lethargic and unwilling to arise – in sentiments evoking Purcell's Cold Genius – he is introduced by a rocking motif for two bassoons (Veit Scholtz and Katrin Lazar). His wonderfully placid 'Leave me, loathsome light' has Buratto sounding convincingly half-awake and resentful at being disturbed. The moment Juno plays her ace, however – inducing him to assist her with the prospect of gaining his favourite nymph Pasithea – he instantly leaps out of bed to the lively compound-time aria 'More sweet is that name', swapping somnolent legato for a bouncing Papageno-like touch.
Amidst all this finely-characterised singing from the cast, it would be remiss of me not to give a moment's attention to the orchestra. From a magnificent overture, where they combine the pomposity of the opening of Messiah with a portentous sense of doom, to dramatic accompagnato recitatives where they portray Jupiter's lightning, to the almost rustic, horn-dominated 'Endless pleasure, endless love' that closes Act I, they are on scintillating form throughout. The chorus, too, relish their role commenting on the main action; 'O terror and astonishment' (immediately following Semele's immolation) shows again the influence of English masques and semi-operas, calling to mind the morose 'With drooping wings' that follows the heroine's death in Dido and Aeneas.
Unlike Purcell, however, Handel and his librettist see a silver lining in an otherwise tragic story – a prophetic Apollo reassures the downcast people that Bacchus, god of wine and 'more mighty than Love', will arise from Semele's ashes to bring the world the 'guiltless pleasures' of drink. Rounding off a story of tragically fatal volatility in such jolly fashion may seem jarring, but it does provide one last opportunity for a rousingly upbeat chorus in which the chorus and orchestra have the last laugh. Cheers!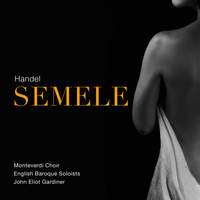 Louise Alder (Semele), Hugo Hymas (Jupiter), Lucile Richardot (Juno/Ino), Carlo Vistoli (Athamas), Gianluca Buratto (Somnus/Cadmus), Emily Owen (Iris), Angela Hicks (Cupid), Peter Davoren (Apollo), English Baroque Soloists, Monteverdi Choir, Sir John Eliot Gardiner
Available Formats: 3 CDs, MP3, FLAC, Hi-Res FLAC