5th June 2020
 Recording of the Week

,

  Barricades from Jean Rondeau and Thomas Dunford
Harpsichordist Jean Rondeau and lutenist Thomas Dunford have worked together before, often as a continuo 'unit', but last week we were treated to the release of their first ever album as a duo in their own right – hopefully the first of many, if this debut is anything to go by. Barricades takes us on a tour of the French Baroque, exploring a selection of works from the Versailles court of Louis XIV and XV. Such description as there is in the accompanying notes tends towards the whimsical: explanation as to the whys and wherefores behind their programming is elusive. At the very least, though, Rondeau and Dunford reveal a mutual fascination with the paradox at the heart of so much music: between the rigidity of notation and the fluidity of performance. The act of playing and re-playing a piece, they note, can unveil new facets of the work, so they also focus significantly on music that repeats – whether in a rondo or a more simple binary structure.
The album opens with Couperin's famous musical riddle Les baricades mistérieuses – a mesmerising keyboard work that is here given a delightful new twist by the addition of delicate archlute notes, often forming a descant above the harpsichord. Whatever Couperin's "barricades" truly were (scholars continue to put forward theory and counter-theory as to the meaning of that enigmatic title) they are definitely stormed by the stirring and regal Allemande that follows. Appropriately subtitled 'La Royalle', this is the opening number of a tuneful and catchy dance-suite by Robert de Visée that kept drawing me back for further listening time and again. Here again the instruments share the music out between them in Rondeau and Dunford's own arrangement, with each playing to its strengths – the nimble harpsichord introducing the dainty Courante, the more resonant archlute taking the lead in the pensive Sarabande.
Not surprisingly, both members of the duo ensure themselves a few moments in the solo spotlight – for Dunford, a meditative arrangement of Marin Marais's Les Voix humaines (originally for viol) provides a chance to metaphorically lower the lights and showcase the archlute's intimate, even introverted, capabilities. This might be my favourite track on the whole album; Dunford seems to occupy his own miniature musical universe, his playing completely unhurried and untroubled by anything outside the bubble containing him and his instrument. Rondeau, meanwhile, revels in the quasi-improvisatory quality of two preludes by Couperin and Jean-Henri d'Anglebert. The harpsichord is undoubtedly the more flamboyant of the two instruments, but even when given free rein there's sensitivity and just a hint of reserve in his playing; he is evidently at pains never to let the music become brash.
Although this is overwhelmingly a duo album, a couple of vocal numbers add a welcome touch of sonic variety – baritone Marc Mauillon's first appearance, singing Michel Lambert's mournful Mes jours s'en vont finir, was a particular revelation. Mauillon's grasp of this style of song is among the most natural and instinctive I have ever heard; he sings as if he has been innately familiar with airs de cour from birth (and his 2018 recording of Lambert's Leçons de ténèbres shows he has form here). Mezzo Lea Desandre is appealingly light-footed in Charpentier's Sans frayeur dans ce bois, and the two singers join together with the full "cast" for a gorgeously indulgent duet in the final track, Rameau's Je vous revois.
I can imagine some purists being wary of the amount of arranging that has gone into this album, but I hope I can reassure them in saying that there is nothing out of character about any of it; indeed, if I hadn't seen it in writing that many of these tracks were arranged versions, they would have seemed like perfectly plausible originals to my ears (as indeed several of them are). They integrate the instruments together perfectly, and the character of the pieces never suffers; this light-touch arrangement in no way lessens the authenticity of the album, much less its musical appeal. Although the Rondeau-Dunford duo cultivate an air of mystery – perhaps deliberately – as to what this album is really about, the selection of characterful pieces they perform, and the sensitivity they bring to them, are more than enough of a raison d'être in their own right.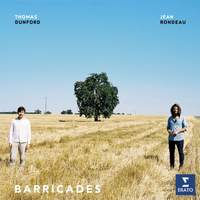 Jean Rondeau (harpsichord), Thomas Dunford (lute), Lea Desandre (mezzo-soprano), Marc Mauillon (baritone), Myriam Rignol (viola da gamba)
Available Formats: CD, MP3, FLAC, Hi-Res FLAC