Business update: Our website remains open for orders. However, delays in postal and courier services mean that deliveries are currently taking longer than usual
22nd May 2020
 New Release Round-up

,

  New Release Round-Up - 22nd May 2020
Today's new releases include Vivaldi from clarinettist Martin Fröst and Concerto Köln, two concertos by Gabriel Prokofiev, music by Nico Muhly, David Lang and others from the Choir of Merton College Oxford, Leclair Trio Sonatas from Ensemble Diderot, and an historically-significant recording of fragments from Smetana's patriotic opera Libuše from 1939, conducted by Václav Talich.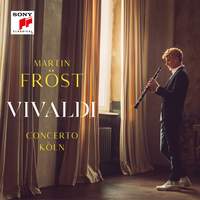 Martin Fröst (clarinet), Concerto Köln
'What might Vivaldi have composed for the clarinet if it had been more fully developed?' is the question underpinning this album, which assembles three concertos for the instrument based on music from La fida ninfa, Il Giustino, Ottone in villa, Juditha triumphans, L'Olimpiade, and Tieteberga and arranged by Andreas N. Tarkmann. The programme also includes sinfonias from L'Olimpiade and Il Giustino.
Available Formats: CD, MP3, FLAC, Hi-Res FLAC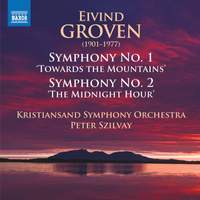 Kristiansand Symphony Orchestra, Peter Szilvay
Following their championing of works by David Monrad Johansen on CPO at the beginning of the month, the Norwegian orchestra continue flying the flag for their compatriots with these two symphonies by Eivind Groven (1901-77): Towards the Mountains from 1938 and The Midnight Hour from 1946.
Available Formats: CD, MP3, FLAC, Hi-Res FLAC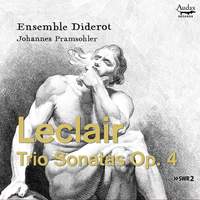 Ensemble Diderot, Johannes Pramsohler
The German violinist and his Paris-based ensemble won a Diapason d'Or and were nominated for an International Classical Music Award for their Paris Album on Audax last year, which was praised in Gramophone for its 'infectious aplomb'; now they turn to one of the touchstones of the French baroque chamber repertoire, which blends French and Italian influences and elements of the sacred and secular.
Available Formats: CD, MP3, FLAC, Hi-Res FLAC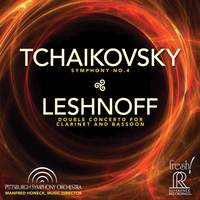 Pittsburgh Symphony Orchestra, Manfred Honeck
Recorded live at the orchestra's home last June, this album pairs a symphony which Honeck describes as having 'one of the most effective conclusions in all of the symphonic literature' with the world premiere of a concerto written for Pittsburgh's principal clarinet Michael Rusinek and principal bassoon Nancy Goeres, which was praised in the Pittsburgh Post-Gazette for its 'virtuosic lines and songlike smoothness'.
Available Formats: SACD, MP3, FLAC, Hi-Res FLAC, Hi-Res+ FLAC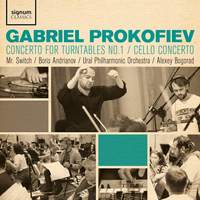 Mr Switch, Boris Andrianov, Ural Philharmonic Orchestra, Alexey Bogorad
Following the well-received album of his concertos for bass drum and saxophone last September, Signum release world premiere recordings of the composer and DJ's first Concerto for Turntables from 2006 and the 2013 Cello Concerto – the second movement of which is dedicated to his Russian ancestors, including his grandfather Sergei, whose spirit he has 'allowed to sing out louder in this work'.
Available Formats: CD, MP3, FLAC, Hi-Res FLAC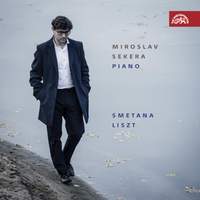 For his first solo album on Supraphon, the Czech pianist pairs works by two composers who became correspondents and then friends (Smetana having hoped in an early diary-entry that 'with God's grace and help, one day I will be like Liszt in technique and like Mozart in composition'). The programme includes Smetana's Bagatelles & Impromptus, Macbeth and the Witches and On the Sea Shore, and Liszt's paraphrases on Wagner's Liebestod, Verdi's Rigoletto, and the Lacrymosa from Mozart's Requiem.
Available Format: CD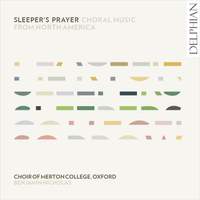 The Choir of Merton College Oxford, Benjamin Nicholas
Hot on the heels of their BBC Music Magazine Award win for Gabriel Jackson's The Passion of our Lord Jesus Christ, the mixed-voice Oxford choir present an all-American programme featuring David Lang's sleeper's prayer, if I sing and Again, Nico Muhly's A Hymn on the Nativity, A Song of Ephrem the Syrian and Senex Puerum Portabat, and works by Libby Larsen, Stephen Paulus, and Abbie Betinis.
Available Formats: CD, MP3, FLAC, Hi-Res FLAC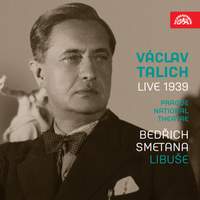 Marie Podvalová (Libuše), Stanislav Muž (Přemysl), Vilém Zítek (Chrudoš), Josef Vojta (Šťáhlav), Jaroslav Veverka (Lutobor), Ota Horáková (Krasava), Marta Krásová (Radmila), Josef Křikava (Radovan), Czech Philharmonic Orchestra, Václav Talich
With the exception of the overture (which was recorded in 1940) these fragments of Smetana's 1881 opera were captured live at the National Theatre Prague in May 1939, six weeks before Talich's landmark recording of the composer's Má Vlast and shortly before performances of Libuše were banned by the occupying Nazis.
Available Format: CD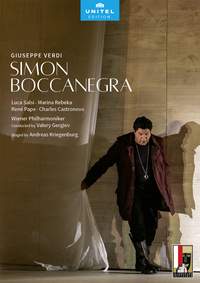 Luca Salsi (Simon Boccanegra), Marina Rebeka (Amelia), Charles Castronovo (Gabriele Adorno), René Pape (Fiesco) Wiener Philharmoniker, Valery Gergiev, Andreas Kriegenburg
Filmed with a starry cast at last year's Salzburg Festival, Kriegenburg's contemporary staging of Verdi's political thriller was praised as 'clear and level-headed' by The New York Times, whilst the Financial Times praised Salsi's 'dramatically potent and vocally refulgent' performance in the title-role and Gergiev's 'robust, dramatically cogent' reading of the score.
Available Format: 2 DVD Videos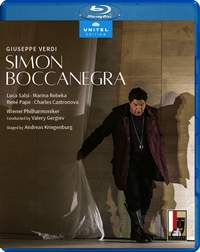 Luca Salsi (Simon Boccanegra), Marina Rebeka (Amelia), Charles Castronovo (Gabriele Adorno), René Pape (Fiesco); Wiener Philharmoniker, Valery Gergiev, Andreas Kriegenburg
Picture Format: 1080i / 16:9
Sound Format: DTS-HD MA 5.1
Available Format: Blu-ray
Elena Tsallagova (Donna Clara), Emily Magee (Ghita), David Butt Philip (Der Zwerg), Mick Morris Mehnert (Der Zwerg - actor), Philipp Jekal (Don Estoban) Deutsche Oper Berlin, Donald Runnicles, Tobias Kratzer (director)
Following the release of his controversial Bayreuth production of Tannhäuser earlier this month, Naxos present the young German director's 'intelligent, sensitive and uncompromising' (BachTrack) staging of Zemlinsky's Oscar Wilde-inspired one-act opera of 1922, which casts the unsettling tale of a musically-talented, noble-hearted dwarf who is gifted to a callous princess on her birthday as an allegory for the composer's own doomed affair with Alma Schindler prior to her marriage to Gustav Mahler.
Available Format: DVD Video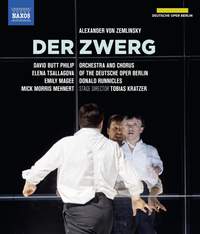 Elena Tsallagova (Donna Clara), Emily Magee (Ghita), David Butt Philip (Der Zwerg), Mick Morris Mehnert (Der Zwerg - actor), Philipp Jekal (Don Estoban) Deutsche Oper Berlin, Donald Runnicles, Tobias Kratzer (director)
Picture Format: HD 16:9
Sound Format: PCm Stereo and DTS 5.1
Available Format: Blu-ray