Business update: Our website remains open for orders. However, delays in postal and courier services mean that deliveries are currently taking longer than usual
20th May 2020
 Box Set Selections

,

  Boxed Set Selections - May 2020
This month's heavyweights include anniversary anthologies to mark the 450th birthday of the Staatskapelle Berlin and the 90th birthday of Decca Records, a celebration of Zubin Mehta's tenure in Los Angeles, and vintage mono and stereo recordings of the Beethoven violin sonatas from Zino Francescatti and Robert Casadesus.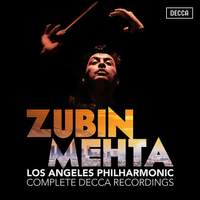 Los Angeles Philharmonic, Zubin Mehta
Originally made between 1967 and 1978 and newly remastered for this edition celebrating the first exclusive partnership between an American orchestra and a British record-label, the recordings on this 38-CD anthology include symphonies by Mahler, Nielsen, Saint-Saëns and Tchaikovsky, Holst's The Planets, Rimsky-Korsakov's Scheherazade, and music by Schoenberg, Varèse, Charles Ives, William Kraft and John Williams.
Available Format: 38 CDs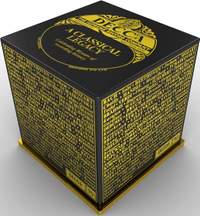 Released to mark the label's 90th anniversary last year, this 55-disc set features recordings from Argo, L'Oiseau-lyre and Phase 4 Stereo as well as Decca itself, including Elgar from Sir Malcolm Sargent, Bach from András Schiff, Beethoven from the Takács Quartet, recitals from Joan Sutherland, Kathleen Ferrier, Benjamin Britten and Rostropovich, and Alfred Brendel's farewell concert.
Available Format: 55 CDs
14 of the 15 discs on this set are devoted to individual conductors who had a profound influence on the Staatskapelle's playing and repertoire, including Richard Strauss, Leo Blech, Otto Klemperer, Erich Kleiber, Herbert von Karajan, Wilhelm Furtwängler, Joseph Keilberth, and Pierre Boulez; the remaining disc features rare recordings of guest and resident conductors from the shellac era. The documentation includes a foreword by the orchestra's current Music Director, Daniel Barenboim.
Available Format: 15 CDs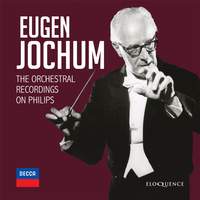 The first third of this 15-CD collection is devoted to the second of Jochum's Beethoven symphony cycles, dating from the late 1960s, followed by a substantial selection of overtures; the repertoire also includes Strauss tone-poems, Wagner Preludes and Overtures, symphonies by Mozart, Schubert and Schumann, and a live recording of Bruckner Five from the Abbey of Ottobueren in 1964.
Available Format: 15 CDs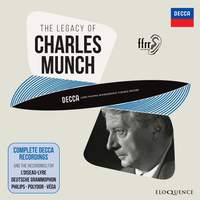 Orchestre de la Société Philharmonique de Paris, L'Orchestre de la Société des Concerts du Conservatoire de Paris, London Philharmonic Orchestra, Concertgebouworkest, New Philharmonia Orchestra, Symphonieorchester des Bayerischen Rundfunks, Charles Munch
This 14-CD box comprises the French maestro's complete discography on Decca as well as his earliest recordings for Polydor and for LOiseau-Lyre, made in Paris in 1938 and newly transferred from the original masters. The repertoire includes Widor's rare Fantaisie in A flat, generous helpings of Ravel and Roussel, and Berlioz's Grande messe des morts, recorded in Munich the year before Munch's death.
Available Format: 14 CDs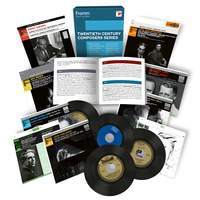 The recordings here are the fruits of the collaboration between Columbia Masterworks and the Fromm Music Foundation between 1957 and 1962, and include music by Elliott Carter, Luigi Dallapiccola, William Denny, Leon Kirchner, Ernst Krenek, Lou Harrison, Roger Sessions, Ilhan Usmanbas, and Ben Weber. Artists include the Juilliard Quartet, Elisabeth Söderström, Leon Fleisher, and Charles Rosen.
Available Format: 10 CDs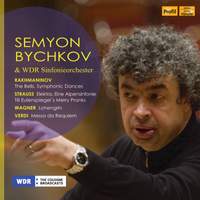 Rachmaninov - Strauss - Wagner - Verdi
This 9-SACD set features Bychkov's BBC Music Magazine Award-winning Lohengrin (starring Johan Botha, Adrianne Pieczonka and Petra Lang) from 2010, Strauss's Eine Alpensinfonie, Till Eulenspiegel and Elektra, Rachmaninov's The Bells and Symphonic Dances, and the Verdi Requiem with Violeta Urmana, Olga Borodina, Ramón Vargas, and Ferruccio Furlanetto.
Available Formats: 9 SACDs, MP3, FLAC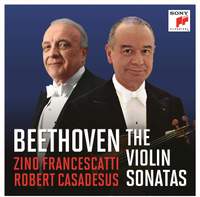 Zino Francescatti (violin), Robert Casadesus (piano)
This 7-CD set comprises the complete stereo cycle which the pair recorded in Paris between 1958 and 1961, plus earlier mono recordings of seven sonatas (including previously unreleased accounts of Nos. 5 & 6 from 1957). The stereo set was praised in High Fidelity as 'flawlessly well articulated, cleanly reproduced, and with every element of Beethoven's writing set into proper perspective'.
Available Format: 7 CDs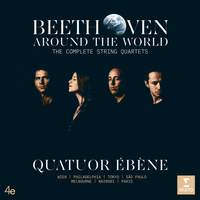 The Ébène's Beethoven cycle was recorded live over the course of a tour which took in São Paulo, Tokyo, Vienna, Philadephia, Nairobi, Paris and Melbourne; Gramophone described the first instalment (released last September) as 'Beethoven unburdened by the weight of history or hindsight' and observed that their 'acute sense of emotional timing distinguishes the Ébènes from many of their contemporary rivals'.
Available Formats: 7 CDs, MP3, FLAC, Hi-Res FLAC