UPDATE: Royal Mail have now resumed shipments on ALL International services but delays should be expected, please choose FEDEX if your order is urgent.
22nd April 2020
 Interview

,

  Jack Liebeck on Brahms and Schoenberg
British violinist Jack Liebeck's lyrical, spacious accounts of the Brahms and Schoenberg violin concertos have proved quite superb company on my solitary country walks over the past few turbulent weeks, and our friends at BBC Music Magazine evidently enjoyed the album as much as I did – it's their Recording of the Month for May, with reviewer Malcolm Hayes praising Liebeck's 'astonishing command' of Schoenberg's often fiendish writing and the 'beautiful light and shade' which he finds in the Brahms.
It was a great pleasure to speak to Jack last week about how the two works resonate with certain aspects of his own family history, the joy he found in getting to grips with Schoenberg's technical demands, and how he's come to regard the concerto as a 'deeply Romantic' work…
In the booklet-notes you reflect that the coupling on this recording was inspired by your grandfather Walter Liebeck, a Brahms lover whose story rather mirrors Schoenberg's own in some respects – given that he died when you were still very young, how has your musical connection with him played out posthumously?
Whenever you try to put these things down in writing they do get simplified slightly, but basically my dad's side of the family were all German emigrés who at various times went to South Africa and then came to the UK. They were all keen chamber-music players: a lot of people still come up to me and say 'Oh, I used to play with your grandfather at Dartington!' and it actually wasn't my grandfather but my dad's second cousin, Hans Liebeck. He and his wife used to go to Dartington a lot, so there's a strong Liebeck tradition of very good amateur chamber music-making; getting together a few times a week to play string quartets was something a lot of Germans used to do.
My grandfather passed away in 1988 (which was the year before I started playing the violin), and I know that he had the Brahms concerto played at his funeral; I also inherited quite a lot of his sheet-music, because I was the only violinist in the family. It's in the family folklore that the Brahms was his favourite violin concerto, and I'm fairly convinced that he probably wouldn't have liked the Schoenberg very much as a piece, so in a way I'm trying to sell it to him because now I know it so well I don't think Schoenberg is that unapproachable – I think it's deeply Romantic, but it's like a different language from the Brahms. It's like an English-speaker saying 'Sorry, I think Italian's ugly!' – it's not ugly, it's just different. The harmonic make-up of it, to me, sounds so similar to the late Romantics; there are a few people (particularly of the older generation) who've said to me 'Oh, I'm not sure about the Schoenberg' and my reply is 'Just listen to it four or five times and you'll start to get the feel of it'.
What's your performance-history with the Schoenberg concerto?
None! We just went straight into the studio, which is quite a feat but also something that happens an awful lot. It's quite difficult to line things up so it all works in the perfect way: quite often you'll end up recording something and then going and playing it in concert, which can be frustrating, but it's something you get used to eventually. It affects how you learn a piece; I know through experience that I have to learn things in a certain way, and I know how they feel when they've been played many times – you get a certain feeling of ease and freedom when you've played something a lot, but it's actually possible to sort of short-circuit that, to bypass the tension and difficulty and get straight to what you feel is the essence of the piece. I know that when Isabelle Faust recorded the piece recently she did a lot of tours with it and then went straight into the studio, which I'm sure is an advantage, but what can you do?! This whole project was put together at relatively short notice: I only decided to do it in April/May and then we recorded in October. I started learning it once I had a solid block of time after being away a lot; I think I started it in July, so I gave myself about three or four months.
These are famously both concertos that people have described as unplayable, and Schoenberg actively welcomed that description – how do their technical demands compare?
Violin technique in the nineteenth century was sort of stretched by the Brahms, Tchaikovsky and Paganini concertos - especially Paganini, because he invented half of it! I was intrigued recently when I realised that the Brahms and Tchaikovsky concertos were written in the same year, and both really pushed the violin to its physical limits in terms of sound production; the size of the orchestra is much bigger than a chamber orchestra, so the projection and sheer size of sound you need to summon is on a different level to earlier concertos, but you can't really compare it to what Schoenberg was doing. The Brahms is incredibly difficult to play well, but it's all within the standard technical capabilities of a top-line violinist; Schoenberg hasn't been played by most top-line violinists, because they just don't want to do it as in some ways it's not comfortable to play, but I found it utterly fascinating to work out how to play it.
Part of the reason for making the disc was that I'm coming into the middle part of my life now, and there aren't many times after being a student struggling to play the violin that you actually look at a piece of music and think 'How on earth am I going to work out how to play this thing?'! There are things in the Schoenberg that just took weeks and weeks to figure out, and if you listen to various recordings you'll hear we do it all in different ways: some of it's really high on the violin and you've got to make a judgement-call on whether you want to cross four strings and do something that could sound ugly, or maybe soften it up by starting in first position and then sliding up and doing the top part of the chord in a different position. Then there are different ways to break the chords depending on what part of the line you want to bring out, so it really was a construction process. But it was so enjoyable because it was the first time in a long time where I've actually had struggles to work something out – after you reach a certain stage in your career you get used to just being able to play!
The spaciousness and sense of line in the Schoenberg is something that several reviewers (including me!) have commented on – was that something which you consciously cultivated as you were learning the piece?
What I especially wanted to find in the recording was the lyrical side of the music, even though it's fiendish and physically punishing in its way; that was the most important thing for me, and that's why my recording has come out six minutes longer than Hilary Hahn's, for instance! Some of the reviews have mentioned this, but I made a conscious decision that I wanted everything to be audible and spacious: on some other recordings I couldn't hear half of what was written, and I wanted to make it possible for listeners to enjoy and relax into the music. I don't like to listen to too many recordings before I record something, because I just want to see what comes to me, but my dad did some research on the Hilary Hahn recording and told me that she spent four years trying to get the tempos to what Schoenberg wrote! But in his notes to the piece Schoenberg actually writes 'Disregard my tempo-markings, please – just do what you want!' So I didn't think it was so important to do everything so fast, because I wanted it to be possible for the listener to feel what was going on rather than it all just flying by. I had to manipulate things a little bit so that I could actually play what was there rather than sliding all over it; you make these calls when you're learning a piece, so it's an interesting process, and then you just hope that it comes across in the performance or recording.
How did things play out in the studio?
What I did find is that it was pretty consistent between takes: one of the things we're all looking for through practice is that reliability, because you want to have options rather than ending up with only one decent take. The thing that was striking about the way we recorded is that there was very little time: in an ideal world we'd have had maybe four days to do it, but because it was done at relatively short notice we were lucky to find three days with the BBC Symphony Orchestra, and we went straight into recording with no rehearsal. They're incredible players, so it wasn't problematic for them to do that, but it was certainly a hard, intense period of work. I think some of them had played the piece once before but to most of them it was new, and I was amazed at how they picked it up and mastered it so quickly.
Recording is such an abstract art in some ways, and the rehearse-record method that we used is a linear one – you go through the piece section-by-section and then make sure that it's still got a sense of line, and that happens through collective experience and through having a great producer (in this case the very forensic Andrew Keener)! You've got to know how to sew it all together: it's a different thing from doing a live performance and then editing with a patching session, which I don't think would really work with Schoenberg. We would basically rehearse a sizeable chunk, record it, listen back, do a few more takes and then move on. But touch wood, it came out as I wanted!
Finally, is that your dog on the cover?!
Yes, that's Mollie! It was taken in a studio in Hackney by a wonderful photographer called Kaupo Kikkas – Mollie generally goes with me wherever she can, so Kaupo said 'Let's get some pictures of the dog' and of course they turned out to be the best pictures. I sent the cover out to a few friends before we decided on a final version, and one person said 'You cannot be serious, Jack – you'll be a laughing stock!'. But I'm so glad I didn't listen to him. I feel like I should have come up with some complex narrative about why Mollie's relevant to Brahms and Schoenberg…but ultimately the disc is about me and my family, and she's very much part of where I'm at right now - so what the hell, that's the reason!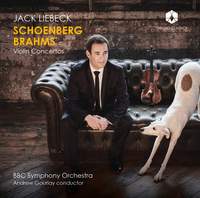 Jack Liebeck (violin), BBC Symphony Orchestra, Andrew Gourlay
Available Formats: CD, MP3, FLAC, Hi-Res FLAC, Hi-Res+ FLAC