UPDATE: Royal Mail have now resumed shipments on ALL International services but delays should be expected, please choose FEDEX if your order is urgent.
8th April 2020
Interview

,

Damien Guillon on Stradella
Though it enjoyed considerable success during the composer's life-time, Alessandro Stradella's dramatic 1675 oratorio on the death of John the Baptist fell off the radar for almost two centuries until it was resurrected in Perugia in 1949, with Maria Callas in the hugely demanding role of Salome; since then, it's only had a handful of outings on disc (notably a fine recording with Marc Minkowski in the early 1990s), but a splendid new account from countertenor-turned-conductor Damien Guillon and his ensemble Le Banquet Céleste on Alpha Classics last month reveals the piece in all its vivid, psychologically-complex glory.
I spoke to Damien in the run-up to Holy Week about the work's performance-history, how Stradella blurs the lines between oratorio and opera, his innovative approach to orchestration, and why San Giovanni stands as a bridge between early and high baroque style.
Photo-credit: Julien Benhamou.
How did this piece come onto your radar?
I discovered Stradella's music was when I was a student at the Centre de Musique Baroque in Versailles - I was looking for some different repertoire to explore as a countertenor, and some musicologists there advised me to take a look at Stradella and his contemporaries. I was very impressed by the beauty of this music and especially the role of San Giovanni Battista itself, which I studied on my own and fell in love with.
Whilst you don't sing the role on the recording yourself, you're still very active as a countertenor in parallel to your conducting work: how did your dual career evolve, and did you always plan to split your time between the two activities?
I started my career as a first-study singer, but I also did harpsichord and organ, and I always had it in the back of my mind that I would like to conduct one day; I did a few conducting projects when I was very young, but nothing very professional, and when I created my own orchestra Le Banquet Céleste ten years ago that was the point when I really started to find my way. The idea was to perform and record chamber music as a singer, and also to create some concert-programmes as a conductor with small groups of instruments. As of around three years ago, half my time with the group is as a singer and half as a conductor.
The subject-matter has inspired many and varied composers over the centuries, from Stradella to Strauss and beyond - what approaches does he take to the rather ambiguous central roles, and what sort of technical demands does he make on his singers?
The role of Salome is especially interesting, because at the beginning of the score he depicts her as very pure and ladylike: her early arias as not so intense or virtuosic as what comes later on. But over the course of the piece we see her growing awareness of her own power, which of course culminates in her demanding the death of San Giovanni Battista, and Stradella depicts that very vividly in terms of the intensity and expressivity of the vocal line and the increasing amount of coloratura writing. In contrast, the role of San Giovanni Battista is much more sober: he's really portrayed as a servant from God in a way, and apart from his first aria the vocal writing for is relatively stark and restrained, with very little in the way of coloratura. Herod, which is the third key role, is also fascinatingly written: he's constantly trying to assert his authority and portray himself as a very strong leader, when in fact he's a very weak man who's ultimately trapped by Salome. Stradella gives him a lot of blustery coloratura, and again the writing is very expressive, but he's also like a dog who's making a lot of noise just to give the impression that he's much fiercer and stronger than he really is!
Is there a sense of Stradella consciously blurring the lines between sacred and secular music in his treatment of the story?
It's a sacred work of course, but in many respects it's really written like an opera – albeit a short one, because it's only one hour and fifteen minutes of music! The characters of Salome, Herod, San Giovanni Battista and even the servants are extremely well delineated and differentiated, and also the music is very dramatically expressive. As well as the vocal characterisation which I mentioned, Stradella also creates a lot of contrast in the orchestration: the writing involves a great deal of interplay between the concerto grosso forces and a much smaller concertino group, and this sort of orchestral dialogue was a relatively new invention in baroque music of this period. He's essentially using all the compositional techniques at his disposal in the service of drama.
How much do we know about the original performance?
We don't have precise information about a lot of aspects, but we know that the work was commissioned by the Catholic church, and that the first performance was given in Rome at the church of San Giovanni in Laterano in 1675; then there was another in Modena and another in Florence, then a fourth in Rome about twenty years later. They most probably had the singers on a balcony and the orchestra on the ground floor, and it's likely that the first performances were given with the singers in costume. In terms of instrumental forces, we know that the concertino group was made up of just two violins and probably one cello and one lute (possibly with harpsichord, but there's nothing written which confirms that), whereas the concerto grosso group was pretty big: probably four violins and eight violas, plus harpsichord and organ.
Was Stradella likely to have been writing with specific singers in mind?
It's not clear if he knew who would be singing before he started working on the score, but we do know that the role of San Giovanni Battista was sung at the premiere by the celebrated alto castrato Siface, who was one of the best singers around at the time: he was in great demand for opera, and sang in a lot of early performances of Cavalli's works. And a soprano castrato originally took the role of Salome, which is quite demanding for modern singers: the range is huge, from very low notes to top Cs, so you need a soprano with a strong lower and middle register as well as easy high notes. That's one of the tricky things about trying to recreate this music authentically today, and for the recording we cast a female soprano.
You mentioned Cavalli there – which composers influenced Stradella in this score, and in turn do you think that the piece exerted its own influence on future generations of opera and oratorio composers?
I think what's so interesting about Stradella's writing here is that it represents a kind of transition from the world of Cavalli, Monteverdi and Frescobaldi and that of Handel and Vivaldi. The structure of many arias draws on what I think he sees as the music of the past: you start with a ritornello for the orchestra, followed by an aria for voice and basso continuo only, and then another ritornello to round things off, which is an established structure that you find a lot in Cavalli and Monteverdi. But as the work progresses we see him writing more and more larger-scale arias with full orchestra, and that dialogue between the two instrumental groups going on underneath the voice, which is much closer to what we find in a lot of eighteenth-century music. It really feels like a bridge between these two styles.
What's next for Le Banquet Céleste (the current uncertain situation permitting)?
There are some performances of San Giovanni coming up (provided they're not cancelled, of course..), then next summer we launch a new project centring on the music of John Dowland and Henry Purcell, which will be on a much smaller scale: I think I will probably be the only singer, with harpsichord, lute and viola da gamba, and we plan to recreate a period performance with costumes and hopefully an acrobat! That's scheduled for early autumn, and I think our next recording will also be Purcell (the anthems, perhaps), which we're hoping to do next February. Another big project for 2021 is JS Bach's Himmelfahrtsoratorium; we have some concerts planned here in France and then throughout Europe.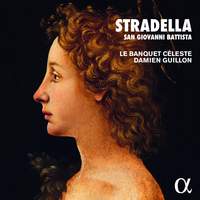 Damien Guillon (countertenor), Le Banquet Céleste
Available Formats: CD, MP3, FLAC, Hi-Res FLAC