10th February 2020
 Obituary

,

  Mirella Freni (1935-2020)
The Italian soprano Mirella Freni, who was widely regarded as one of the greatest Verdi and Puccini singers of the twentieth century, has died aged 84.
Born in Modena in 1935, Freni fell in love with opera at the tender age of five after hearing a recording of Donizetti's Lucia di Lammermoor and entered her first singing competition only seven years later, singing Puccini's Un bel di in front of a jury which included the great tenor Beniamino Gigli, who recognised her talent but advised her to bide her time before embarking on a singing career and to choose her repertoire carefully. (Freni would go on to record Butterfly for Herbert von Karajan in the studio and on film, but declined to sing it on stage – her readiness to turn down roles which she felt pushed her voice beyond its natural comfort-zone allowed her to maintain the radiance and beauty of her essentially lyric instrument over the course of a fifty-year career).
Freni made her professional operatic debut in her hometown in 1955, as Micaëla in Bizet's Carmen, and came to international prominence five years later when she sang Zerlina at Glyndebourne, returning in 1962 as Mozart's Susanna and as Adina in Franco Zeffirelli's production of L'elisir d'amore; though Freni became increasingly associated with Verdi and Puccini as her career progressed, she continued to sing Mozart's soubrettes for several decades, bringing irresistible charm and sensuality to the role of Susanna in Jean-Pierre Ponnelle's film of Le nozze di Figaro in 1976.
In 1963 Freni appeared at La Scala as Mimì in La bohème, which marked the beginning of long-term relationships with both the opera-house and Herbert von Karajan; the consumptive seamstress would become one of her signature-roles, and her 1972 recording of the opera (opposite her childhood friend Luciano Pavarotti and her future husband Nicolai Ghiaurov) is one of her finest achievements on disc. Though she and Karajan subsequently clashed over her refusal to take on roles which she deemed too heavy for her voice, they went on to make numerous acclaimed recordings together, including Verdi's Otello, Don Carlo and Requiem, and Bizet's Carmen.
In the early 1970s Freni began to take on weightier Verdi roles such as Elisabetta in Don Carlo, Elvira in Ernani and Amelia in Simon Boccanegra, recording the latter role for Claudio Abbado to great acclaim in 1978; her marriage to Ghiaurov in the same year also prompted her to explore Russian repertoire, most notably Tchaikovsky's Tatyana in Eugene Onegin and Lisa in The Queen of Spades. Though her voice accrued considerable dramatic power in the second half of her career, its freshness and luminosity remained undiminished, enabling her to perform and record youthful light lyric roles such as Puccini's Lauretta (Gianni Schicchi) with great success well into her fifties.
Freni's last major operatic appearance was as Tchaikovsky's Jeanne d'Arc in Washington in 2005, but she continued to teach and mentor young singers after retirement, first at the University of Bologna and subsequently at the Centro Universale del Bel Canto which she and Ghiaurov set up in Vignola shortly before his death. Her awards and honours included Grammy nominations for her recordings of The Queen of Spades, Eugene Onegin, Ernani and Manon Lescaut, an honorary degree from the University of Pisa, and the Cavaliere di Gran Croce. She died at home in Modena on February 9th after what her management described as 'a long degenerative illness'.
Mirella Freni - Ten Great Recordings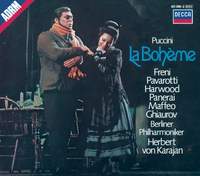 Mirella Freni (Mimi), Luciano Pavarotti (Rodolfo), Nicolai Ghiaurov (Colline), Elizabeth Harwood (Musetta), Rolando Panerai (Marcello), Gianni Maffeo (Schaunard), Michel Sénéchal (Alcindoro/Benoit), Gernot Pietsch (Parpignol)
Berliner Philharmoniker, Herbert von Karajan
Available Formats: 2 CDs, MP3, FLAC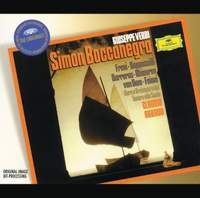 Piero Cappuccilli (Boccanegra), Mirella Freni (Amelia), José van Dam (Paolo), Nicolai Ghiaurov (Jacopo Fiesco), José Carreras (Gabriele)
La Scala Chorus & Orchestra, Claudio Abbado
Available Formats: 2 CDs, MP3, FLAC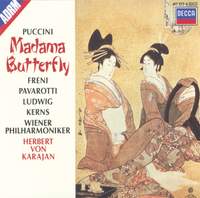 Mirella Freni (Butterfly), Luciano Pavarotti (Pinkterton), Christa Ludwig (Suzuki), Robert Kerns (Sharpless)
Wiener Philharmoniker, Herbert von Karajan
Available Formats: 3 CDs, MP3, FLAC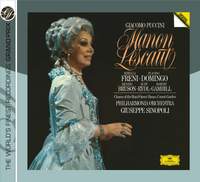 Mirella Freni (Manon Lescaut), Plácido Domingo (Des Grieux), Renato Bruson (Lescaut), Kurt Rydl (Geronte), Robert Gambill (Edmondo), Brigitte Fassbaender (Una voce sola), John Tomlinson (Un comandante di Marina)
Philharmonia Orchestra, Covent Garden Chorus, Giuseppe Sinopoli
Available Formats: 2 CDs, MP3, FLAC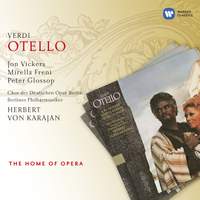 Jon Vickers (Otello), Mirella Freni (Desdemona), Peter Glossop (Iago), Aldo Bottion (Cassio), Michel Senechal (Rodrigo), Jose van Dam (Lodovico), Mario Machi (Montano), Stefania Malagù (Emilia), Hans Helm (Un Araldo)
Berliner Philharmoniker, Chor der Deutschen Oper Berlin, Herbert von Karajan
Available Format: 2 CDs
Mirella Freni (Adina), Luigi Alva (Nemorino), Enzo Sordello (Belcore), Sesto Bruscantini (Dulcamara), Emily Maire (Giannetta)
The Royal Philharmonic Orchestra & The Glyndebourne Chorus, Carlo Felice Cillario
Available Format: 2 CDs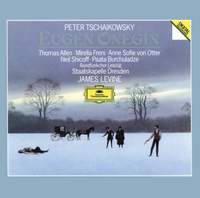 Thomas Allen (Eugene Onegin), Mirella Freni (Tatyana), Anne Sofie von Otter (Olga), Neil Shicoff (Lensky), Rosemary Lang (Larina), Ruthild Engert (Filipyevna), Paata Burchuladze (Gremin)
Rundfunkchor Leipzig & Staatskapelle Dresden, James Levine
Available Formats: 2 CDs, MP3, FLAC
Hermann Prey (Figaro), Mirella Freni (Susanna), Dietrich Fischer-Dieskau (Count), Kiri Te Kanawa (Countess), Maria Ewing (Cherubino), Paolo Montarsolo (Bartolo), Heather Begg (Marcellina), John van Kesteren (Basilio), Willy Caron (Curzio), Hans Krämer (Antonio), Janet Perry (Barbarina)
Wiener Philharmoniker, Karl Böhm, Jean-Pierre Ponnelle
Available Format: 2 DVD Videos
Plácido Domingo (Don Carlo), Mirella Freni (Elisabetta), Grace Bumbry (Eboli), Nicolai Ghiaurov (Filippo II), Louis Quilico (Rodrigo) & Ferruccio Furlanetto (Il Grand Inquisitor)
Metropolitan Opera Orchestra and Chorus, James Levine
Available Format: 2 DVD Videos
Mirella Freni (Fedora), Ainhoa Arteta (La Contessa Olga), Plácido Domingo (Ipanoff), Dwayne Croft (De Siriex), Vernon Hartman (Lorek), Denis Sedov (Nicola), James Courtney (Boroff), Stephen West (Gretch)
Metropolitan Opera, Roberto Abbado
Available Format: DVD Video