UPDATE: Royal Mail have now resumed shipments on their TRACKED, TRACKED & SIGNED and SIGNED services but delays should be expected, please choose these services if available to you or FEDEX if your order is urgent.
11th February 2020
 Interview

,

  Kate Lindsey on Arianna
Featuring depictions of the mythological Cretan princess Arianna by Alessandro Scarlatti, Handel and Haydn, Kate Lindsey's second solo album on Alpha has proved another palpable hit for the American mezzo – the recording was one of my January Editor's Choices, and was described by The Times as 'a marvellous vehicle for Lindsey's dramatic gifts and chameleon skill'. I spoke to Kate in between rehearsals for the Metropolitan Opera's current production of Handel's Agrippina (in which she sings Nerone opposite Joyce DiDonato in the title-role) about how her fascination with Arianna developed, the various facets of the character which are portrayed in these three works, and the story behind the album's striking cover-image…
One of your signature-roles is The Composer in Strauss's Ariadne auf Naxos, who creates his own operatic version of Arianna's story - is that where your interest in the character began?
The starting-point for the album was that I really wanted to record the orchestral version of Haydn's Arianna a Naxos, and I think what attracted me to the cantata in the first place was the experience of singing The Composer in so many different productions - I've sort of lived in Ariadne's story for years thanks to Strauss, though more as an observer within a rehearsal process. I felt an interesting psychological connection to Ariadne/Arianna, because Strauss's Composer spends so much time thinking about what she means to him. He has a deep reverence for her suffering, and to him it's something almost holy: he says 'She is one in millions of women', and in a sense he sort of bows to that individuality in writing her. There's a rather beautiful naivety about the way he idealises the constancy of her love, but once you start exploring Ariadne in different repertoire you actually find a much deeper and more complex character. It's perhaps more difficult to find that in the Strauss because of the construction of both the music and libretto: the text is at a very elevated, somewhat philosophical level, which can be pretty hard to dissect on second or even third hearing! But what I really enjoyed in these earlier pieces is that her experience (and our reaction to it) is much more visceral and human - there's something universal about her emotional journey, regardless of whether the text and music date from the eighteenth century or the twenty-first.
How different are the characterisations of Arianna in these three cantatas?
I would say they're quite different, partly because of the levels of instrumentation in each work; as the ensemble gets smaller I think the responsibility on the players really increases, because they know that that have to live much more deeply within the psyche of the character. The Haydn is with orchestra, which allows for a lot of depth of sound and encourages a more operatic approach. It's essentially a one-person scene: you really feel the sense of her waking up at the beginning, you hear the waves rolling in, and all of that is provided by the orchestra. The Handel is scored for a slightly smaller ensemble, and the instruments take on characters in a way: there's a lot of give and take between the voice and the oboe in particular, so that you're essentially acting with another character rather than having the orchestra providing the scenery underneath you. And for the Scarlatti it was just Jonny and I with two violins and a cello – it's almost as if the voice lies within the instrumental textures, so the violins have to sound absolutely as one, with the voice coming in and out of that. Playing in perfect unison like that is quite the feat, and they did such an amazing job!
The construction of the text in the Scarlatti is also slightly different from the others, which are all first-person narratives, and from a psychological standpoint it's extremely interesting: in the early part of the piece the recitatives are sung by an objective, third-person narrator and the arias are sung from Arianna's own perspective, but then around halfway through there's a moment within one of the recitatives where Arianna discovers Theseus's betrayal, and all of a sudden that third-person voice shifts into the first person and is fully inside the rage of the character. I began to wonder whether that apparently 'objective' narrator actually is Arianna herself all along...maybe she's telling someone the story much later with the benefit of hindsight, but then she gets so deeply involved in the narrative that she returns to that emotional state.
How did your collaboration with Arcangelo come about?
This is my first project with them, but I've known Jonny since I made my European debut in 2008. I was singing Cherubino in Le nozze di Figaro at L'Opéra de Lille with Le Concert d'Astrée, and Jonny was doing some assisting for Emmanuelle Haïm; we were about the same age and all of us in the cast were young singers starting out, so every day after rehearsal we'd all go grab a beer at the little café by the stage door. I remember Jonny talking even then about how he wanted to form his own orchestra, and I never got the sense that it was driven by ego: it was simply about building a team of dedicated, like-minded musicians who were at a similar stage in their careers and working together in a very collaborative, supportive way. When I eventually moved to the UK a few years ago I really wanted to find a way for us to work together again, so I feel very lucky that he was willing to jump on this particular ship with me!
When it came to working on this recording Jonny and I were very much in agreement about the fact that we aren't constantly looking for something that's really perfect: if things feel like they're about to fall apart then it becomes a lot more exciting, and it was wonderful to take those risks together. I loved that he had the confidence not only in himself but also in his players to allow it to hit the bricks – total loss of control, that's what we wanted to feel! That kind of thing is only possible when everyone involved is really working on the same frequency, and I was genuinely shocked that synergy happened on our first rehearsal-day, when we were working on the Haydn: I think it was new to most of the players, but all of a sudden they realised what the piece was about and you could feel the whole room make an investment in it. Especially as we live in a world which is so full of distractions and things constantly pulling at our focus, those moments where it feels like something just locks in within a group is thrillingly exciting.
The beginning of the Handel shares some musical material with Agrippina, in which you're currently singing Nerone at the Metropolitan Opera - was that a deliberate tie-in?
The funny thing is when I was looking through possible material for the recording there were several Handel cantatas which were potential contenders, and Jonny was slightly partial to another one, but I kept coming back to Ah crudel. At that point I hadn't started working on Nerone and in fact I hadn't so much as opened the score for Agrippina; then when I got to New York for the new production I walked into the rehearsal-room as they were working on Agrippina's first aria and thought 'That's Ah crudel!'.
I would certainly like more Handel in my repertoire as time goes on: I'll be singing Sesto in Giulio Cesare next season, and recently did Ariodante on tour with Les Arts Florissants which was pretty revelatory for me because it was my first really meaty Handel role. I'm a slightly late bloomer when it comes to his music, but my attitude is better late than never! I trained in the US, where much more focus is put on Mozart because Handel isn't staged as much as it is in Europe, but Joyce [DiDonato] has definitely led a one-woman resurgence of his operas - not only at the Met but throughout the rest of the US as well.
Finally, what's the story behind the cover-art? Was Photoshop involved, or was that a real stormy day by the sea?!
It was a real photoshoot, and a very risky venture! We live in Brighton and we found a wonderful photographer called Richard Boll who lives just down the road in Hove; he and I got together for coffee when I knew I'd be around for a week or two, and he suggested we wait for a morning when it was a little bit rainy and the skies were a little bit grey. After a few days of us both literally watching the weather, he texted saying 'Could you meet me down at Rottingdean tomorrow? There's some rocks down there that I think might be interesting'. So I turned up and ignored the sign saying 'No trespassers' and got climbing…I remember looking down for a moment and thinking 'I really need to get life insurance!', and I said to my husband afterwards 'We'd better have got some decent shots out of that because I honestly don't think I can face doing it again!'.
Sir David McVicar's production of Handel's Agrippina (in which Kate sings the role of Nerone) will be broadcast live from the Metropolitan Opera on Saturday 29th February - find your nearest cinema screening here.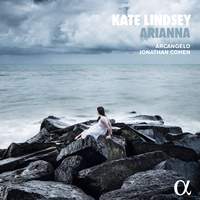 Scarlatti - Handel - Haydn
Kate Lindsey (mezzo), Arcangelo, Jonathan Cohen
Available Formats: CD, MP3, FLAC, Hi-Res FLAC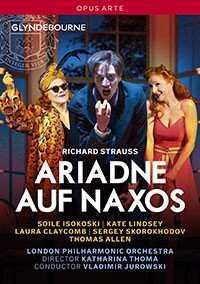 Kate Lindsey (The Composer), Soile Isokoski (Ariadne), Laura Claycomb (Zerbinetta), Sergey Skorokhodov (Bacchus), Thomas Allen (Music Master)
London Philharmonic Orchestra, Vladimir Jurowski, Katharina Thoma
Available Format: DVD Video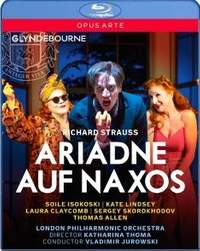 Kate Lindsey (The Composer), Soile Isokoski (Ariadne), Laura Claycomb (Zerbinetta), Sergey Skorokhodov (Bacchus), Thomas Allen (Music Master)
London Philharmonic Orchestra, Vladimir Jurowski, Katharina Thoma
Available Format: Blu-ray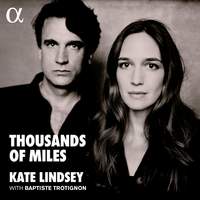 Kate Lindsey (mezzo), Baptiste Trotignon (piano)
Available Formats: CD, MP3, FLAC, Hi-Res FLAC