28th January 2013
 Recording of the Week

,

  I was glad: Sacred Music by Stanford & Parry
It's always a treat to come across a disc which makes you re-evaluate familiar works, but it's especially lovely when a recording adds a whole new layer of riches: we so often praise new interpretations which offer a 'back to basics' take on well-worn repertoire, but the King's Consort's new set of choral music by Charles Villiers Stanford and Hubert Parry under Robert King comes deliciously supersized.
The King's Consort
Whilst orchestral versions of Parry's works receive relatively frequent outings, the Stanford works on the disc are almost invariably heard with organ accompaniment: here the composer's own rarely-performed orchestrations blaze forth in all their glory, with an extra frisson provided by the use of instruments from the turn of the century. Much ink has been spilled about the use of 'period instruments' in music to the baroque or early Classical periods, but I was blown away by just how much difference a century makes in terms of sonorities, with gut strings and narrow-bore wind-instruments creating a sound that is instantly recognisable as 'vintage' (listen to a little bit of Neeme Jarvi's recent disc of symphonic Parry on modern instruments and you'll hear what I mean).
The fame of both composers rests on a very few works. Parry is best-known for the three large-scale anthems included here, whilst Stanford has undeservedly been relegated to the ranks of the 'one-hit wonders': asked to name a setting of the Magnificat off the top of their head, I'd vouch that a sizeable proportion of former choristers and regular attendants at Anglican evensong would plump for 'Stanford in G', with its soaring treble solo. But as this disc so amply illustrates, Stanford was both an innovator and a fine orchestrator, with a predilection for working on large canvasses and a lifelong passion for the German Romantics which manifests itself in these most English canticle-settings when heard in their full orchestral majesty.
Born in Dublin in 1852, Stanford read music at Cambridge and quickly established himself there as something of a wunderkind; his desire to take English liturgical music in new directions really ignited during two study-periods in Germany where he soaked up the pervasive influence of Brahms and Wagner, and returned to England determined to reinvigorate the English choral tradition. The opportunity to do so on a grand scale came shortly afterwards, when John Stainer (then organist of St Paul's Cathedral) commissioned a symphonic Evening Service from him: the result was the Magnificat and Nunc dimittis in A, replete with echoes of Brahms, Bruckner and even Wagner. Stanford would go on to write further sets of orchestral canticles, and to orchestrate his earlier B flat (op. 10) setting, already symphonic in conception and form.
Highlights? The evergreen soprano solo at the opening of the Magnificat in G sounds more luminous than ever when accompanied by Catrin Finch's rippling harp obbligato and muted upper strings (Carolyn Sampson's clean, glowing soprano is perfect here), and the beautiful cello quartet and plangent oboe solo at the beginning of the A major Nunc Dimittis are spellbinding.
It would be so easy for a programme like this to descend into wall-to-wall bombast, but some of the loveliest moments on this disc are characterised by their intimacy: the Gloria of the famous B flat Nunc Dimittis, for instance, is delivered with hushed understatement rather than noisy valediction. The King's Consort and Choir can certainly rattle the rafters when required, though, and the big climaxes of the three Parry pieces in particular come off splendidly. If you're looking for definitive performances of the Parry or if you've always wanted to hear Stanford's little gems in glorious technicolour then do give this a try!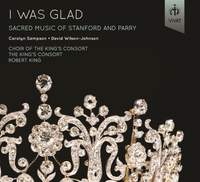 Carolyn Sampson & David Wilson-Johnson, The King's Consort & Choir of The King's Consort, Robert King
Available Formats: CD, MP3, FLAC, Hi-Res FLAC