4th November 2019
 Interview

,

  Christoph Croisé on his Russian Album
The young French-Swiss-German cellist Christoph Croisé made his recording debut on Avie back in March with conductorless accounts of the Haydn concertos which prompted Gramophone to describe him as 'playing with the benevolence of an eighteenth-century king'; his second album on the label, though, is worlds away from the rococo elegance of its predecessor and centres on the two mighty cello sonatas by Rachmaninov and Shostakovich. I spoke to Christoph about the parallels and contrasts between the two works, his own transcriptions of Prokofiev and Shchedrin, and his partnership with Russian pianist Alexander Panfilov.
The Rachmaninov Sonata is widely regarded as one of the most taxing works in the core cello/piano repertoire – at what stage in your career did you first tackle it, and could you tell us a little about the challenges it presents?
Being rather a long sonata with approximately 35 minutes of performing time, the Rachmaninov Sonata is indeed quite taxing, especially for the pianist, who plays a very significant part in this sonata - and when one reaches the last movement it's quite clear how physically demanding this piece is. Obviously Rachmaninov being a pianist himself had a huge influence on the work, ma-king this "cello sonata" almost like a piano concerto!! Alexander Panfilov and I started performing this sonata together in summer 2014 because we both just loved Rachmaninov so much and felt we were finally in the right stage to start performing this piece, after having already played for four years together.
Do you see any kinship between the two sonatas, or is it more illuminating to think about the contrasts between them?
The Rachmaninov sonata was finished in 1901 and the Shostakovich sonata in 1934, and they certainly share similarities - both of them are quite early works of each composer (Rachmaninov op. 19, Shostakovich op. 40) and are also connected through the typical story-telling style of Russian music, where you can easily imagine landscapes, pictures, stories and characters in each theme. For me, though, they are significantly different if not completely contrary: the Rachmaninov sonata spreads ultimate joy culminating in its mar-riage bells in the 3rd movement, whereas the Shostakovich sonata is full of sarcasm, if not cynicism (although composed just prior to the censorship by the Soviet authorities of his music) and clearly one can hear its realism which is for me so obvious in Shostakovich's music throughout. In this sonata, the 3rd movement is in fact the ultimate low point, extremely dark, almost a vision of what's to come in Europe and the world in those years after 1930. For me the Rachmaninov Sonata as well as all of Rachmaninov's music is obviously romantic music as its best and very interesting to realize that with only thirty years between both sonatas, Shostakovich is already much more developed into the realism of the twentieth century.
What instrument did you use for the recording, and does it have any qualities which make it particularly suitable for Russian repertoire?
I was playing on a Goffriller cello from 1712, which I had been playing for four years already at the time of the recording and which was my main concert cello. With its warm and extremely colourful sound, this cello was a perfect match for me for this romantic Russian program.
How long have you been working with Alexander Panfilov, and how did your partnership begin?
We met in 2010 at a competition in Sicily/Italy where we both won the first prize and got to play a tour though the USA as winners. Since then we have be-en playing concerts together every year, which makes it nine years now - quite a while already considering our age. The Shostakovich Sonata was one of the first pieces we ever performed together, so we were very happy and excited to finally put it on tape after those nine years of working on it!
The album also includes your own transcriptions of the March from Prokofiev's The Love of Three Oranges and Shchedrin's In the Style of Albéniz – what attracted you to these particular pieces as potential solo repertoire, and do you have plans to transcribe more Russian music for cello and piano?
Both of those transcriptions were already transcribed before by legends like Daniil Shafran, Rostropovich, and Valter Despalj; however, I wanted to put some personal touches on the pieces that I felt had not been explored before, which spurred the decision to transcribe them myself. I love playing those little character pieces, especially at the end of a recital, and I'm currently working on Prokofiev's 'Dance of the Knights' from Romeo and Juliet!
What was the thinking behind ending the album with Thomas Demenga's New York Honk: is that a nod to Rachmaninov's and Shostakovich's connections with the US, or are there stylistic links at play too?
There were several connections which came to mind in choosing to close the album like this: first and foremost, I had lessons with Thomas Demenga when I was around 14 to 16 years old, and I've always thought his compositions are wonderful, so Alexander Panfilov and I had a lot of fun with the New York Honk. Secondly, Alexander and I first played together on our US Tour (with our debut at the Carnegie Hall) so another tie can be found there. Last but not least, this all-Russian album is like a tribute to my musical roots because I had a brilliant Russian teacher, Alexander Neustroev, from age 12 till 22, who strongly influenced my way of making and hearing music in addition to introducing me to Russian music from my first lesson on. So along those lines, we thought that since I grew up in Switzerland and am Swiss, it would be fitting to also pay tribute to these roots by playing an encore written by a Swiss composer.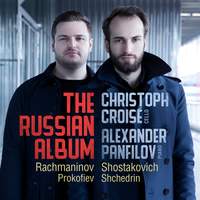 Cello Sonatas By Rachmaninov & Shostakovich
Christoph Croisé (cello), Alexander Panfilov (piano)
Available Formats: CD, MP3, FLAC, Hi-Res FLAC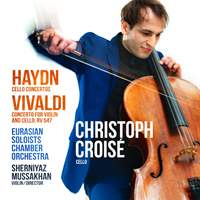 Christoph Croisé (cello), Sherniyaz Mussakhan (violin), Eurasian Soloists Chamber Orchestra
Available Formats: CD, MP3, FLAC, Hi-Res FLAC