25th October 2019
 Recording of the Week

,

  Purcell's King Arthur from Gabrieli and Paul McCreesh
Gabrieli's signature concept albums, bearing that distinctively minimalist cover art, are now a well-established format – each one meticulously creating not so much a particular historical event as a plausible hypothetical, or idealised, happening. Their recent album synthesising a hundred years of British coronation ceremonies into one whole exemplifies this perfectly, and it's an approach that carries over even into the production of specific works. So it proves with their new account of Purcell's King Arthur; crucial details of the original performance are now lost, but much can be reconstructed by adhering to the spirit of authenticity and faithfulness. Their recording employs Christopher Suckling's new edition of the score, which tightens up certain weak points in the drama and relocates a couple of numbers to more intuitive places in the narrative.
The version of Arthur presented here is not the legendary lord of Camelot; Lancelot, Guinevere and the rest are conspicuously absent. Purcell's Arthur is a more down-to-earth military leader pushing back a foreign invasion, albeit with supernatural assistance. The musical scenes are vividly colourful, even garish; we have the pagan Saxons sacrificing equine and human victims to grant them victory in battle against the Britons; Anna Dennis and Carolyn Sampson as seductive river-nymphs doing their sinuous best to lead Arthur astray; the inimitable Frost Scene with the "Cold Genius" and the well-known Cold Song, here an appropriately boreal Ashley Riches; and it would be a crime to let the jovial buffoonery of Comus's rustic merrymaking go unmentioned. Roderick Williams, Riches, and the chorus men audibly relish the opportunity to take a vocal trip down to Somerset; King Arthur is undeniably a feast of high camp to modern ears and from this perspective "Your Hay it is Mow'd" is one of its high points. Only a churl would point out the wobbliness of some of the accents put on by McCreesh's singers, which at times stray quite far from the West Country where they started out; it's such infectious fun that such things are easily glossed over.
McCreesh's King Arthur closes with an aria borrowed from Purcell's Diocletian that brooks no doubts about its purpose, reworked with a text explicitly honouring Britannia, Saint George and the Order of the Garter and praising the future triumphs of the now-united British and Saxon tribes. Jeremy Budd, renowned as a tenor with an upper range that many others would kill to possess, is in full force here, effortlessly levitating at the top of the stave for phrase after phrase.
King Arthur, like Dido and Aeneas and Arne's rather later Alfred, is squarely within that grand British tradition of staged musical propaganda, in which monarchs facing difficulties with their image have sought to bolster themselves by historical allusion and allegory, presented in the Glorious Technicolor of their age. Gabrieli go out of their way to recreate this faithfully and sensitively, incorporating scholarship about the nature of Purcell's orchestras. There's no double bass in the continuo here, making for a uniquely light sound; bowing techniques are also brought into line with what's known about Purcell's time, with implications for the pairing-up of string players' with vocalists' phrasing. The crowning glory is the use of specially-made trumpets which, unlike many other early instruments, lack finger-holes and require a different technique from the players to that needed for, say, Bach or Handel's clarino parts.
It's these little touches, with their subtle yet significant implications for the sound, that set Gabrieli apart on album after album. Despite knowing right from the outset that a genuine reconstruction of King Arthur's premiere is impossible, McCreesh doggedly pursues impossible perfection anyway – and in the process creates something that is at once new (drawing on Gabrieli's own decades of performance experience and modern scholarship) and profoundly and lovingly connected, musically and spiritually, to the old.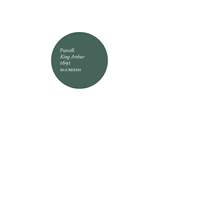 Anna Dennis, Mhairi Lawson, Rowan Pierce, Carolyn Sampson (sopranos), Jeremy Budd (high tenor), James Way (tenor), Roderick Williams (baritone), Ashley Riches (bass-baritone) Gabrieli Players, Paul McCreesh
Available Formats: 2 CDs, MP3, FLAC, Hi-Res FLAC, Hi-Res+ FLAC