24th October 2019
 Interview

,

  Jennifer Johnston's Love Letter To Liverpool
The Liverpudlian mezzo Jennifer Johnston has notched up an impressive discography over the past decade, taking in Stravinsky, John Adams, Britten, Ned Rorem and Strauss, but for her debut solo album (released on Rubicon last month) she's taken inspiration from closer to home with a programme which explores Liverpool's connections with Ireland and America and its thriving contemporary music scene, taking in music by fellow Scousers Mark Simpson and Stephen Hough as well as songs by The Beatles and The Spinners and seven new commissions by members of the Royal Liverpool Philharmonic Orchestra's Young Composers scheme.
She shared her thoughts on her 'Liverpool home' and its music with me in between rehearsals for a new production of Korngold's Die tote Stadt at the Bayerische Staatsoper, where she's appeared regularly since 2013.
What were your earliest musical experiences in Liverpool (both as a performer and audience-member), and how much has the city's musical landscape changed since your childhood?
Music is in the lifeblood of Liverpool and always has been, more so now than ever before, thanks to it being awarded European City of Culture in 2008, and its status as a UNESCO City Of Music. I grew up on a diet of the Beatles, traditional jazz, folk and classical music, with a dash of rock thrown in for good measure. Although I am the only professional musician that has emerged from my family, music has always been integral part of our lives, and I was encouraged and supported in my musical endeavours. The Royal Liverpool Philharmonic Orchestra, or 'The Phil', as it is affectionately known, is the original Liverpool Sound, and I always loved being taken to concerts there as a youngster, giving me my first taste of world-classical music. When I was 15, I joined the Royal Liverpool Philharmonic Choir, and within a few months, made my 'professional' debut as a soloist in Honegger's Jeanne D'Arc with the orchestra, conducted by Libor Pešek, standing on a bridge in Liverpool Cathedral. The Phil has been front and centre in my musical life for over 3 decades, and so I have come full circle now that I am their Artist In Residence.
This is a wonderfully diverse programme, taking in traditional songs, new commissions and Broadway – how did you go about selecting the material, and did you have a clear picture of the different aspects of the city you wanted to portray when you started out?
In selecting the tracks for the album, it was really clear that it had to represent 'my' Liverpool, rather than taking a generic selection of songs, and although it is an eclectic mix, there's a clear thought process behind the song choices. As a city, it isn't just where I grew up but where I still live and call home, and so inevitably my personal views are strong. I wanted to produce an album which demonstrates a number of facets of not just Liverpool's personality but that of its people too, and I think we've achieved that. I also haven't tried to gloss over the more negative aspects of our past, including Amazing Grace, for instance, as a means of acknowledging Liverpool's role in the slave trade, something that Scousers are not proud of. John Newton, the city's Tide Surveyor, wrote Amazing Grace after working on slave ships and surviving a particularly brutal storm, becoming a prominent abolitionist.
How closely did you work with the seven members of the Liverpool Phil's young composers scheme on their commissions?
Once I had matched each composer with the pieces they were given to arrange, I let them have free rein, the only stipulations being about range. Some had more questions than others for me, but they all took their commissions seriously and I think the results speak for themselves. They are a spectacularly talented bunch, and it was a huge pleasure to perform their works.
Stephen Hough's piece is the only track where you use the 'accent exceedingly rare' described by The Spinners! How tricky is it to sing in Scouse - or, conversely, do you ever find it creeping in when you're singing in English more generally?
I don't find it tricky to sing in Scouse at all! It may be an 'exceedingly rare' accent, but it also exceedingly strong and when I am at home, I am surrounded by those guttural vowel sounds. The one thing that gives me away as a Scouser when I'm singing in English is that I pronounce a 'g' at the end of a word, like 'sing', rather than swallowing it, something that I really have to remind myself about. I'm proud of where I come from, though, so I don't mind if a smidge of Scouse creeps in occasionally, giving added colour to my singing.
Your working relationship with Hough is a fairly long-standing one (I remember your recording of other love songs with The Prince Consort nearly ten years ago) – do you have long-standing friendships with any other Scouse musicians on the international circuit?
I've known Stephen for a long time, and am a huge admirer of him as a musician and composer, but our friendship is definitely stronger because we're both from Merseyside. I don't even have the distinction of being the only Scouser in the Prince Consort, thanks to Nicholas Mulroy, who is another old friend that I was at university with, long before either of us became professional singers. I was conducted by Sir Simon Rattle recently and it was remarked upon by others that both of us sound more Liverpudlian when talking to one another. You can take the Scouser out of the city...
What are your plans for the rest of your residency with the Liverpool Philharmonic?
My residency runs to the end of 2020, during which time I'll be performing a number of concerts with the orchestra including Mahler's Second and Third Symphonies as part of Vasily Petrenko's cycle, Handel's Messiah and Beethoven's Ninth Symphony, plus a song recital at St George's Hall with Joseph Middleton, a programme called A Journeywoman's Tale, all about migration, homesickness and the concept of 'home', highly appropriate in the context of a port city.
Finally, could you tell us a little about the significance of that fantastically striking cover-image?
Choosing a cover image for an album is a difficult job, because you want it to make a statement about what listeners can expect to hear, and A Love Letter To Liverpool isn't a 'standard' classical album, although it's not crossover either. Paul Curtis's spectacular Liver Bird wings mural is on a wall in Jamaica Street in the Baltic Triangle, and has become a huge tourist attraction and Instagram star in itself, and was an obvious choice. The words underneath it say 'For All Liverpool's Liver Birds', of which I am very firmly one!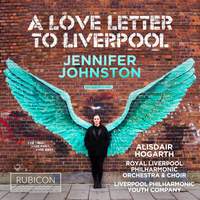 Jennifer Johnston (mezzo), Alisdair Hogarth (piano), Royal Liverpool Philharmonic Orchestra & Choir
A Love Letter to Liverpool was released on Rubicon in September and was described in The Observer as 'a fierce, big-hearted and atmospheric tribute to Johnston's home city'; all profits from the album will be donated to Alder Hey Children's Hospital and Charity and the Liverpool Phil's Youth Company, which encourages the development of the next generation of young musicians and composers from across Merseyside.
Available Formats: CD, MP3, FLAC, Hi-Res FLAC