4th October 2019
 Recording of the Week

,

  Handel's Brockes-Passion from Richard Egarr and the Academy of Ancient Music
At a time of year when recordings of Messiah and various Christmas Oratorios usually proliferate, discovering a Passion in amongst the new releases was somewhat unexpected – but then virtually everything about this beautifully-presented, painstakingly researched project from the Academy of Ancient Music is disconcerting in its way. The culmination of several years of scholarship and live performances, it's also the realisation of a long-held dream for conductor Richard Egarr, who fell under the spell of Handel's visceral but relatively overlooked Brockes-Passion as a student and conducted a searing performance of the piece at the Barbican on its 300th anniversary this Good Friday, just a few days after the recording was made.
Handel composed his 'Passion Oratorio' on a text by his contemporary Barthold Heinrich Brockes in around 1716, not long after settling in London, though it was several years before the work received its premiere in Hamburg alongside other settings of the same libretto by Keiser, Mattheson and Telemann (René Jacobs recorded the latter ten years ago to considerable acclaim, and the Keiser also received an outing from Vox Luminis in 2014). I use the word 'libretto' advisedly, as both Brockes's words and Handel's response to them are unabashedly operatic, especially when viewed in comparison with Bach's two mighty Passions from around a decade later: the large cast of soloists (all allotted characters, whether Biblical or allegorical) are all urgently involved in unfolding events rather than reflecting on them from a distance, and some of the score's most powerful moments are those where they seek to intervene in the action or even engage in dialogue with the suffering Christ. (Mary, superbly sung by the incisive mezzo Rachael Lloyd, has an extraordinary duet with her Son as he hangs on the Cross, and there's an equally remarkable passage in which Elizabeth Watts's Daughter of Zion – a huge, enormously taxing role, this, with over a dozen arias - is rebuked in no uncertain terms by Christ for remonstrating with him to save Himself). And neither Brockes nor Handel allow us to shy away from the human suffering and gory detail of the Passion narrative: The Scourging of Christ, which Bach describes in just three bars of recitative in the St John Passion, is depicted in harrowing detail across nearly ten minutes of music here, and the series of unflinching close-ups of torn flesh and gobbets of blood put me very much in mind of Mel Gibson's controversial 2004 film The Passion of the Christ.
If Bach lays the narrative burden squarely on the shoulders of his Evangelists, Handel and Brockes present it from all angles: because Brockes composed a new text inspired by the Gospels rather than translating scripture verbatim, characters such as the Centurion who belatedly recognises Christ's divinity (and whose response to events is summarised in a single line of chorale in the St Matthew Passion) are given space to react with real psychological depth, and the remorseful agonies of Peter and Judas are conjured with near-operatic intensity. The young tenor Gwilym Bowen, who takes the former role, emerges as one of the most exciting voices on the set, raging furiously in the bravura 'Gift und Glut' as he faces down Judas's heavies in the Garden, and hugely affecting in the desolate 'Wo flieht er hin?' after Christ is taken off to his doom. The other stand-out new voice here is American bass-baritone Cody Quattlebaum as a very human Jesus, convivial with his disciples even at the Last Supper, prone to flashes of frustrated anger at well-meaning interlopers, and heaving in dry-mouthed terror at Gethsemane. And it's luxury casting to have the beefy-voiced Nicky Spence (who was juggling the project with singing his first Parsifal) as one manifestation of the Faithful Soul.
The recording uses a new performing edition of the score by oboist and musicologist Leo Duarte (who along with leader Bojan Čičić also contributes some ravishing obbligatos), and though the piece has undeniable longueurs in places here's hoping that the publication – and Egarr & Company's fierce advocacy – will encourage adventurous choral societies to champion the piece with the passion it deserves.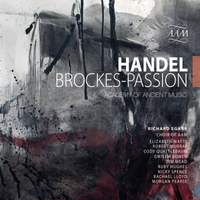 (includes full texts and translations)
Robert Murray (Evangelist), Cody Quattlebaum (Jesus), Elizabeth Watts (Daughter of Zion), Tim Mead (Judas), Gwilym Bowen (Peter), Ruby Hughes, Nicky Spence (Faithful Souls)
Academy of Ancient Music, Richard Egarr
Available Formats: 3 CDs, MP3, FLAC, Hi-Res FLAC