2nd October 2019
 Obituary

,

  Giya Alexandrovich Kancheli (1935-2019)
The Georgian composer Giya Kancheli has died at the age of 84 in his home city of Tbilisi. One of the most recognised and acclaimed classical voices from his home country, he belonged to a generation of Soviet-born composers who lived through, and were influenced by, the tumultuous dissolution of the USSR and independence of many of its constituent republics.
Kancheli's earlier works explore a modernist, often dissonant style that led to friction with the cultural authorities of the time (though often seeming to retain more of an affection for consonant, melodic elements than some of his contemporaries, even in early works such as his wind quintet from the 1960s). Much of his music was composed for the cinema, often seen by adventurous Soviet composers as an area where censorship was less rigorously imposed and new ideas could be explored more freely; over five decades of film soundtracks, from drama to comedy to the offbeat science fiction adventure Kin-dza-dza, attest to his gift in matching music to screenplay time and again against a fast-changing cultural backdrop.
His later compositions increasingly embrace what might be called the New Tonality, with a stronger element of "traditional", accessible harmony, though always coloured by his national heritage – after fleeing the chaos of post-independence Georgia in 1991, Kancheli came to express themes of exile and loss, both personal and national, in his music. Works such as Styx and With a Smile for Slava pay tribute to deceased fellow Soviet composers Avet Terterian and Alfred Schnittke, and giant of the cello Mstislav Rostropovich, while À la Duduki evokes the piercing reed sounds of the Caucasian duduk in a slow-burning but intense meditation on the tribulations of his homeland.
Kancheli was also a gifted miniaturist, writing small-scale gems for violin and piano as well as for piano solo and for voice; his Kviteli Potlebi (Yellow Leaves), an understatedly sentimental three-minute vocal piece, is surely one of his most widely-known and enduringly popular compositions, with a simplicity and directness that few can match.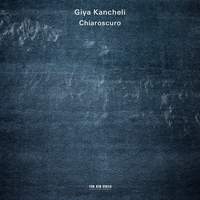 Gidon Kremer (violin/director), with Patricia Kopatchinskaja (violin), Kremerata Baltica
The ECM label have consistently championed Kancheli's music; here they present premiere recordings of two of his most significant works of the mid-2010s.
Available Formats: CD, MP3, FLAC, Hi-Res FLAC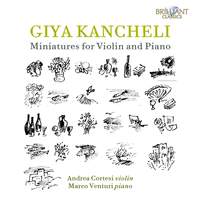 Andrea Cortesi (violin), Marco Venturi (piano)
The more intimate side of Kancheli's musical personality is on display in the Eighteen Miniatures - though with more than half an eye on his background as a film composer.
Available Formats: CD, MP3, FLAC, Hi-Res FLAC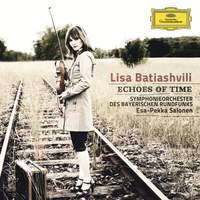 Lisa Batiashvili (violin), with Hélène Grimaud (piano), Symphonieorchester des Bayerischen Rundfunks, Esa-Pekka Salonen
Fellow Georgians such as violinist Lisa Batiashvili and pianist Khatia Buniatishvili have done much to advance awareness of Kancheli's music; the yearning V & V for violin and orchestra exemplifies his slow, spacious style.
Available Formats: CD, MP3, FLAC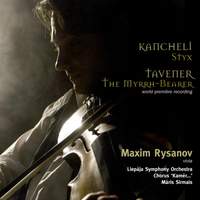 Maxim Rysanov (viola) & Rihards Zalupe (percussion), Men of the State Choir Latvija, Liepaja Symphony Orchestra & Chorus 'Kamer…', Maris Sirmais
Uncharacteristically stern in style, yet with a profoundly personal vulnerability, Styx pays tribute to Avet Terterian and Alfred Schnittke; the pairing with Tavener's Byzantine lament highlights both the common ground and the differences between the two composers.
Available Formats: CD, MP3, FLAC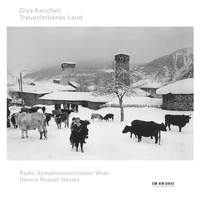 Vienna Radio Symphony Orchestra, Dennis Russell Davies
Georgia itself is, as so often in Kancheli, the focus of these two works, which powerfully evoke the dislocation of a composer forced to abandon his homeland and watch its struggles from afar.
Available Formats: CD, MP3, FLAC