3rd October 2019
 Interview

,

  Ralph Couzens on Chandos
The British independent record-label Chandos turned forty this year, and as our last couple of monthly charts will attest they're very much in their prime, with John Wilson's Korngold album with the newly-resurrected Sinfonia of London sitting at No. 1 for September and two other new releases featuring in the Top 10. To mark the anniversary (and to tie in with our current special offer across their entire catalogue), I spoke to Managing Director Ralph Couzens about the evolution of the label over the past four decades, Chandos's commitment to exploring niche repertoire, and the challenges and opportunities which the business faces today…
Did you always envisage a career in the recording industry, and how has your role evolved over the decades you've been working at the label?
I started working full-time for the company in 1973, so I've been here a long time! Chandos is a family business: it was founded by my father Brian, who was originally an orchestrator and copyist in the film & light music world. He set up a music publishing company in 1966, then in 1970/71 he started a little mobile recording unit; at that point having played clarinet and piano for some years I was studying electronics at college and I suddenly got very interested in all of the microphones and mixing-desk he was using, so he suggested I tag along with him at weekends and help out on the brass band recordings which they were making at the time. Everything really grew from there: I started out just winding up cables, making tea and carrying kit around; then I got my hands on the mixing console and started actually making the sound that people hear, and eventually moving into producing recordings myself, finally becoming Managing Director when my father stepped down. I worked in most areas of the record label, spending some time out on the road selling directly to shops as well as working in the art department and in distribution, but the recording side has always been at the core of what I do. Quite early on I was using my electronics experience designing mixing-desks because there wasn't anything out there that was appropriate for use in mobile recording. Being a family business my sister works in the company too, looking after royalties; we currently have twelve full-time people who all work very hard, including engineers who are based in our post-production studio in Colchester.
How does the Artists and Repertoire side of the business work at Chandos?
I'm involved in A&R most of the time these days, though I tend to filter most of the ideas which come through and only dream a few of them up myself! I tend to put projects together based on a gut-feeling about what's good for the company and on costs of course. However, over the years that scenario's changed: at the peak of the CD industry twenty or thirty years ago, we were releasing around forty discs a month, and sometimes that would include what we'd call vanity-projects for a few artists well. These days we have to be much more selective and only put out about four or five recordings per month - which in the grand scheme of things is still quite a lot! The ideas themselves come in from all sorts of sources. When I first sat down with Kirill Karabits to discuss recording plans for the Bournemouth Symphony Orchestra, I was clear that I didn't really want to duplicate repertoire we'd done in the past, and he told me that he was very interested in exploring rare orchestral works from his part of the world: so far we've released albums of music by the Azerbaijani composer Kara Karayev and Kirill's fellow Ukrainian Boris Lyatoshynsky and now Teterian, totally unknown to most people. Similarly Neeme Järvi has unearthed all sorts over the years, including music by Artur Lemba, Heino Eller, Johan Halvorsen, Kurt Atterberg, Eugen Suchon, Joachim Raff and Franz Xaver Scharwenka just to name a few. That's really what we're about: digging out really interesting rare repertoire and doing it well. Nine times out or ten works are forgotten if the original first performance was a disaster, but Neeme Järvi has an innate instinct for pieces which have got integrity, and he'll devote much time and energy to playing with them, making real music out of the score. It's a delight to see a lot of this music that's been forgotten being brought to life.
Are there any particular discoveries have really taken you by surprise over the years?
This is a discovery in a way: we recorded the original version of Vaughan Williams's London Symphony with Richard Hickox a few years before he died, which was this version's first-ever recording. Most people had assumed that the original version wasn't that different from the revised one, but in fact it included an extra eighteen minutes of music that had never been heard; it changed the colour of the whole symphony, making it much darker, which was a major revelation for a lot of people including us. Vaughan Williams's widow Ursula gave us permission to restore the missing material for the recording, and the London Symphony Orchestra gave one performance at the Barbican, after which she just said 'No-one ever plays it again!'. Richard Hickox recorded 280 albums with us after moving to Chandos from Virgin and EMI, and he always said that it was the best decision he ever made: he loved the flexibility of our approach and the fact that we like to do complete takes in recording sessions rather than working bar-by-bar. It allowed the performers to actually place the piece and create a sense of performance.
We also recorded a series with Matthias Bamert and the London Mozart Players called 'Contemporaries of Mozart', which was about two-dozen albums exploring composers who were around at the same time as Mozart but totally overshadowed by him; there was a lot of wonderful music that had been completely forgotten, and the series has continued to sell really well.
How much has the landscape of recorded classical music altered in the time you've been involved in the business, and what are the main challenges and opportunities that you face at the moment?
It's certainly a different animal now to twenty or thirty years ago, and it all started with the obvious: the demise of the bricks-and-mortar record-stores as everything moved online, and now the gradual progression to digital and streaming. Although streaming is a great thing for the wider public because you've got billions of tracks easily accessible, for us it creates a problem with the business-model, as the income generated is simply not enough: from a global perspective it might seem like a vast amount of money, but if you pare it down to albums it's really not very much. Part of the issue is that streaming operates per track, whereas historically classical has always operated per album - in the classical world a track can be thirty seconds or it can be half an hour, but streaming pays the same amount of money regardless! That also has an effect on the sort of things that you record: if the future is purely streaming and purely track-based, then it's going to be pretty unfeasible to record a complete opera, because relatively few people are going to stream the whole thing. That's the problem in a nutshell, really: classical music really lends itself to the CD format very well. Nowadays a lot of people are very focused on playlists (which are essentially a digital version of the old compilation-tape), but that doesn't change the fact that if you want to record a Brahms symphony there's no point just doing the second movement!
I do think that people consume different formats in different ways, too: because a physical product is something that you've actually bought, you want to savour it, to sit in your listening-space and enjoy the whole thing. Streaming, on the other hand, tends to be something that you do in the background, or to kill time, or whilst you're on the move. In some ways that's a little scary for us because I don't yet know exactly where we fit into it, but in others it can be exciting: we know from reports that a lot of our catalogue doesn't do very well at all on streaming services, but then you get one or two tracks that really take off and you have no clear idea why! I'm not complaining, but it's full of total surprises. It's similar to when people listen to us on radio: Classic FM doesn't get everything of ours on their system, but if one of your albums does end up on their radar they will keep playing it over and over. Radio Three, on the other hand, have our entire catalogue, but they only tend to play anything once.
What's really thriving for us is the download side of the business. People say that digital sales are flattening out as listeners move over to streaming, and whilst that's probably the case with general-purpose, standard-quality listening, a lot of our classical buyers are really into the high-end stuff: they want to hear a quality performance in quality sound, and for that they really need to download hi-res, which is for us the growth area of downloading.
The bottom line is we really have to cater for everyone in every format to generate the income to carry on producing new products to satisfy the appetites out there.
Are there any big recording projects coming up which you're willing to share with us?
I think the most exciting thing that's happening at the moment is not so much a repertoire-based project but something that revolves around one specific person, and that's John Wilson: John's formed a new London orchestra, Sinfonia of London, which used to be a famous recording orchestra in the 50s and 60s. He's resurrected the name and signed it to Chandos. It's really made up of the best players in the country - for instance if you look at the violin section you see concert-masters from the most of the orchestras in the UK! The first album, which is the Korngold symphony with a couple of fillers, was released in September, and at the same time we recorded a collection of French orchestral pieces which will come out early next year. We're also recording another three discs this autumn - so it's ongoing, it's very exciting, and it costs a fortune. John has worked hard to find sponsors which is made easier as everybody loves working with him. No-one's formed a recording orchestra for a while, though having said that I do know that he's hoping to do some concerts and perhaps a tour further down the line…
You can browse the entire Chandos catalogue (all on special offer until 7th October) here.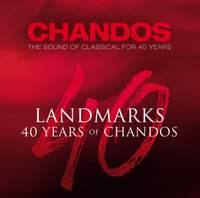 Released to celebrate the label's fortieth anniversary, this 40-CD box has been specially curated by Ralph to represent the very best of the catalogue and features music by Bax, Janáček, Copland, Sibelius, Walton, Elgar, Ruth Gipps and more; artists include Nigel Kennedy, Tasmin Little, Dame Sarah Connolly, Sir Andrew Davis, The King's Singers, and the Black Dyke Mills Band.
Available Format: 40 CDs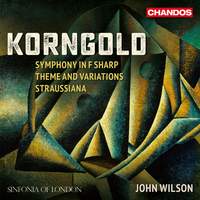 Sinfonia of London, John Wilson
'This first album is a promise of great things to come….The symphony emerges as a near-masterpiece in Wilson's flexible hands, fabulously played by the musicians...The Johann Strauss pastiche is huge fun, brilliantly orchestrated. More, please.' (Sunday Times)
Available Formats: SACD, MP3, FLAC, Hi-Res FLAC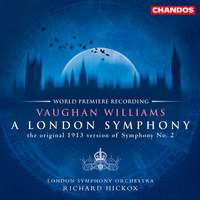 London Symphony Orchestra, Richard Hickox
'Hickox and the LSO respond with an unquenchable spirit, generous flexibility and tender affection that suit VW's ambitious inspiration to a T, and Chandos's sound is big and bold to match. An essential purchase for anyone remotely interested in British music.' (Gramophone Guide)
Available Formats: CD, MP3, FLAC, Hi-Res FLAC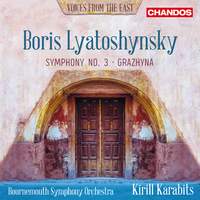 Bournemouth Symphony Orchestra, Kirill Karabits
'Genned-up listeners are well aware that Chandos has a particularly impressive record for dusting off unfairly neglected music, but few entries in the company's catalogue are as remarkable as this.' (CD Choice)
Available Formats: SACD, MP3, FLAC, Hi-Res FLAC
Bournemouth Symphony Orchestra, Kirill Karabits
'Karabits' enthusiasm is infectious, the performances captured in glowing sound. Chandos's cover art is appealing. Highly recommended.' (The Arts Desk)
Available Formats: SACD, MP3, FLAC, Hi-Res FLAC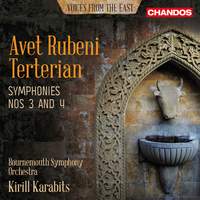 (released on 1st November)
Bournemouth Symphony Orchestra, Kirill Karabits
Available Formats: SACD, MP3, FLAC, Hi-Res FLAC
The popular Contemporaries of Mozart series with Matthias Bamert and the London Mozart Players is one of Chandos's longest-running projects; it is much praised for its high standards of musicianship and recording as well as introducing a wealth of undeservedly neglected music to the market, with several discs receiving Editor's Choices in Gramophone.