16th July 2012
 Recording of the Week

,

  Holst and Delius on Naxos
With the Queen's Diamond Jubilee last month and the Olympics in London this month, there is undoubtedly a bit of extra attention on Great Britain this year, and this appears to have influenced the recording and release schedule of a number of labels with British music releases particularly to the fore. Naxos is one such label with a number of releases over the last few weeks – two of which I'd like to pick up on today.
JoAnn Falletta
First up is a selection of Holst's rarely heard youthful-to-mid period orchestral works from the Ulster Orchestra under their new principal conductor JoAnn Falletta. I always find it very interesting to hear a composer's early works, trying to identify his main early influences, and notice how and when the composer gradually finds his own distinctive voice. In this case the 1899 Walt Whitman Overture reminds me mainly of Schumann, but the four-movement Cotswold Symphony that follows displays far more individuality. There are hints of folk music in the opening movement, and a quite profound and mature sounding slow movement. It is followed by a playful scherzo and a really well-crafted and catchy finale.
Of the other works on here I found the Symphonic poem Indra the most interesting. Based on the Indian legend of the god of the heavens, of rain and storm it gradually builds to a tremendous climax which brings the whole disc to a memorable end. There are undoubted glimpses of the Planets – particularly in some of the brass and percussion writing – and all the music receives a committed and enthusiastic response from both orchestra and conductor. In fact, that's probably an understatement as Falletta inspires some moments of real fire and excitement. The recorded sound is very good and the balance within the orchestra superb.
David Hill
Naxos's other recent big British release is that of Delius's A Mass of Life from The Bach Choir and Bournemouth Symphony under David Hill. Written in 1904-5 it is contemporary with many of the Holst works discussed earlier, and although perhaps not quite as rare as those, is certainly not well-known.
The text is drawn from passages of the German philosopher and poet Friedrich Nietzsche's work Also Sprach Zarathustra (the same work which inspired the Richard Strauss tone poem of the same name). Delius was a big admirer of Nietzsche and that is clear from the scale and sincerity of his setting. I suppose it is really more of a secular oratorio than a mass in the true sense, and is notable for the real feeling of optimism and ultimately celebration of life.
It is a substantial work, set in two parts and lasting over an hour and a half, but well worth exploring. Conductor David Hill draws some magnificent playing from the Bournemouth Symphony Orchestra, and has a top-class quartet of soloists, most notably baritone Alan Opie (who has the lion's share of the solo music in the work) who delivers a lyrical and radiant account. The chorus parts are notoriously hard but the members of the Bach Choir rise to the challenges superbly and help produce a really thrilling performance.
Born in 1862, this year marks the 150th anniversary of Delius's birth. This is a fitting tribute and if you only buy one Delius recording this year, I'd strongly recommend this one!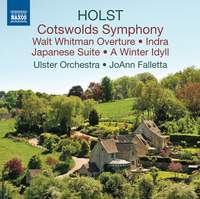 Ulster Orchestra, JoAnn Falletta
Available Formats: CD, MP3, FLAC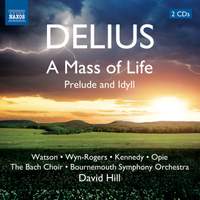 Janice Watson (soprano), Catherine Wyn-Rogers (mezzo-soprano), Andrew Kennedy (tenor), Alan Opie (baritone), The Bach Choir & Bournemouth Symphony, David Hill
Available Formats: 2 CDs, MP3, FLAC, Hi-Res FLAC