5th July 2019
Recording of the Week

,

Isata Kanneh-Mason plays Clara Schumann
Following last week's commemoration of Offenbach's bicentenary, today brings another 200th-birthday celebration – 24-year-old pianist Isata Kanneh-Mason's homage to Clara Schumann, featuring the early Piano Concerto, an attractive selection of solo piano works, and the Three Romances for Violin and Piano. Like Clara, Kanneh-Mason (who makes her debut solo recording on Decca with this album, and is currently a postgraduate at the Royal Academy of Music) shares a surname with another well-known musician – her cellist brother Sheku also records for the label and the pair appear together on numerous digital singles, but the focus here is squarely on the two women in their own right. Given that most of this year's anniversary tributes to Clara have set her music alongside that of the men whose work she championed or inspired, it's refreshing to have an album consisting solely of her own compositions. (Robert makes only a brief appearance via two of his wife's transcriptions of his songs, both models of simplicity and clarity in comparison with Liszt's more overheated paraphrases).
In many respects the opening work is the most arresting: Clara Wieck (as she then was) was only thirteen when she began work on her Piano Concerto, and by the time she premiered it three years later with the Leipzig Gewandhausorchester under Felix Mendelssohn she already had a considerable international reputation as a pianist. The solo writing provides ample evidence of not just Clara's technical skill (though that too was clearly remarkable, especially in the athletic flourishes of the final movement) but also her ability to balance commercial appeal with real artistic integrity: there's plenty to satisfy an audience primed to hear a young female prodigy strutting her stuff, but the beautiful slow movement (essentially a duet for cello and piano) has an introspective poetry that belies its creator's tender years. Kanneh-Mason captures it all beautifully, and with real sympathy and affection: phrases that could sound slightly four-square in lesser hands are coaxed into bloom with subtle rubato, and in that helter-skelter finale she exudes all the joyful exuberance of a teenage girl set to take on the world.
The Three Romances for Violin and Piano Op. 22 are by far and away Clara's most frequently-recorded works, with Lisa Batiashvili, Viktoria Mullova and most recently Tasmin Little featuring among their champions on disc. Composed shortly before Robert's final illness took hold (and around the time that the 20-year-old Brahms arrived on the couple's doorstep with a glowing reference from the great violinist Joseph Joachim in his pocket), they strike me as the sunniest works on the album, with the third of the set in particular radiating a relaxed charm that had me wondering if the Schumanns' young house-guest had it in mind when writing the opening of his own Violin Sonata No. 1 twenty-odd years later. Clara dedicated the pieces to Joachim and performed them with him on tour later that year, though one imagines that they didn't tax him unduly from a technical point of view: the writing's predominantly lyrical, and they stand as testament to the friendship between the musicians rather than as a showcase for Joachim's virtuosity. That warmly collaborative spirit comes across loud and clear here, with American-born violinist Elena Urioste joining Kanneh-Mason for an account that has the easy conversational rapport of music-making between friends.
The other solo works (including the Piano Sonata in G minor, only published in the 1990s) offer some fascinating glimpses into Clara's evolution as a composer: Mendelssohn's influence is writ large in the Three Romances Op. 11 composed shortly after the concerto premiere, and there are more prefigurations of Brahms (specifically the Rhapsodies) in the C minor Scherzo from 1845. All benefit from Kanneh-Mason's sensitivity to what she describes as 'the underlying sense of sadness' that runs throughout Clara's music, which she foregrounds with some magical pianissimo playing and superb legato.
All in all, then, this is a hugely attractive introduction to an eloquent young artist as well as a winning tribute to one of the nineteenth century's most remarkable women; I've taken Isata's advice and picked up a copy of a biography of Clara as my weekend reading, and urge any interested parties to do the same!
You can read my recent interview with Isata about the recording here.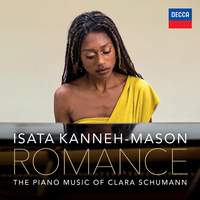 Isata Kanneh-Mason (piano); Elena Urioste (violin), Royal Liverpool Philharmonic Orchestra, Holly Mathieson
Available Formats: CD, MP3, FLAC, Hi-Res FLAC