27th May 2019
 Interview

,

  Lise Davidsen on Wagner & Strauss
Since winning first prize in the Operalia and Queen Sonja International Music Competitions in 2015, the Norwegian soprano Lise Davidsen has established herself as one of the most remarkable young dramatic voices on the international circuit: her Glyndebourne debut as Strauss's Ariadne two years later was described as 'a universe of its own' (Financial Times) and 'surpassing all expectations' (The Telegraph), and last September she was named Gramophone's Young Artist of the Year in anticipation of her debut solo album of Wagner and Strauss, out this Friday on Decca.
I honestly can't remember hearing a more impressive first recording from a singer, particularly in repertoire as weighty as this, so it was a huge pleasure to speak to Lise a few days after her debut as Elisabeth in Tannhäuser in March. (She'll make her first appearance at Bayreuth in the same role this summer, and has The Queen of Spades at the Metropolitan Opera and Fidelio at Covent Garden scheduled for the 2019/2020 season).
You're in Zurich at the moment for Tannhäuser, an opera that's going to feature prominently in your schedule over the next year or so - how are you settling into the role?
Yes, in fact Saturday night was my first complete Elisabeth; I've been singing Dich, teure Halle for about eight years in competitions and concerts, so it was great to do the whole thing at last. It's a lovely production, and Zurich is a wonderful house, so I'm feeling very happy with it all! I've just received a DVD of the Munich production that's coming up next, which is a revival from 2017: it's quite a different show from the one here in Zurich, and the production in Bayreuth [by Tobias Kratzer] is completely new, so that will be the first time that I get to develop the role from the very beginning.
How was the experience of auditioning at Bayreuth, and did you get much of a sense of how your voice works in the acoustic?
My Bayreuth audition was a couple of years ago, during the winter, so it was -9 degrees outside and I was so freezing that I had to sing in my outdoor coat! I was so focused on what I was doing, and what with the cold and audition nerves I actually remember very little about it – but I did notice that you get a lot of feedback in the auditorium, which was very nice, and I'm really looking forward to getting to know the stage and the acoustic better this summer.
Dame Gwyneth Jones sang both Elisabeth and Venus in the same production - would you ever consider doubling up?
I think Elisabeth is a little bit more suited to my voice where it is right now, and to my age – I would perhaps like to do Venus at some point in my career, but as long as I can sing Elisabeth I will keep doing that!
Do you see Strauss's hochdramatische roles, such as Elektra and Salome, figuring in your future?
I wouldn't look at doing either of those for some years, let's say! I think Die Frau ohne Schatten should come before Elektra and Salome, and the more lyric roles like Arabella and the Marschallin in Der Rosenkavalier (both of which I plan to do) before that. With Strauss there are so many great soprano roles, and if I get to sing even a few of them that would be lovely.
What about non-German repertoire? Do any of the Verdi or verismo heroines attract you?
Absolutely: I would love to do Amelia in Ballo in Maschera, Elisabetta in Don Carlos, Leonora in Forza del destino… all of those ladies would be a dream to sing, and that's part of the plan in some way. That sort of repertoire certainly feels more 'right' now than it did a couple of years ago, but they're all still big roles so I do want to bide my time!
Tell me a little about the evolution of your voice: did you and your teachers always feel that Wagner and Strauss would figure in your future?
When I started my Bachelors degree in Norway I began as a mezzo and did a lot of baroque music, as well as singing in a choir. That's what I loved, and what I really wanted to do professionally; I think some of the people there understood that my voice was maybe destined for the operatic stage, but at that point I still had so much to learn. Once I got to the Opera Academy in Copenhagen, the staff there said to me that I was a dramatic soprano rather than a baroque mezzo – but I look at that more as a natural development than a big change. Even though my teacher eventually told me that I had to drop that baroque repertoire, it was good to let my voice settle and really develop from the middle range, so I'm very grateful for the way things worked out. Maybe I could have learned more about opera and stagecraft before I came to Copenhagen, but I think I caught up pretty quickly whilst I was there!
Which singers inspired you as you were growing up, particularly in Strauss and Wagner?
Since I started in the baroque music scene, ladies like Cecilia Bartoli and in particular Anne Sofie von Otter were a big inspiration. But I've never had one vocal idol: I like to listen to a range of different people in all of the roles that I do, and figure out my own path from there. I wasn't born into classical music, and I feel like I only really started getting to know the business when I came into it myself; my parents didn't know anything about it, so it wasn't as if I'd seen or heard many singers when I was growing up and had heroes I wanted to meet. It goes without saying, though, that Renée Fleming is just sublime, and some of her greatest roles are Strauss – her Four Last Songs are really inspiring, and then of course there are the dramatic voices like Kirsten Flagstad.
I also love Callas, but for me it's not the way she sings in itself that's the direct inspiration – the inspiration I took from her was more about discovering how to do things my own way, and having the confidence to commit to that. I love the way all of these ladies use their individual vocal colours, but their colours aren't my colours! I'm still quite young, and sometimes I feel like everyone has an opinion about what I should be doing and how I should do it…but I'm not necessarily interested in every other person's opinion! I think that if people come to hear me then it's because they want my version of a role, and all of the singers I mentioned can be very inspiring when it comes to trusting myself to deliver that.
Have you had the chance to work with any of the singers you mention in masterclasses and coachings?
I haven't really worked with anyone! I attended a few masterclasses when I was studying, but as an audience-member rather than a participant. My main teacher was actually a speech-therapist, and I worked with her regularly for four years, but I haven't had a lesson in around three years now: instead I have lots of different coaches for different repertoire, as well as guidance from the conductors I work with. I also record myself in rehearsals and coachings so that I can listen back, and now I'm at the point where I feel I can teach myself as far as technical things go.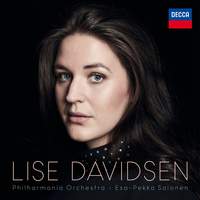 Lise Davidsen (soprano), Philharmonia Orchestra, Esa-Pekka Salonen
Lise Davidsen's debut solo album, featuring Strauss's Four Last Songs and scenes from Ariadne auf Naxos and Wagner's Tannhäuser, is released on Decca on Friday.
Available Formats: CD, MP3, FLAC, Hi-Res FLAC