UPDATE: Royal Mail have now resumed shipments on ALL International services but delays should be expected, please choose FEDEX if your order is urgent.
27th February 2012
Recording of the Week

,

Vivaldi: Sacred vocal works and concertos
I have a lovely Vivaldi disc to tell you about this week, and it's one I've been looking forward to since last April, when I heard some of it live at one of the three days of recording sessions at St John the Evangelist Church in South London. Containing a mixture of instrumental concertos and sacred vocal works for solo soprano, it provides welcome variety and contrast that you don't always get on discs of Vivaldi.
Florilegium
It also mixes the familiar with the virtually unknown. Of the former category is the beautiful motet Nulla in mundo pax sincera, most famously used in the film Shine, and as soprano Elin Manahan Thomas explains on the short video trailer below, this was her first real introduction to singing Baroque music. Of the unknown variety is the flute concerto named Il Gran Mogol, which was only rediscovered in 2010 and here receives only it's second ever recording. With flautist Ashley Solomon and his superb period instrument ensemble Florilegium, this whole disc represents music making of the highest calibre.
The vocal works are undoubtedly two of Vivaldi's finest works of the genre, and the pure and fresh sounding voice of Elin Manahan Thomas provides a highly persuasive account. An agile technique and perfect intonation are key requirements for this repertoire with its mixture of florid vocal lines and tender expressive ones, and it is hard to imagine anyone better in this respect. The Laudate Pueri is a memorable performance, not least for the beautiful duet with Ashley Solomon's flute in the Gloria Patri. It is a very moving account and you can see and hear much of it on the video trailer below.
Elin Manahan Thomas
Elin Manahan Thomas has a further opportunity to demonstrate her impressive technique and unmannered natural sound in Nulla in mundo pax which after a touchingly simple opening movement is followed by a quasi-operatic recitative and two faster movements full of flourishes and ornamentation. Ravishingly sung, and superbly supported and accompanied by the conductorless Florilegium, my only disappointment is that they couldn't find time to record the lovely Salve Regina as well!
The most eye-catching piece here is probably the recently discovered Flute Concerto Il Gran Mogol, which received considerable mainstream press coverage when it was discovered about eighteen months ago. It isn't the world premiere recording (that honour went to Katy Bircher and La Serenissima on a disc released a few months ago), but will still be new to most people. It was believed to be written by Vivaldi in the late 1720s or early 1730s and was one of four short concertos on a 'national' theme – in this case the Gran Mogol referring to India or the Mogul Empire. To date this is the only one of the four to have been located, and was discovered by musicologist Andrew Woolley in Edinburgh. It is a short, and well-crafted work, and receives a sensitive reading from Ashley Solomon with carefully thought out ornamentation and a lovely blending of his sound with that of the ensemble. If anything it comes across perhaps more like a piece of chamber music for flute and ensemble rather than the concerto in the traditional sense. I think this is intentional and works very well.
The disc is concluded with one of Vivaldi's numerous double concertos – for two solo instruments and string orchestra. In this case the solo instruments are violin and cello with Bojan Cicic (violin) and Jennifer Morsches (cello) providing stylistic and entertaining performances.
There is much to enjoy on this disc, and if you only know Vivaldi from the Four Seasons then this is an ideal introduction to some of the other much more varied (and in some respects more interesting) repertoire that he composed.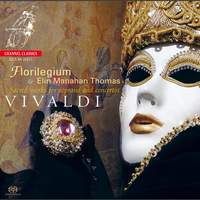 Elin Manahan Thomas (soprano), Ashley Solomon (flute), Florilegium
Available Formats: MP3, FLAC, Hi-Res FLAC