19th April 2019
 Recording of the Week

,

  Schumann from Matthias Goerne and Leif Ove Andsnes
Those of you who tuned into Radio 3's Record Review as part of last Saturday's Record Store Day celebrations may have heard my colleague Chris waxing lyrical about a new recording of Schumann's Liederkreis Op. 24 and Kerner Lieder from Matthias Goerne and Leif Ove Andsnes, which is released today on Harmonia Mundi. As he pointed out on air, the past few years have brought several outstanding recordings of the latter cycle from lyric baritones (notably Christian Gerhaher, Roderick Williams and Stéphane Degout) - but Goerne's darker, rougher-hewn instrument sheds an entirely different light on these songs of love, loss and exile, and rivals Hans Hotter's recording from the 1950s for near-Wagnerian drama and intensity.
Wagner has featured prominently in Goerne's schedule of late – he's already tackled Wotan and the Wanderer on Jaap van Zweden's Ring Cycle from Hong Kong, with Amfortas and the Dutchman in the offing for 2020, and his immersion in that sound-world seems to feed directly into these interpretations. It's not so incongruous as it may sound: both cycles were composed in 1840, the same year as Der fliegende Höllander, and the desperation with which Goerne bids the 'wilder Schiffsmann' to carry him away from his beloved in the sixth song of Op. 24 would scarcely sound out of place in the mouth of Wagner's tormented sea-captain.
There are whispers of Hans Sachs, too, in the song's biting allusions to Eve (shades of the second act of Meistersinger here), and in the second Kerner song as the protagonist watches in tender resignation as the woman he loves kneels at prayer; what a commanding, multi-faceted cobbler-poet Goerne will make in a few years' time if he so chooses. Andsnes matches his big-boned, Romantic approach every step of the way, muscular and percussive when evoking the Dark And Stormy Night which opens the Kerner Lieder and noisily exuberant in the same cycle's 'Wanderer' songs, gleefully aware that he's never going to be in any danger of overwhelming this particular partner. (One has only to compare his Winterreise with Ian Bostridge to see how adept this pianist is at cutting his suit according to his cloth).
It's not all sound and fury, though, and Goerne's excursions into heavier operatic territory haven't compromised his ability to refine the voice down to the slimmest of threads, even in its upper reaches: his pianissimo high Es in the third and fourth songs of Liederkreis are immaculately controlled, and the last two Kerner Lieder feature some of the most delicately introspective singing I've ever heard from a Wotan on sabbatical. And though Goerne can be mightily impressive in declamatory mode, he still commands a matchless legato, the long lines of Schöne Wiege meiner Leiden unfurling with easy amplitude despite the expansive tempo. Textually, too, the emphasis is always on the over-arching phrase rather than on painting specific words: a Fischer-Dieskau or a Bostridge, for instance, might drain the colour from the voice more deliberately when singing of the empty wine-glass in the eulogy to a dear departed companion halfway through the Kerner Lieder, but I defy any listener to feel emotionally short-changed by the quiet sincerity of Goerne's declaration that 'nothing can part friend from friend' in the same song.
As I attempted to sum up the appeal of this album I was reminded of a chance encounter after a concert in Rome around a year ago, when Chris and I found ourselves sharing an elevator with one of the greatest pianists of the twentieth century; we struck up a conversation which continued over dinner in a nearby trattoria, and the subject turned to Lieder (an abiding passion for the old man in his retirement, it transpired). When I asked which singers touched him most deeply, his answer came without hesitation: 'Dear Matthias - the most thoughtful of musicians, but you never hear him thinking'. That's precisely what makes these interpretations so special, and I hope that my illustrious dinner-companion is among those who take the opportunity to enjoy them.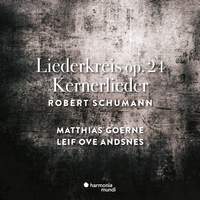 Matthias Goerne (bass-baritone), Leif Ove Andsnes (piano)
Available Formats: CD, MP3, FLAC, Hi-Res FLAC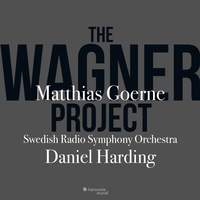 Matthias Goerne (bass-baritone), The Swedish Radio Symphony Orchestra, Daniel Harding
Available Formats: MP3, FLAC, Hi-Res FLAC