27th March 2019
 Interview

,

  Introducing Andrei Ioniță
The 25-year-old Romanian cellist Andrei Ioniţă came to international prominence in 2015 after taking First Prize at the International Tchaikovsky Competition, and became a BBC New Generation Artist the following year; yesterday afternoon he returned to the Radio 3 studios to perform two tracks from his debut solo recording (released on Orchid Classics earlier this month), which includes music for unaccompanied cello by JS Bach, Kodály and Svante Henryson as well as the world premiere recording of Brett Dean's Oblique Strategies.
Ahead of his recital at King's Place this evening, I spoke to him about the connections between the four very different works on his new album and his plans for the rest of the year…
It's a pretty bold statement to open your debut solo recording with the first of Bach's Cello Suites...
The Prelude of Suite No. 1 is one of the best-known single movements in the entire cello repertoire, and is very special to me: it's one of the pieces that I've known ever since I started to play the instrument, and I just wanted to go out into the world with one of the most iconic works ever written for solo cello! It's also a wonderful contrast to the other big work on the album, the Kodály sonata, which is almost symphonically written: it's very polyphonic, and there are so many juicy chords, mixed with a Hungarian folk influence. I'm not Hungarian but as a Romanian I'm very familiar with Transylvanian folk-music and find it very inspiring, so that's something with which I can really identify.
Brett Dean's Oblique Strategies, which gives the album its title, occupies a very different sound-world to either Bach or Kodály – how did you come across it, and do you see any connections with the other works on the disc?
Yes, I wanted to include it exactly because it's so different stylistically speaking; it's also one of the pieces that I really enjoyed learning for the second round of the Grand Prix Emanuel Feuermann international cello competition [in which Ioniță won second prize]. It was commissioned for the competition in 2014, and I always wanted to find an opportunity to present it to the public – it is contemporary music but at the same time there are popular 1970s influences, so it's actually very groovy! In the later movements there are a lot of complex rhythms, which are almost jazzy at some points; there's a huge tremolo movement, and also some incredible ghostly effects. So there's this immense stylistic variety, but I think it's a very cohesive work as well, because systematically from the first movement to the last one there's a motivic connection which I really enjoyed.
Could you tell me a little about the extended techniques you use in the final track on the album, Swedish composer and cellist Svante Henryson's Black Run?
That was something that I had to really spend time becoming accustomed to, because Svante is just fantastic at this kind of thing – in fact, I think he's one of the few cellists who do crossover right! There are two percussive effects involved: there's one that's literally slapping the body of the cello to create a drum effect, and immediately afterwards there's a type of enhanced col legno where there's a sort of double instrumentation going on…if you're able to articulate the notes well enough with the left hand it will speak itself, almost like a left-hand pizzicato. It's actually already been recorded by an Australian cellist, Yelian He – I just came across it and got really inspired, and I thought it would make a fantastic encore piece! You have bluegrass elements, you have rock, country music, and a certain gypsy vibe which I thought made for an interesting connection back to the Kodály sonata.
What do the next couple of months hold for you in terms of performances, and do you have plans for more recordings in the pipeline?
Last weekend I performed the Dvořák concerto with the BBC Philharmonic in Manchester, then later this week I'm doing a recital at King's Place in London, including the UK premiere of Leokadiya Kashperova's Cello Sonata No. 1, which I've already recorded with the BBC as a New Generation Artist – it's late Romantic music from the beginning of the twentieth century. Then I have Tchaikovsky's Rococo Variations coming up in St. Petersburg, and the Dvořák concerto again with the Danish Radio Symphony Orchestra in Copenhagen, followed by Martha Argerich's Hamburg Festival and the Aspen Festival in the summer.
I already have a second album in the can – the strings-only version of the Schumann Cello Concerto and an arrangement of Stravinsky's Suite Italienne, with the Swiss-based CHAARTS Ensemble. We actually recorded it back in 2017, before the solo album, and it will probably be coming out later this year.
Andrei Ioniţă and Naoko Sonoda perform music by Stravinsky, Rachmaninov, Glazunov, Tchaikovsky and Leokadiya Kashperova at King's Place this evening.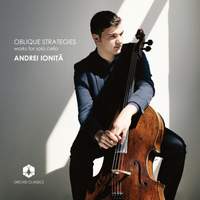 Oblique Strategies was released on Orchid Classics on 1st March.
Available Formats: CD, MP3, FLAC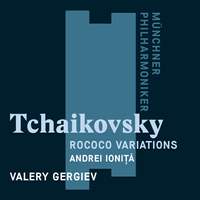 Andrei Ioniță (cello), Münchner Philharmoniker, Valéry Gergiev
Available Formats: MP3, FLAC, Hi-Res FLAC