7th March 2019
 Video Interview

,

  John Nelson on Berlioz
The American conductor John Nelson is widely regarded as one of the greatest living interpreters of the music of Hector Berlioz: his live recording of Les Troyens (with Joyce DiDonato, Michael Spyres, and Marie-Nicole Lemieux) on Erato in 2017 won so many awards that we had to recalibrate the display on our website, and his discography also includes acclaimed accounts of Béatrice et Bénédict, Benvenuto Cellini, the Te Deum, and Les Nuits d'été.
To commemorate the 150th anniversary of the composer's death (which falls tomorrow), he's currently in London to conduct the Grande Messe des Morts at St Paul's Cathedral, and next month he returns to Strasbourg for two concert-performances of La Damnation de Faust with DiDonato and Spyres; recordings of both works will be released on Warner Classics & Erato in the autumn. I met up with John earlier this week at the French Cultural Institute in South Kensington to talk about his fifty-year relationship with a composer whom he still considers to be underrated in his native France, and the challenges of taking on the mighty Requiem in the cavernous acoustic of St Paul's…
Transcript
This composer and his music have played a central role in your career – how did the journey begin?
I came across his music at the suggestion of Matthew Epstein, when I was just out of Juilliard School in New York. He thought I should do something impressive to get my name out there, and I said: 'Well, what should I do?'. He said: 'Go to the library and get out the recording of Colin Davis doing Les Troyens' – it had just come out, and when I heard that recording, I thought I had never heard music before. It lit something up in me which has remained with me all my life: his musical language is so different from anybody else's, and you can recognise it right away. It spoke to me deeply, and I had the audacity to think I could conduct Les Troyens; we did it at Carnegie Hall in 1972, and it was a huge success, and that began my Berlioz career. I would imagine that this composer has meant more to me almost than anyone else other than JS Bach: Bach is by everybody's estimation the greatest composer in the history of music, but for me Berlioz is a close second.
Do you think that there's been much of a shift in Berlioz's reputation over the course of the past forty years, or do misconceptions about his music still persist?
Especially in France, back in those days he was not particularly well respected and perhaps still isn't... He is so out of the ordinary, and the French people are generally conservative people – they love their Bizet, they love their Debussy, their Ravel and their Fauré, but Berlioz is just a little bit too far-out for them! And so he's been taken up by the Brits, taken up by the Germans, the Russians, the Americans too – but I think finally he has begun to be recognised in France as one of their greatest.
Your big recording projects for this anniversary year are the Grande Messe des morts and La Damnation de Faust – did you want to wait until you had the three operas (and especially Les Troyens) under your belt on disc before recording these two works?
Yes, I did. I've done eight productions of Les Troyens in concert and on stage, and I'm glad that I waited until this moment in my life for several reasons. One is that the music has really matured in me so that I feel very comfortable with it, and he's not a composer that you feel very comfortable with right away: you have to really grow into it. And also I waited to have the right cast, and the cast on the Les Troyens recording is just amazing – we had Joyce DiDonato, one of the greatest singers of our time, Michael Spyres, the most glorious lyric tenor who's done a lot of Berlioz in his life, and then almost everyone else is French – so it's essentially a French recording, and I think that's partly why it's won all of these awards…Almost all the other recordings were done in Britain, and they have a British flavour to them - but this one really has a French flavour, and I'm very proud of it.
Berlioz famously declared that if he could save just one of his scores from destruction, it would be the Grande Messe des morts - why do you think the work was so special to him?
I don't think I have a good answer for that, except that he was born into a Catholic family, his mother was very religious, his early life was very religious...then when he came to Paris he kind of threw it all overboard, but when he addressed this text I think he reverted back to his childhood and gave it a genuine believer's point of view. This is the way I personally feel about it – a lot of people would say it's utterly extravagant, with all the brass bands and the loudness of it all, but I find in every measure, every setting of the text, a sincerity, a genuineness, so for me it's not at all out of the ordinary. The text of course is very dramatic in itself, and Berlioz captures all of that so brilliantly with his brass bands everywhere, so it's not amazing to me that he would call this the one piece that he would like to be saved. I personally have my favourite, and it's not the Requiem – it's Roméo et Juliette. I just find this music so utterly sublime. In the Symphonie fantastique the love-music is bitter, and the last movement is full of demons - but the love-music in Roméo et Juliette is genuinely love-music.
How do you think the acoustic in St Paul's will play out on Friday?
It's going to be a huge challenge! But fortunately we have the same producer who did Colin Davis's recording a number of years ago, and we have the Number 1 engineer from France, Daniel Zalay. There'll be hundreds of mics everywhere, and for the DVD I think they will capture it cleanly – there will be some reverberation, of course, but the most important thing about this recording is its afterlife. It's going to be broadcast live around the world, but it's also going to be made into a DVD, so hopefully this will be a standard that people will refer to for many years.
John Nelson conducts the Grande Messe des Morts with the Philharmonia Orchestra, London Philharmonic Choir, and tenor Michael Spyres at St Paul's Cathedral tomorrow night at 7.30; the performance will be live-streamed on medici.tv and released on Warner Classics in September.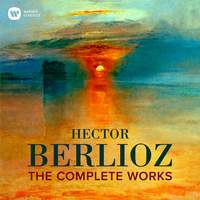 Includes John Nelson's recordings of the Te Deum, Benvenuto Cellini, Béatrice et Bénédict and Les Troyens.
Available Formats: 27 CDs, MP3, FLAC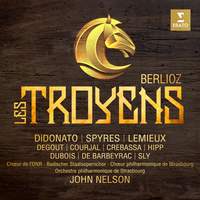 Joyce DiDonato (Didon), Michael Spyres (Énée), Marie-Nicole Lemieux (Cassandre), Stéphane Degout (Chorèbe), Nicolas Courjal (Narbal), Marianne Crebassa (Ascagne), Hanna Hipp (Anna), Cyrille Dubois (Iopas), Stanislas de Barbeyrac (Hélénus/Hylas), Philippe Sly (Panthée), Agnieszka Slawinska (Hécube), Jean Teitgen (L'ombre d'Hector/Mercure), Bertrand Grunenwald (Priam), Jérôme Varnier, Frédéric Caton (Deux sentinelles)
Orchestre et Choeur philharmonique de Strasbourg, Badischer Staatsopernchor, Choeur de l'Opéra du Rhin, John Nelson
Available Formats: 4 CDs + DVD Video, MP3, FLAC, Hi-Res FLAC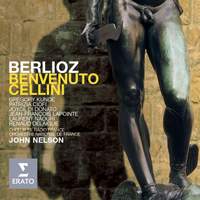 Gregory Kunde (Benvenuto Cellini), Patrizia Ciofi (Teresa), Joyce DiDonato (Ascanio), Jean-Francois Lapointe (Fieramosca), Laurent Naouri (Balducci), Renaud Delaigue (Le Pape), Eric Salha (Francesco)
Orchestre National de France/Choeur de Radio France, John Nelson
Available Formats: MP3, FLAC
Susan Graham (Béatrice), Jean-Luc Viala (Bénédict), Sylvia McNair (Héro), Vincent le Texier (Don Pedro), Catherine Robbin (Ursule), Gilles Cachemaille (Claudio), Philippe Magnant (Leonato), Gabriel Bacquier (Somarone)
Choeurs et Orchestre de l'Opera de Lyon, John Nelson
Available Formats: MP3, FLAC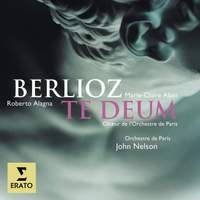 Roberto Alagna (tenor), Marie-Claire Alain (organ)
Choeur de l'Orchestre de Paris, Choeur d'enfants de l'Union Européenne & Maîtrise d'Antony, Orchestre de Paris, John Nelson
Available Formats: MP3, FLAC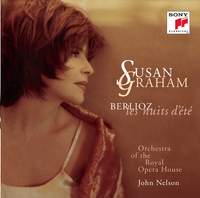 Susan Graham (mezzo), Orchestra of the Royal Opera House, John Nelson
Available Formats: MP3, FLAC