14th March 2019
 Interview

,

  Richard Watkins on The Romantic Horn
Aside from Mozart's four immortal concertos, the most enduringly popular repertoire for the French horn is drawn from the Romantic period - a time when technical innovations allowed the instrument to come into its own in a solo capacity. Works by the Strauss family, Schumann and Glazunov have remained firm favourites with performers and listeners alike, so it's no surprise that Richard Watkins has chosen to base his new album around these evergreen works. I spoke to Richard about this collection - evidently a labour of love for him, and showcasing the unique tonal and expressive qualities of his instrument.
You mention the aim of selecting "a programme of music from most European countries", but it's only really northern Europe that's represented here, and indeed the Romantic horn repertoire from Italy, Spain and other southern states seems almost non-existent. Do you think this is merely a coincidence, or is there something about northern European sensibilities that the horn taps into?
Although there are fine examples of horn writing from the southern European states (eg Rossini's Prelude, Theme and Variations), it is the roots and tradition of the horn - in particular its hunting ancestry - which draws the majority of the repertoire to the French and German tradition.
The horn, like some other instruments, suffers first and foremost from a lack of repertoire compared to the piano, violin and cello. Do you see yourself as trying, in part, to "raise awareness" of this relatively neglected instrument?
As a solo instrument the horn is really only well-known for the Mozart concertos and to a lesser extent the two concertos by Richard Strauss. I have always wanted to promote and persuade composers to take up the challenge and try to fill that gap in the market. I have been involved in premieres of concertos by Maxwell-Davies, Colin Matthews and most recently Tansy Davies. Many composers have also written for the horn in a chamber context as well, so we're beginning to redress the balance! I was delighted that NMC released a disc two years ago of some of the chamber music written for me.
Over the course of the period when these works were written, the horn underwent radical changes of form and capabilities; in the world of the piano, a similar process had clear parallels in how composers wrote for the "modern" instrument at their disposal. How much do you see these pieces as responses to the newly-expanded powers of the horn?
When faced with the rather limited options of the 'natural' horn, composers tended to be rather conservative and sometimes embarrassed. It was only the genius of composers such as Mozart and Beethoven, in his Horn Sonata, who were able to exploit the natural characteristics of the horn. With the invention of the valve, Schumann was the first composer to explore the instrument's chromatic capability (the Adagio and Allegro is still today a challenge for any player, not least due to there only being seven bars' rest in the whole piece!). The rest is history, with the wonderful Romantic writing for the horn a testament to its many possibilities.
These are all deservedly well-loved staples of the repertoire, popular among players and audiences alike, so this might be an unfair question, but: do you have a favourite out of the works on this album?
Always a tricky one! I love each and every one of these pieces, but listeners may be slightly surprised by the inclusion of Vinter's Hunter's Moon. This is a brilliant example of 'light' music which sadly seems to be out of fashion but is hopefully making a comeback! I've always had a soft spot for this work.
Poulenc's Élégie was written as a heartfelt tribute to Dennis Brain, surely the most famous horn player of modern times and killed at the tragically young age of 36. Do you feel it pays homage to any specific aspects of Brain's playing, or is it a more abstract form of commemoration?
Some players have interpreted this piece as depicting Brain's life - for example using the jagged loud passage in the middle of the piece as a depiction of the fateful car-crash, followed by a sense of disbelief. Of course this can work well. My own feeling is that Poulenc manages to convey his own unique voice in a moving and sad way, which makes his Élégie a heart-felt tribute to Brain.
You've recorded many other key works from the horn repertoire – Britten, Glière, Arnold and more. Notably absent, though, is a certain Austrian boy-genius! Have you consciously avoided recording the Mozart concerti, or have you simply not got round to them yet?
In actual fact the Mozart Concertos was my first-ever recording! It was for IMP with City of London Sinfonia and Richard Hickox; that was a long time ago now (1987), and if the opportunity arose to record them again then I'd love to!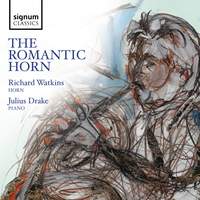 Richard Watkins (horn), Julius Drake (piano)
The Romantic Horn was released on 8th March on Signum Classics.
Available Formats: CD, MP3, FLAC, Hi-Res FLAC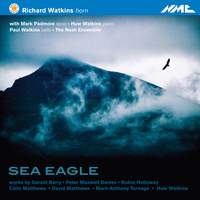 Works for horn by Gerald Barry, Peter Maxwell Davies, Mark-Anthony Turnage, Robin Holloway, Huw Watkins, and Colin and David Matthews
Richard Watkins (horn), with Mark Padmore (tenor), Huw Watkins (piano), Paul Watkins (cello); The Nash Ensemble
Available Formats: CD, MP3, FLAC, Hi-Res FLAC