24th April 2020
 Recording of the Week

,

  Nuits from Véronique Gens and I Giardini
'French Women Don't Sleep Alone!' declares one of the myriad popular self-help books detailing behaviours which our Gallic sisters apparently eschew (if the publishing industry is to be believed, they also refrain from gaining weight or allowing their children to run amok at dinner) - but on this beguiling new album from Véronique Gens, at least, the maxim seems to hold some water. The Orléans-born soprano certainly has no shortage of overnight company as she explores many and varied depictions of darkness and dreams in French music from the Belle Époque: in an unusual twist, she's joined by the players of I Giardini rather than a lone pianist, who add colour and texture to songs which were originally conceived for voice and piano and are given here in supremely illuminating new transcriptions by the French musicologist Alexandre Dratwicki.
Dratwicki (whom we have to thank for many of the rewarding operatic rediscoveries which have emanated from the Palazzetto Bru Zane over the past decade or so) takes his cue from two song-cycles which the composers themselves subsequently upscaled by adding small string ensembles into the mix: Fauré's La bonne chanson (setting nine poems by Paul Verlaine) and Guillaume Lekeu's Trois Poèmes, both composed in the early 1890s. It's an inspired move, which strikes a lovely balance between opulence and intimacy, and gives Gens's middle-weight instrument the ideal backdrop against which to shine – though as on Magdalena Kožená's album on similar lines last year, everything here feels like real chamber music rather than a solo recital plus guests.
The programme is cannily conceived, and divided into four 'chapters': 'Twilight' (encompassing individual songs from those Fauré and Lekeu cycles, plus Berlioz's final Nuit d'été), 'Dreams' (Massenet, Saint-Saëns and Fernand de la Tombelle), 'Nightmare' (a searing account of Chausson's Chanson perpétuelle, followed by Ropartz and more Fauré), and the unexpectedly louche 'Ecstasy' (Messager, Hahn, and – the most delightful surprise, this – Piaf). If this all sounds a little contrived on paper, in practice it's a triumph: there's a real narrative arc to the programme, and a huge amount of variety and contrast, with no danger of things ever becoming too soporific. The section exploring dreams of travel (something I'm sure we can all empathise with at the moment) is especially attractive, with Massenet's 'Spanish Night' coming vividly to life and Saint-Saëns's Désir de l'Orient eliciting some marvellously atmospheric playing from the five instrumentalists – at risk of sounding greedy, I can't help wishing that Dratwicki had also had a crack at Bizet's steamy Adieux de l'hôtesse arabe, which would sit quite beautifully here and suit Gens down to the ground.
She may be more grande dame than gamine ingénue these days, but Gens's singing simply exudes what the fashion and beauty industries (remember them?) like to promote as 'French girl chic' – casually elegant, alluringly comfortable in its own skin, and all about clean and simple lines with just a hint of déshabillé around the edges. Now in her mid-fifties, her cool-toned, mezzo-ish soprano is ageing like a good Pinot Noir, with plenty of body but no hint of heaviness: much of this music sits relatively low, but she's never tempted to push the chest-register for cheap effect and top notes (try the climax of the Chausson) bloom freely and without pressure. It's a particular pleasure to see this great tragédienne letting her hair down a little in the last three songs (as she ruefully informed me a couple of years ago, the opportunity arises all too rarely): Messager's paean to polyamory in J'ai deux amants is insouciant without being arch, and Piaf's La vie en rose takes on a lovely life of its own in her hands. If anyone in A&R is listening, I'm sure I'm not the only person who'd lap up an entire album of this kind of chanteuserie from Gens further down the line.
Aside from the consistently excellent vocal items, I Giardini also shine in three purely instrumental interludes: de la Tombelle's Orientale, a movement from Widor's first Piano Quintet, and Liszt's La lugubre gondole, which cellist Pauline Buet treats like a true song without words. To borrow a phrase from another Verlaine poem, it all adds up to an 'exquisite hour' indeed.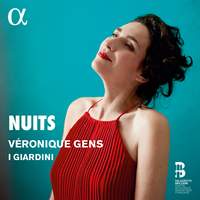 Véronique Gens (soprano), I Giardini
Available Formats: CD, MP3, FLAC, Hi-Res FLAC