Latest update: COVID-19 Shipping Delays. Presto is committed to the health and well-being of our staff. Our warehouse team are currently working hard to ensure your order is despatched as quickly as possible. Unfortunately you may experience slight delays as some deliveries are taking longer than usual. Thank you
8th January 2019
 Obituary

,

  John Joubert (1927-2019)
News reached us today of the death of British-South African composer John Joubert, who for over half his life had lived and worked in Moseley, Birmingham. Cultivating a sometimes austere style of composition, he ranged widely across genres, notching up string quartets, concerti for violin, bassoon, cello and piano, symphonies, oratorios and operas.
However, it was in the field of Anglican church music that he had the greatest impact; Joubert cited the strong influence on his style of "the idiom of Anglican church music generally. Parry and Stanford, and all the usual blokes." Three of his choral works in particular have entered the regular repertoire at churches and cathedrals and are surely among his most frequently-performed pieces – the anthem O Lorde, the Maker of Al Thing, with medieval tinges to its harmony to complement an archaic text written by Henry VIII; a restrained and elegant setting of the carol There is No Rose of Such Virtue; and by far his best-known work, the ever-popular Torches, a lively depiction of the excitement of would-be worshippers of the new-born Jesus hurrying to Bethlehem. Composed relatively early on in Joubert's career when he was just 24, Torches would find its way into the first volume of Carols for Choirs in 1961 and become an instant favourite with singers; it has remained a repertoire staple ever since. Joubert once remarked of his 'greatest hit', that "I've even had carol-singers come to the door and sing it, without knowing the composer lives inside."
Born in Cape Town, South Africa in 1927 to parents of mixed Franco-Dutch heritage, Joubert was educated at an Anglican-run college in Rondebosch which provided him with a high-quality grounding in music; although initially aspiring to become a painter, he settled on music as a career in his late teens, studying at music colleges both in South Africa and subsequently London.
In the early part of his career, Joubert divided his time between composition and academia, teaching at Hull for just over a decade before moving to the University of Birmingham, where he lectured between 1962 and 1986. Taking early retirement allowed him to devote his energies more fully to composition, and he was still writing new works until very recently: 2007 saw an eightieth-birthday celebration of his output billed as a "Joubertiade", and just two years ago he marked his ninetieth with, among other things, a recording on Somm of his long-awaited opera Jane Eyre, which continued a trend of novel-based operas begun with Silas Marner in 1961 and including a Tolstoy adaptation in 1973. Throughout his compositional career he displayed an independence of attitude that resisted pigeonholing and typecasting, while never seeking out iconoclasm for its own sake.
He is survived by his wife Mary, two children (all three musicians) and four grandchildren.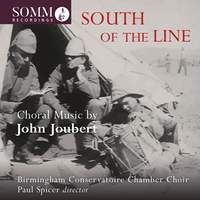 Birmingham Conservatoire Chamber Choir, Paul Spicer
'The writing is always full of rigour and, despite the obvious influence of Britten, it could never be parodied. Joubert almost always has a crafty solution in the final bar of a work or movement.' (Gramophone)
Available Formats: CD, MP3, FLAC, Hi-Res FLAC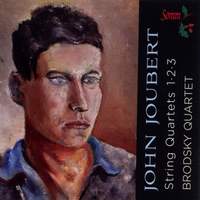 'Joubert's three string quartets unquestionably belong to his most personal utterances. It is good to have all three in such excellent and committed performances and very fine recording.' (MusicWebInternational)
Available Formats: CD, MP3, FLAC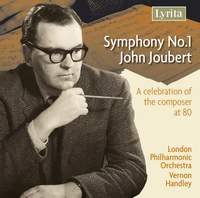 London Philharmonic Orchestra, Vernon Handley
'It's a strikingly assured, economically plotted utterance, launched by an excitingly purposeful Allegro energico and generating considerable emotional clout in the Lento ma non troppo slow movement...The clouds ultimately lift and a swaggering Allegro vivace rounds off a work which grows in my estimation every time I return to it.' (Gramophone)
Available Formats: CD, MP3, FLAC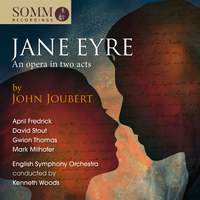 April Fredrick (Jane Eyre), David Stout (Rochester), Mark Milhofer (St John Rivers/Mr Mason); English Symphony Orchestra, Kenneth Woods
'[Joubert] sketches time and pace with clean motivic gesture; he allows the text to shape the melodies; and, above all, his music has a logic that creates its own, essentially symphonic momentum.' (Opera Magazine)
Available Formats: 2 CDs, MP3, FLAC, Hi-Res FLAC