10th January 2019
 Interview

,

  Jennifer Pike on The Polish Violin
Born to a Polish mother and a British father who studied in Katowice, the violinist Jennifer Pike was exposed to Polish music from a young age, and for the past couple of years she's been exploring this side of her heritage in both live performances (including a three-recital Polish Music Day at Wigmore Hall) and the recording studio: her new album The Polish Violin, released last Friday on Chandos, focuses on late nineteenth and early twentieth-century repertoire by Henryk Wieniawski, Karol Szymanowski, Moritz Moszkowski and Mieczysław Karłowicz. I spoke to Jennifer shortly before Christmas about her fascination with 'Slavic melancholy and intensity', the connections between the works on the album and some of the more recent compositions she's been programming in concert over the past few seasons, and how her childhood holidays in Poland and conversations with Polish friends and family have deepened her understanding of this repertoire.
Your mother is Polish, and your father studied music in Poland - was any of this repertoire on your radar from a young age?
I've spent a wonderful few years exploring the Polish repertoire for violin and piano, and trying to get more in touch with my own Polish character: it's always been in there somewhere, but it's been really exciting to tap into it and connect with it in the music! The Mieczysław Karlowicz piece on the album, which was a new discovery for me, has a special connection with the Polish side of my family: when I was going on holidays from a very young age in the Tatra Mountains in Poland, I remember my grandparents pointing out a stone marking the spot where a composer lost his life in an avalanche in his early 30s, and then recently I came to the Impromptu and thought 'Oh yes, this is the composer my grandparents were talking about!'. The Tatra Mountains were Karlowicz's spiritual homeland and he composed so much music there, so coming back and playing it with that perspective has been a bit of a revelation.
How prevalent is the influence of folk music in the pieces on the album, particularly in complex later works like the Szymanowski pieces?
I always think there's a strain of that in Polish music – the folk scene was always very active, and in the Tatra Mountains there's a specific folk tradition, which I don't think was lost on composers…In fact, I'd go so far as to say that it's at the forefront of some of the most pioneering compositions: the Szymanowski Mythes, for instance, which push the boundaries of music in ways that can be quite disturbing. The last Mythe in particular is very difficult music at times, because it's so intangible and intense, and to a certain extent that kind of intensity is a quality that I feel permeates all Polish music.
Are there any biographical connections between the composers featured on the album?
The Chant de Roxane from Król Roger was arranged by Paweł Kochański, a violinist friend of the composer, who premiered a lot of Szymanowski's music including the Nocturne & Tarantella and the Mythes. And perhaps not from a biographical point of view, but I feel that musically the Wieniawski Légende is closely connected to the first Mythe – that very rippling, shimmering texture also belongs to the world of Szymanowski, and it's been so interesting to put these composers together and think about what is distinctively Polish about them.
You recorded an album of Czech music a few years ago, with the pianist Tom Poster – is there much cross-pollination between the two musical worlds, or is it more illuminating to think about the differences?
I feel that there's a certain Slavic melancholy and intensity that connects a lot of Eastern European music on a very broad level: there's a particular word which fascinates me which is Polish but I believe has a Russian origin, or perhaps the other way round (I'm never quite clear, because Poles and Russians have both told me different stories about this!). That word is żal, which I understand as a deep melancholy or a sorrow: it's such a poignant, beautiful word even to say! But going back to your question about the Czech connection, I think the feeling from a Polish point of view is that the Czechs are more positive in their outlook – for instance, I've heard a lot of Polish friends say that they can't believe how much of Dvořák's music ends on such an optimistic note! But of course there are moments of optimism in a lot of Polish music as well, and a lot of sadness in Czech music, so it's really perspective a lot of the time.
Poland has spawned a number of fantastic violinists and violinist-composers – how apparent is it that much of this music was written for/by virtuosos?
Very much so, a lot of the time. Wieniawski especially was such an incredible legend in violinists' eyes, and remains so – we still speak his name with reverence! His music is absolutely full of double-stops, pizzicato, everything (for instance in that Polonaise, which he wrote when he was still in his teens), but there's so much musical content in there as well, and I don't say that just because he wrote so much specifically for violin! There's such a strong tradition of violin-playing in Poland that even with composers who weren't necessarily specialising in the violin, you get the sense that they have a really fantastic understanding of the instrument: Szymanowski often worked closely with his friend the violinist Kochanski on aspects of violin writing, and Karlowicz was a wonderful violinist in his own right who studied with two quite famous composers in Poland. There were a lot of other people that I would've really loved to put on the disc but didn't have the space – Grażyna Bacewicz was another fantastic violinist-composer, for instance, and hopefully I'll be playing more of her music soon…
You've been exploring a lot of contemporary Polish music in your live concerts over the past year or two, including giving quite a few premieres: do you feel that there are direct stylistic connections between the current generation of Polish composers and the figures who appear on the album?
I do indeed, especially with Szymanowski: he's been such a huge inspiration to composers in Poland and further afield, and I hope that that will become more and more the case as this music gains wider international currency. I spent some time in Katowice recently, and was very lucky to play in the Szymanowski Academy for a concert, where I met a lot of composers. They have an incredible tradition – Górecki taught there (in fact my dad [composer Jeremy Pike] studied with him) and Eugeniusz Knapik is teaching there now (I played his partita last year, and it was wonderful to finally speak to him last week!). A lot of these composers have that same intensity in their music which I feel in a lot of the pieces from the nineteenth century, and I don't know whether this is specifically the Polish character, or because of the composers who have come before them - perhaps it's a bit of both!
Really pushing the instrument to its limits is another thing which I feel is a feature of a lot of contemporary Polish music, and that sort of extremity also plays out in earlier works like the Mythes, which makes use of quarter-tones and other extended techniques, and is quite astonishingly difficult in places!
Jennifer Pike (violin) & Petr Limonov (piano)
The Polish Violin was released on Chandos on 4th January and features music by Karlowicz, Szymanowski, Wieniawski and Moszkowski.
Available Formats: CD, MP3, FLAC, Hi-Res FLAC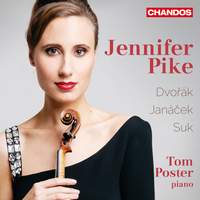 Jennifer Pike (violin), Tom Poster (piano)
'Pike and Poster make a great double-act...A fine recording and informative notes complete an enticing disc.' (Gramophone)
Available Formats: CD, MP3, FLAC, Hi-Res FLAC