28th December 2018
 Recording of the Week

,

  George Benjamin's Lessons in Love and Violence
For those of you who are craving something with a little more bite than the endless sit-com re-runs and rom-coms currently dominating the TV schedules, Sir George Benjamin's mesmerising third opera (and his second collaboration with librettist Martin Crimp, with whom he created the multi-award-winning Written On Skin in 2012) could be just the ticket over the Christmas/New Year hiatus. Filmed during its premiere run at Covent Garden earlier this year, Lessons in Love and Violence is a contemporary reworking of the downfall of Edward II, focusing on his obsession with Piers Gaveston (given a dark, explicitly sexual dimension here), estrangement from his queen and impoverished people, and eventual betrayal by the exiled courtier Mortimer and his own vengeful wife.
Compact and concise (the running-time is just over ninety minutes), Lessons has more in common with Written On Skin than its medieval source-material: not only does it share the claustrophobic, queasily erotic atmosphere of its predecessor (which also centres on a marriage torn apart by one party's obsession with a beautiful boy), but the contrast between Crimp's economical language and Benjamin's rich, endlessly imaginative orchestration is also common to both works. (The eerie, troubadourish sonority of the cimbalom is liberally employed once again, as are shimmering high strings punctuated by violent, acerbic brass chords). And as in Written On Skin, much of the work's disturbing beauty lies in Benjamin's ability to switch from sensuality to brutality in a heart-beat - witness the bedroom-scene between the King (never identified in the opera, although both his nemesis and his lover are referred to by name throughout) and his 'seeming-virtuous queen', or Gaveston's hypnotic and disturbing recital of his lover's sadistic kinks just a few minutes into the opera in one of the many instances of a deeply personal conversation playing out in a public environment. (The reverse is also true, notably in the scene where Mortimer brings a crowd of starving refugees into the royal bedroom to petition the queen as she settles her children for the night – this constant interplay between the public and the private adds a dimension which was absent in Written On Skin, and Benjamin responds with tensely vehement crowd-scenes which put me very much in mind of Britten's Peter Grimes. Echoes of The Turn of the Screw, too, in the children's sinister games in the first scene of Part Two).
The cast embrace their dramatically and musically challenging assignments with blazing commitment, sensitively directed by Katie Mitchell in a production which works every bit as well on screen as it did on stage (I love the use of birds'-eye camera-shots for key moments like The King's toast to Gaveston in the first scene, and the close-ups of the royal aquarium - as shape-shifting and colourful as the score itself – during the interludes). The fearless Canadian soprano Barbara Hannigan (who also created the pivotal role of Agnès in Written On Skin) exudes film noir-ish hauteur as the humiliated yet indomitably regal Isabel: the callous but chillingly beautiful aria in which she dissolves a priceless pearl in vinegar before the crowd of homeless petitioners whilst taunting them with reminders of its monetary value is one of the score's highlights, albeit a profoundly disturbing one. Stéphane Degout is also outstanding as the hedonistic, sadistic yet somehow deeply sympathetic King, and has incendiary chemistry with both Hannigan and the Hungarian-Romanian baritone Gyula Orendt (a new name to me, and certainly one to watch) as Gaveston. Peter Hoare is a fantastically weaselly Mortimer, and the young tenor Samuel Boden shows immense potential in this elusive role of the King's son – I'd love to hear him as Britten's Peter Quint. Special mention, too, for the young actress Ocean Barrington-Cook in the mute role of his sister: a real masterclass in how to hold an audience spellbound with silence.
It makes for an unsettling ninety minutes' viewing, but Lessons is utterly compelling and a worthy successor to the sensational Written on Skin - I'll be speaking to the composer about its genesis early in the New Year, so do stay tuned!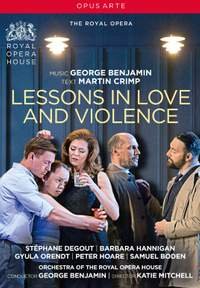 Stéphane Degout (King), Barbara Hannigan (Isabel), Gyula Orendt (Gaveston/Stranger), Peter Hoare (Mortimer), Samuel Boden (Boy/Young King)
Orchestra of The Royal Opera House, George Benjamin, Katie Mitchell
Available Format: DVD Video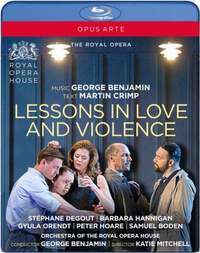 Stéphane Degout (King), Barbara Hannigan (Isabel), Gyula Orendt (Gaveston/Stranger), Peter Hoare (Mortimer), Samuel Boden (Boy/Young King)
Orchestra of The Royal Opera House, George Benjamin, Katie Mitchell
Available Format: Blu-ray