1st August 2011
 Recording of the Week

,

  Lucia from the Mariinsky
My initial motivation for jumping on this set may have been the opportunity to hear Natalie Dessay sing an Italian Lucia (I own and love her earlier French-language recording), but my interest was also piqued by the man at the helm. I can't say I've ever particularly associated Valery Gergiev with bel canto (though it's a staple at the Mariinsky, his opera discography is dominated by Russian repertoire) so I was intrigued to see what he would do with Donizetti's delicate heroine. The rollicking opening chorus confirmed my preconceptions: this is big-boned, red-blooded Donizetti a la Verdi, and once you acclimatise to that it's exhilarating stuff. The Mariinsky Chorus sing lustily (and, as might be expected from a Russian chorus, with plenty of bass) from the off in their role as huntsmen, and make a boisterous lot of wedding guests before the nuptials inevitably go awry.
Natalie Dessay at the Mariinsky
The opera is primarily famous for the demands of the title role, but whilst the set piece arias and solo scenes come off with aplomb, it was the three great duets which immediately grabbed my attention. There is audible chemistry in the lovers' Act One meeting, and the 'Wolf's Crag' scene between Enrico and Edgardo (often cut in the days when the opera was marketed as a prima donna vehicle above all) positively crackles with foreboding. One of the revelations of this set for me was Vladislav Sulimsky's black-voiced, implacable Enrico, horribly insinuating and sadistic in this scene, and several sizes larger than one usually hears in the role. He sounds more bass than baritone until he flings out high Fs and Gs which take no prisoners. Dessay's fragile Lucia never stands a chance against sibling bullying like this!
The climax of any Lucia is of course the great Mad Scene, and this recording certainly doesn't disappoint. The weird atmosphere which Gergiev conjures as our distracted heroine appears is bone-chillingly creepy. Singing on a shimmering thread of sound (brilliantly captured by the sound engineers), Dessay executes the coloratura with an eerie weightlessness which blends uncannily with the glass harmonica in their cadenzas together, and her deranged rapture as she hallucinates her wedding night with Edgardo is more disturbingly sexual than any I've ever heard. Her trademark pinpoint high notes are employed to spine-tingling effect, and she bows out with a bull's-eye top E-flat – not written by Donizetti but now pretty much an established tradition in the wake of Maria Callas and Joan Sutherland. Admirers of these two ladies – and of Callas in particular – might on first hearing be disappointed by the lack of obvious histrionics in Dessay's performance (she's sparing with her chest voice and limits herself to just the one extra-musical shriek), but her incredibly young-sounding Lucia is treasurable for her own peculiar blend of neurosis and almost anaemic passivity.
Coming hard on the heels of the heroine's demented pyrotechnics, Edgardo's extended tomb scene can sometimes feel like a postscript, but Piotr Beczala's ardent, ringing tone, his way with the text (something a little lacking in other quarters on this set) and consummate command of Donizetti's long lines vindicates his having the last word: perhaps 'Lucia and Edgardo' would be a fairer moniker for this recording!
The smaller roles receive characterful performances from Mariinsky house-singers. Zhanna Dombrovskaya's Alisa feeds off her mistress's febrile energy, and Dmitri Voropaev sings the rather thankless role of the ill-fated bridegroom Arturo with a lovely plangent timbre which contrasts nicely with his rival's more robust instrument. Ilya Bannik's Raimondo seems oddly light-voiced in relation to Sulimsky, but is beautifully sympathetic in his scene with Lucia and in the 'messenger speech' announcing her madness.
There are many 'essential' recordings of Lucia di Lammermoor out there, but this one is well worth investigating whether you're newcomer or aficionado. As an introduction to the work, it's a high-octane account of a tremendous score; as a point of comparison, it offers some fascinating and thought-provoking contrasts with earlier landmark versions on disc.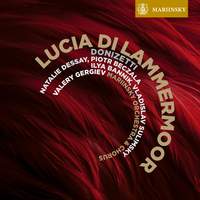 Natalie Dessay (Lucia), Piotr Beczala (Edgardo), Vladislav Sulimsky (Enrico), Dmitry Voropaev (Arturo), Ilya Bannik (Raimondo), Zhanna Dombrovskaya (Alisa) & Sergei Skorokhodov (Normanno) Mariinsky Orchestra & Chorus, Valery Gergiev
Available Formats: 2 SACDs, MP3, FLAC, Hi-Res FLAC