12th September 2018
 Video Interview

,

  Sir Simon Rattle on Wonderful Town
A couple of days before Christmas, my colleague James and I headed over to the Barbican for what turned out to be one of the musical highlights of the year for both of us: a brilliant and brash concert-performance of Bernstein's 1953 musical Wonderful Town from the London Symphony Orchestra and Sir Simon Rattle, starring Danielle de Niese and Alysha Umphress as the two sisters from Ohio who decamp to New York in search of artistic success and love. Forget the old cliché about dancing in your seat (though I did notice James doing a modest amount of that at certain points) – by the end of the evening a full-scale conga had broken out in the aisles, involving performers and audience alike! The concert was recorded for LSO Live, and ahead of the release last Friday I went over to LSO St. Luke's (the orchestra's second home in East London) to talk to Sir Simon about his long-standing affection for the piece, his relationship with Bernstein and his art, and the orchestra's affinity with what he calls 'real Bernstein filth'…
You can watch the ten-minute video which the LSO kindly produced for us below, or read the transcript of our conversation further down.
Transcript
You're returning to this piece after recording it with Birmingham Contemporary Music Group in 1998 – why is Wonderful Town such a particular favourite?
I love Cinderellas, and I think this piece is so full of magnificent things - but somehow it's got crowded out by of course West Side Story, but also On The Town which came previously. It was almost an accident that the piece got written in the first place: something fell out and they [Bernstein, Betty Comden and Adolph Green] were asked to put a show together very quickly. It was put together in a stunning five weeks: you can't believe that! Probably the book is a little bit creaky now, but the music and the libretto that goes with that music is just vintage stuff – it's hilarious, it's beautiful, it's touching, and as ever you're just reminded that Bernstein could write any type of music. 'Write South American music? Yes!'; 'Write the latest jazz? Yes!'; 'Write a sentimental ditty… write something that works with the words 'Why, oh why, oh why-o/Why did I ever leave Ohio?'!…He really could do anything, and I must say when we played it again it was a great Christmas present for all of us, because it suits this orchestra so well – they knew him, they have him in their blood. And because they play a lot of music which is jazz-inflected, this style is no problem: they just go 'Oh good, we can be brilliant and no-one is going to ask us to be kind of darker!'. We had a blast, and a great cast of people – it was a shame it was over so fast, and I'm delighted that the recording is here to remember it.
You mentioned West Side Story: do you think there are any hints in the score of Wonderful Town of what's to come in that work?
Just a little bit - but he was taking a lot from what was there, so a lot of the jazz music was stuff he'd already been playing around with (as in Prelude, Fugue and Riffs). But the Ballet at the Village Vortex, which is a really kind of raunchy jazz number towards the end - that stinks of West Side Story, and in some ways it goes even further in terms of real Bernstein filth (and I mean that in a caring, sharing way as Dame Edna Everage would say!). When he wants to write that real down-heavy stuff, boy can he do it well!
Bernstein was always a bit of a musical omnivore, and nowhere more so than in this score – do you think his own voice still shines through?
Oh, completely. I mean, it's absolutely him. He obviously had a great time doing it, and also he didn't have time to torture himself about it as he did a lot of his other works: it was done on the fly, and so you see him very directly. The beginning eight bars really couldn't be anybody else. There are lots of places where you think 'That is utterly him!', thanks to this ability to (as he would say) turn on a dime and write whatever was needed…. I've always had this feeling that he was tremendously protective about his own music and rather sad that it wasn't more widely appreciated - which is hard to imagine now of course, given that West Side Story was immediately acclaimed as probably the greatest musical of all time…But many of his other pieces he felt were like children that hadn't been appreciated; when he wanted to meet me, it was because he was thrilled that I'd been conducting Prelude, Fugue and Riffs a lot, which was a piece that was actually not so well known 40 years ago when I started to do it. He was almost pathetically grateful that people actually thought of him as a composer as well as a conductor, and I hope he'd be happy now (wherever he might be!), because the thing is that with a little distance it doesn't matter whether it was absolutely up-to-date avant-garde music – West Side Story and Stockhausen's Gruppen were written at the same time, and they're as different as can be, but they're both great pieces. And now it doesn't matter whether this seemed to be music from another culture or another time – it's just great music.
So was the encounter after Prelude, Fugue and Riffs your first meeting?
I never actually met him: the dinner we were going to have didn't happen for various reasons, and then I never had another chance. I was always too scared to go backstage: I'd go to hear his performances of Mahler and afterwards I could hardly deal with myself, let alone meeting somebody like him. I never met Carlos Kleiber either – I'm an idiot, I just should've gone, but at the time I preferred to learn from it and admire it at a distance. But with hindsight I would have loved to have had the experience of seeing what this astonishingly vibrant, generous, impossible person must have been like…
When did you first encounter either Bernstein's own compositions or his interpretations of core repertoire? Was it via recordings or in live performance?
I suppose I must've already heard West Side Story before this, but I think I was 8 or 9 when my parents took me to the show in London and I was just jumping out of my seat – I must've been right up against the pit most of the time, watching the percussionists and thinking that all I wanted to do with my life was to be a percussionist in West Side Story. I saw him on the television a lot, as he was on the old BBC quite often: I remember him rehearsing and conducting a performance of Shostakovich's Fifth Symphony with the LSO and yelling at everybody in his almost encouraging way. Then there were the Harvard Lectures, of course, and also things like the 'Joy of Music' series which he did for the wider public; he seemed to be everywhere, and as a kid I just took it for granted that this is what a musician did. I didn't realise how extraordinary that was, and that basically he'd written it all himself; there were one or two assistants to help, but now we'd have thousands of script people doing that, whereas he just got on and did it. That was a really extraordinary man.
The recording sounds markedly different from your earlier recording with Birmingham Contemporary Music Group. Had you rethought the piece to any great extent, or is that largely down to the differences in personnel?
I just don't know! I hope [the LSO recording] went a bit wilder…The BCMG is really good, but when I listen to that recording it does seem rather polite! On the other hand, it was basically done almost straight in sessions; this time round, we had the real advantage of doing it in concert performances, and perhaps some things get better with experience! But what was fascinating was that it was so obvious that this orchestra has that kind of music in their blood: we had this unbelievable group of saxes who play with John Wilson's orchestra as well, and what a group of stars! There's this kind of Errol Flynn thing about the LSO: 'Right! Run up the gangplank!...Be extreme and extraordinary and intense!', and that's what I love about them. These kind of pieces are meat and drink for them.
You've recorded comparatively little Bernstein. Do works like the Chichester Psalms or the First and Third Symphonies attract you? Or do you feel he's at his peak in Broadway mode?
No, not necessarily. The Third Symphony – that's a problem for me. I don't mind people wearing their heart on their sleeve, but there's a point where you get the liver and intestines as well…That's the point where he is too much, at least for me, as he was too much in life: from reading his daughter Jamie's book about him, you realise that she could not have loved him more, and yet he could not have been more embarrassing at the same time. I know that's what parents are supposed to be, but as with everything else he was simply more of everything. And I think that's true of the pieces as well. But then there are other dance pieces, which are much less frequently played, which I find very interesting…so who knows in the next years?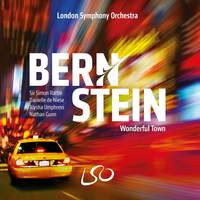 Danielle de Niese (Eileen), Alysha Umphress (Ruth), Nathan Gunn (Bob Baker); London Symphony Orchestra & Chorus, Sir Simon Rattle
Wonderful Town was released last Friday on LSO Live.
Available Format: SACD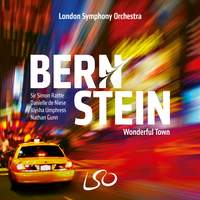 The digital version includes the encore of Conga! as a bonus track.
Available Formats: MP3, FLAC, Hi-Res FLAC