14th September 2018
 Recording of the Week

,

  Simon Rattle and the LSO dazzle in Leonard Bernstein's Wonderful Town
"Oh there's a new sensation that is goin' around/A simple little ditty that is sweepin' the town. It's got a little twist that really drives you insane/Because you find you never get it out of your brain."
One of the most joyous musical evenings I have had in recent memory was at the Barbican last December, where the London Symphony Orchestra and Sir Simon Rattle presented an early Christmas gift in the form of a concert performance of Leonard Bernstein's 1953 musical, Wonderful Town, which much to my delight has now been made available on their own label, LSO Live.
Written in a hurry as a last-minute replacement for another show that fell through, it tells the story of two sisters, Eileen and Ruth, who leave their home in Columbus, Ohio to seek new lives for themselves in New York. The fact that Bernstein and librettists Betty Comden and Adolph Green had just five weeks to put it together makes the huge amount of invention on offer even more extraordinary, not only musically but also in the lyrics, which often rival those of Candide in wit and ingenuity (if I may be permitted to steal part of Rattle's introductory remarks to the audience, if you've ever found yourself wondering what could possibly rhyme with "Ohio", this piece has the answer...)
There's an astounding amount of memorable tunes, from the tender simplicity of A Quiet Girl (featuring a sensitive performance from Nathan Gunn as newspaper editor Bob Baker) and A Little Bit in Love (with Danielle de Niese on winningly charming form as Eileen), to the almost irritatingly infectious earworms in such toe-tappingly catchy pieces as Swing, Conga, The Wrong Note Rag (from which the lyric I quoted at the start is taken), and my personal favourite, What a Waste, a jaunty ensemble led by Nathan Gunn in which he wryly points out to Ruth the countless others who have previously come to New York to seek, in vain, fame and fortune.
Another highlight is Duncan Rock as Wreck, the out-of-season American football player who sings of his immense popularity at college despite his lack of academic prowess, simply because he excelled at being able to Pass the Football. For me, though, the standout performer is Alysha Umphress as Ruth: she brings oodles of no-nonsense sassiness to arguably the show's best-known number, One Hundred Easy Ways to Lose a Man, as well as deft delivery of text as she takes the lead in the aforementioned Conga and Swing.
There's no doubting the quality that the LSO brings to the performance either, including a gleefully cheeky ensemble of saxophones, a string section sparkling with Broadway pizzazz, and trumpets who in the Ballet at the Village Vortex display some of the most satisfyingly filthy vibrato that I can recall hearing... The chorus have a role to play, too, especially in the number that opens Act Two (My Darlin' Eileen), where having been imprisoned for causing a riot at the end of Act One, Eileen does her very best to persuade her prison guards that, despite her name, she is not actually Irish. The gentlemen of the London Symphony Chorus bring impassioned ardour to Bernstein's pastiche of an Irish ballad, as they refuse to believe her protestations ("Don't you hand us none of that blarney/ You come from Killarney, you're Irish, Eileen!").
"It's love at last, I've someone to cheer for/It's love at last, I've learned what we're here for.": so says Bob as he finally realises his feelings for Ruth, but those words could equally apply to the musical itself, in this love letter from Bernstein to the city of New York. As my colleague Katherine discovered in her recent interview with Simon Rattle, it's a work that is very dear to his heart, and it has quickly become one of my favourites too: I'm sure that, like me, once you've heard it, "you find you never get it out of your brain"!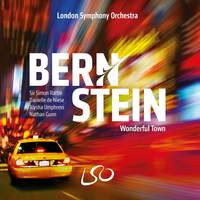 Danielle de Niese (Eileen), Alysha Umphress (Ruth), Nathan Gunn (Bob Baker), Duncan Rock (Wreck), David Butt Philip (Lonigan), Ashley Riches (Guide/First Editor/Frank), London Symphony Orchestra, London Symphony Chorus, Sir Simon Rattle
Available Format: SACD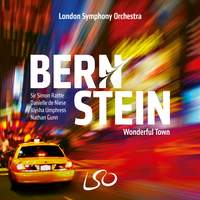 Includes bonus track: an encore of the Conga! including audience participation.
Available Formats: MP3, FLAC, Hi-Res FLAC