3rd September 2018
 Interview

,

  Roxanna Panufnik on 'Celestial Bird'
Roxanna Panufnik's breakthrough as a composer came in the late '90s, with her Westminster Mass – a voluptuous setting of the Mass texts, commissioned for Westminster Cathedral, that remains popular and widely performed today. Since then she has continued to produce works for a wide variety of forces, often drawing on influences from far beyond the usual Western European sphere.
Her most recent album sees her return to the choral music that first propelled her into the public eye, while at the same time investigating a fresh avenue of cross-cultural collaboration; the opening track of Celestial Bird features performers from the Indian arts organisation Milapfest alongside the singers of Birmingham's Ex Cathedra, while the closing track sees Panufnik blend Indian and Western styles in a choral setting of a text from the Rig Veda.
I caught up with Roxanna to quiz her about this fascinating album, and some of the inevitable thorny issues that globally-minded composers have to negotiate.
Two of the works featured on this album feature influences from Indian music – overtly in Unending Love, and a little more mutedly in Child of Heaven. Did you find it a challenge to integrate such a different style into your own compositional approach?
No – it's quite the opposite actually, because I simply found it so inspirational. With Unending Love I was working right from the start with the South Asian players who were going to be premiering the piece, and they had to give me the guided tour, as it were, around their instruments. So I learned exactly what strings on the sitar were which notes, and what they can and can't play – so I worked very closely with them.
Whenever I'm working with world music I love using its modes. I particularly love the way that if you take a mode from a given country and play a well-known tune in that mode, it instantly makes you think you're in that country! There's such a strong identity. For me, the North Indian modes are the most exciting and inspirational; if you play all their notes together, you've already got a beautiful harmony from that alone even before you start actually doing anything with them. I learned all about Indian musical notation, the Sargam system, so while I was writing very much in Western notation, it was always with half an eye on that system. It's almost like multi-tasking; when composing you're bearing all sorts of different things in mind, and I absolutely loved it.
This is by no means your first foray into "world" music and intercultural mixing; you've worked Muslim and Jewish sacred chants into one previous work, for instance, and Estonian poetry features in another. Do you feel it's important for composers to actively seek out and engage in this kind of cross-pollination?
It's not necessarily a duty, but I think people are missing out on an enormous amount if they don't. I've learned so much from all these different musics – harmonically, structurally, rhythmically. It's like if you have an explorer exploring the Arctic or somewhere really out-of-the-way and embracing all these beautiful sights and taking them in. There's so much stunning music out there. I think all composition students should be learning about world music, because there are so many different perspectives of looking at things, how things work musically and how they sound – and it just seems to widen your musical boundaries.
In recent years, popular awareness of the complexities surrounding cultural borrowings has increased markedly, and it's often difficult to predict how a given example of "fusion" will be received. Do you worry that your adaptation of Indian musical elements risks being interpreted as cultural appropriation?
Personally I don't – because I'm usually collaborating with musicians from the tradition in question. So I'm usually confident that it's something coming from a desire to create something, from both sides. So for Unending Love, Milapfest – which is the Indian arts development trust – are involved in the commission, the premiere and the recording.
But it's a strange topic; obviously I'm incredibly sensitive about what I'm doing, and I would never seek to claim that I was an expert in any of these things, and I'm constantly referring to other people I work with. Yet also I wonder if it ever happens the other way – I do wonder whether anybody's ever said to Asian composers "Oh, I'm not sure you should use 'traditional' Western orchestral lineups in your pieces because it might be disrespectful to Westerners."
I have to be very aware of it; there was one instance in Canada recently, a musical involving spirituals. And a lot of offence was taken at that, but it wasn't at the fact that they were using it, it was that it was felt they were exploiting it for monetary gain. I don't think you could ever apply that to contemporary classical music! But I think you just have to be very sensitive. I always work with people from those traditions; I wouldn't make assumptions about anything. I do it because I like to promote the beauty of these different cultures, which probably sounds a bit trite but I do try to approach these things with a very positive and complimentary heart.
Several of these works were written as gifts for, or in memory of, particular individuals. Is your approach to commissions like this – with a direct link that's often quite personal – different to how you'd work on a piece intended "just" for an ensemble to perform?
I think everything I do is personal; it all comes from how I feel about something, my emotional reaction. But I do love projects with a personal touch, like A Cradle Song, which was commissioned by the Royal Choral Society. It was incredibly sad; they commissioned this piece when their beloved chairman was terminally ill, and they wanted to do something to celebrate him after his inevitable and very sad demise. It's very sweet; first of all the choir sent me a selection of texts that they all loved, so I could choose something that they would enjoy singing, which in itself is very personal, but secondly, I was also sent video footage of this man. He was playing with his grandchildren and I could see what a wonderful, gentle soul he was. So that enabled me to write with him in mind, and I loved that.
You describe your own musical language as "major-minor" and "bittersweet"; who would you say were the main influences on your compositional style – and do you feel it has changed or evolved significantly over the years?
Certainly at the very beginning in my late teens and early twenties, I was heavily influenced by the French Romantics; I used to play the flute and the harp and I loved Poulenc and Fauré in particular. Now, though, I'm not so sure; it's a very difficult thing to be objective about. Of course, every composer hopes that they have a style that is utterly their own, but other people will hear things in the music that reminds them of something else. So for instance, whenever I do liturgical music or music for choir and harp, people associate that sound with Britten, because of the Ceremony of Carols, so there's a context for things that might remind people of other composers. I think ultimately it's often in the ear of the beholder.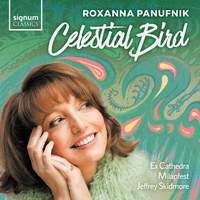 Ex Cathedra, Milapfest, Jeffrey Skidmore
Celestial Bird is released on 7th September on Signum.
Available Formats: CD, MP3, FLAC, Hi-Res FLAC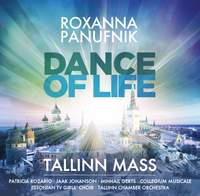 Patricia Rozario (Life/Elu), Jaak Johanson (Narrator), Laura Lindpere (Kannel) & Madis Metsamart (Percussion), Estonian TV Girls' Choir, Collegium Musicale Chamber Choir, Choir Of Estonian Academy Of Music & Theatre, Tallinn Chamber Orchestra, Mihhail Gerts
Dance of Life – Tallinn Mass was commissioned to mark Tallinn's selection as European Capital of Culture in 2011, and draws heavily on the writings of two contemporary Estonian poets as well as the traditional texts of the Mass.
Available Formats: MP3, FLAC, Hi-Res FLAC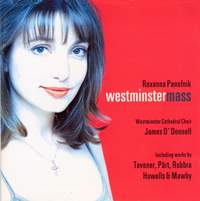 Andrew Reid (organ), James O'Donnell (director), Roxanna Panufnik (soprano), Timothy Lacy (treble), Westminster Cathedral Choir, City of London Sinfonia
Panufnik's Mass, by turns luminous and ecstatic, is the centrepiece of this album of contemporary sacred music, released in 1999 on Warner Classics; works by Rubbra, Tavener, Pärt and others also feature.
Available Formats: MP3, FLAC