7th August 2018
 Interview

,

  Costantino Mastroprimiano on Hummel
The name of Johann Nepomuk Hummel may not be as widely-known as those of Mozart or Haydn, but there's a growing body of opinion that feels perhaps it ought to be. Enormously admired in his time for the elegance and inventiveness of his compositions, and highly influential on his contemporaries and successors, he fell out of favour almost immediately after his death as fashions changed with the rise of Romanticism and its limelight-seeking bravura.
One of Hummel's chief advocates today is the Italian pianist Costantino Mastroprimiano, who has championed his music (and that of other composers of the period such as Clementi) in performances and recordings. His recent complete set of Hummel's sonatas - performed on a fortepiano to replicate even more closely the sound of the composer's own time-period - was released at the beginning of the month on Brilliant Classics. I couldn't resist asking Costantino a few questions about this intriguing figure and his legacy.
Your notes to this album refer to the important role of improvisation among keyboard players of Hummel's time, with many published works being, effectively, transcribed improvisations. Do you think this element can be heard in Hummel's sonatas, or are they more 'fixed' works?
The capacity to improvise was certainly very important during Hummel's era, to the extent that in his complete piano method of 1827 (the Ausführliche theoretisch-practische Anweisung zum Piano-Forte-Spiel) Hummel actually includes some specific guidelines on how to do it!
Of course, aside from the works which are expressly improvisational in style (such as the Fantasia Op. 18 or the Fantasina Op. 124), we also see elements of those same qualities in some of the sonatas - such as the slow movements of Sonatas Opp. 81 and 106. And the central movement of the Sonata in C major Op. 30 has the atmosphere of a real improvisation, with an insertion of a vaguely ethnic episode. His improvisational ability as a performer provided the raw material to proceed in a certain form, and his expertise as a composer lay in precisely balancing those ideas within a structure, without marring the sense of suppleness and creativity.
You also mention Hummel's 'experimental' nature – he and his contemporary Beethoven definitely both took the sonata in new directions. How do you think Hummel's approach to innovation differs from Beethoven's?
Hummel was a master-planner when it came to sonata form, as well as possessing a perfect working knowledge of the various types of keyboard-instruments which were in existence during his lifetime. There's none of that sense of dissatisfaction or frustration which we often see in Beethoven, none of that constant striving to overcome obstacles or expand the boundaries of what was considered achievable: Hummel was more concerned with writing in the best possible way for those instruments and for the performers who were available to him at the time. But in terms of form, we do see occasional experiments that are quite forward-thinking in their own right: for instance, in the final Fuga of the Op. 106 sonata (there's a definite parallel here with the Beethoven sonata of the same opus-number, I think), the first movements of Op. 20 and Op. 81 which bear the rather unusual marking 'in stile fantastico', and (in the Sonatas Op. 20 and Op. 30) the quotation of Mozartian themes without ever lapsing into parody. Hummel was a non-radical innovator in comparison with composers such as Beethoven, but that's not to say that he wasn't experimental in his own way.
Despite being well-known and highly-regarded during his lifetime, Hummel's fame quickly diminished after his death in a way that other composers' reputations did not. What do you think accounts for his relative obscurity until recently? Conversely, what do you think has contributed to the recent revival of interest in Hummel's music?
I think it's because he was very much a man of his time. The fact that Hummel was extremely knowledgeable about the instruments of the period (and extremely well-attuned to the stylistic and technical approaches which prevailed in the early eighteenth century) is a bit of a double-edged sword: the evolution of both instrument and technique has led to a progressive neglect and disinterest in this composer and his works. It's only really thanks to the revival of interest in historically-informed performance that his music is starting to be re-appraised and properly considered in its original context. It's absolutely necessary, I think, for pianists to go through a pretty intensive grounding in historically-informed performance if they are to contribute to the recognition of the true importance of Hummel – and, indeed, of many of his contemporaries.
You've made something of a speciality of piano music of this period, in particular with your complete set of Clementi piano sonatas. Can you tell us anything about your future plans?
My future projects will remain focused on the same era – that is, on music written between the end of the eighteenth century and the early decades of the nineteenth. Firstly, I'll record the complete piano works of Joseph Martin Kraus (1756-1792), a very innovative composer who was described as 'the Swedish Mozart' and was held in extremely high estimation by Haydn. I'm also recording the complete Beethoven sonatas and variations for piano and cello with my friend and colleague Marco Testori (a professor at the Salzburg Mozarteum), a project for the Beethoven anniversary in 2020.
Then in spring, I will start work on a recording project which is especially close to my heart, the Schubert piano sonatas: music which touches, disturbs and excites me all at the same time. These works are one of the great joys of my profession, and I know that they will be constantly in my thoughts from now until we go into the studio…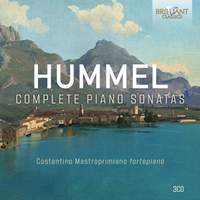 Costantino Mastroprimiano (fortepiano)
Available Formats: 3 CDs, MP3, FLAC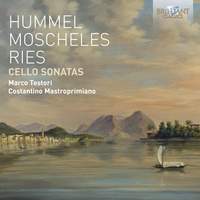 Mastroprimiano and his long-time collaborator, cellist Marco Testori, explore the output for cello and piano of Hummel and some of his contemporaries on this album released on Brilliant in 2016.
Available Formats: MP3, FLAC